A man carried his bride-to-be down the aisle after she was injured in a serious car accident just weeks before the big day.
Hannah Patterson was determined not to let her injuries ruin her enjoyment of the ceremony, and when she was wheeled to service by her father, her fiance Stuart scooped her out the wheelchair.
After picking her up, he slowly carried her to the altar in his arms, captured on camera in a tearjerking video.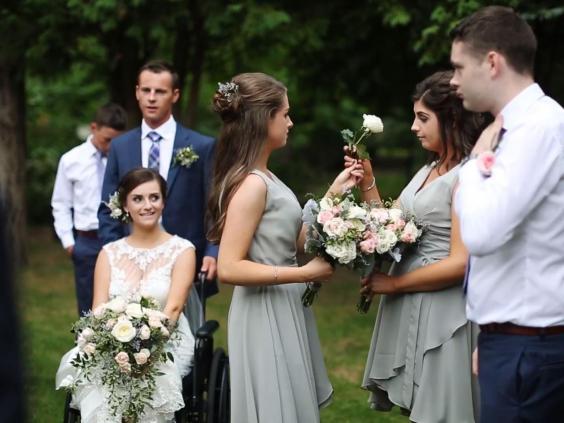 Photographer Sarah Grace shared an image from the ceremony on Facebook, saying it was "one of the most moving [ceremonies] I have ever photographed".
She wrote: "Although this bride had been in a terrible car accident five weeks before the wedding day, this couple's love was not going to be stopped.
"After her father wheeled her partway down the aisle, her groom tenderly carried her the rest of the way."
The ceremony was recorded by photographer Emily Harris, who posted the video clip to Vimeo.
It shows the bride preparing for the ceremony, with the wheelchair in place outside.
After being buttoned up into her glittering gown, she heads to the ceremony at Cranberry Creek Gardens in Delhi, Ontario.
She wrote on Facebook: "Emily, thank you so much for capturing our day with this amazing video."
The ceremony took place in August, but footage and photos have only just been posted online.
Reuse content