The Porsche 911 has evolved into a pretty luxurious way of going fast. But luxuries add weight, and that's why competition cars don't have TVs and seats that give you a massage.
Dating from 1967, the original 911 R was a competition car, or at least a homologation special bred by Porsche's motorsport programme. And Porsche Motorsport is responsible for this new model bearing the same name – which, like its predecessor, is a lightweight 911 for the purist.
It's based on the GT3, which is a good start, sharing that model's plastic panels and magnesium roof but replacing its adjustable rear wing with a diffuser and pop-out spoiler of its own.
Inside, it's all about what you don't get. There's no stereo, no climate control and no back seats, though there won't be any shortage of a soundtrack as there's less in the way of acoustic insulation than in a standard 911.
There's no four-wheel drive either, obviously, and nor is there an auto option. Instead, a six-speed manual developed specially for this model is bolted to a 493bhp, 339lb ft version of Porsche's 4.0-litre flat six.
That's the engine from the GT3, of course, and it revs the way an old-school 911 should. So there's less weight for the 4.0-litre engine to shift, and shift it will. Max power at 8250rpm and peak torque at 6250rpm sounds like fun, right?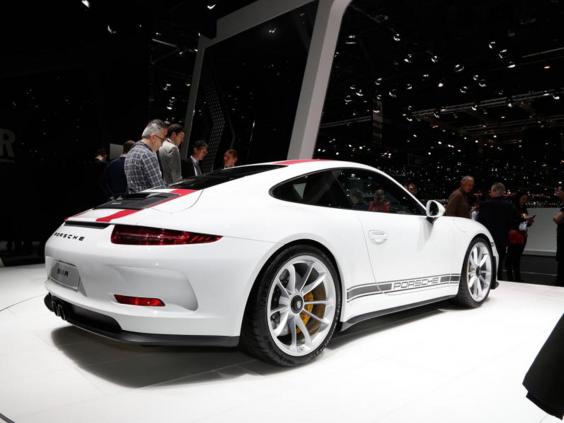 And fun, rather than the relentless pursuit of lap times, is what Porsche says this car is for. It's less about the last word in driver aids and more about the visceral thrills that made the 911 such a legend in the first place.
Not that it's completely pared back, with carbon ceramic brakes and rear-wheel steer on the spec list.
But the diff locks up mechanically – none of that torque-vectoring nonsense here, thank you very much. And if a 1370kg Porsche with a short-throw manual box and a 3.8-second 0-62 time doesn't turn you on, then frankly you ain't got no switches.
Keep pushing and you'll top out at 201mph, which doesn't sound much like a coincidence. A price tag of £136,901 seems like quite a precise thing, too – as does a production run which will extend to exactly 991 examples. The words 'appreciating' and 'asset' come to mind.
Reuse content