The Organisation of the Petroleum Exporting Countries (Opec) has reached a deal amongst all 14 members to curtail oil supply for the first time in eight years.
Opec will reduce production by about 4.5 per cent or about 1.2 million barrels to a ceiling of 32.5 million a day in "major step forward and a historic agreement", the oil producing cartel announced from its headquarters in Vienna on Wednesday.
Russia, which is not a member of Opec, has agreed to be reduce its output by 300,000 barrels a day. 
Opec representatives are due to meet with non-member countries on 9 December.
The breakthrough deal showed an apparent acceptance by Saudi Arabia that Iran, as a special case, can still raise production.
The changes will take effect from January 2017.
President of the OPEC Conference, Mohammed bin Saleh al-Sada said: "The market needs to be re-balanced, rebalancing the market would need courageous decisions from Opec and with the support of some key countries of non-Opec."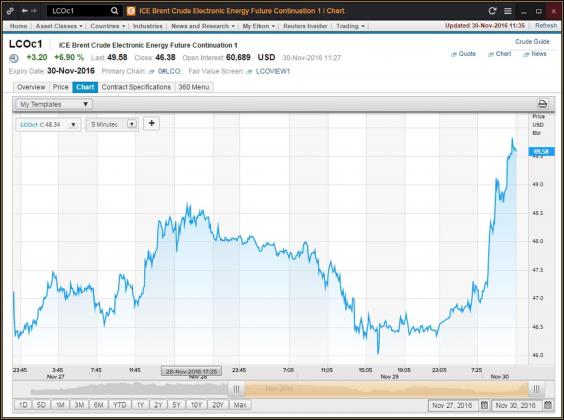 Brent crude, the global benchmark that had soared in anticipation of a deal, held on to earlier gains, trading 7 per cent higher close to nearly $50. Prices remain at half their level of mid-2014.
Meanwhile, the Dow Jones and the S&P 500 have hit intraday records on Wednesday as energy stock have been boosted by the release of the details of the Opec deal.
In London, shares in Shell and BP were both up by around 4 per cent, having risen during much of the afternoon as OPEC's members moved closer to a deal.
An oil production cut to reduce global oversupply has not been put into action in almost a decade.
However, following two consecutive years of low oil prices, the pressure on Opec to reach an agreement had intensified.
Analysts at Goldman Sachs, Barclays, and ANZ previously said that oil prices will quickly rise above $50 per barrel should Opec come to an agreement.
Neil Wilson, senior market analyst said Opec should be pleased with a job "well done" but few points remain to consider.
He said: "Opec has confounded the naysayers and critics with an output freeze, meaning crude oil is up 8 per cent for the day.  A triumph for the cartel, proving it is still relevant, but the devil is in the detail."
"Few points to consider – Indonesian output just being shared out among the other 13 members, so their production is still on the market." 
"What do we know about Russia? We have to take on faith that it will cut by 300,000 barrels a day, and will that be from 2016 levels or what it had expected to pump in 2017. And what about other non-OPEC – will they come up with the remaining 300,000 required to see this deal through. And will OPEC members stick to their commitments?"
"There are a few doubts, but on the whole OPEC should be pleased with a job well done at long last. This is likely to keep crude closer to $50 than $40 for now."
Reuse content