Yalda Hakim has no memory of the dark night her family set off for the Pakistan border. She was just six months old, and strapped tightly to her mother's back. Her older brother and sister marched ahead alongside their father, two laden horses, and the armed people- smugglers who had agreed to get the family out of Kabul.
They walked for 10 days, mostly after sundown to evade capture, and promised never to return to a country descending into a war that would claim a million lives.
Thirty years later, Hakim recalls a conversation she had with her parents as an adult, when she told them she planned to retrace those steps as a journalist. She has made the trip several times since, most recently to interview President Hamid Karzai. "They were worried when I started going to war zones, but when I said I was going to Afghanistan they were really very concerned," she says. "They couldn't understand why I would want to go back to a place they had taken me away from."
Hakim is an award-winning television journalist whose long walk out of Kabul, via Islamabad and her family's new home in Australia, has taken in some of the biggest stories of the past five years. She has talked to maimed survivors of the garment factory collapse in Bangladesh, reported from Libya during the Arab Spring, and was the only journalist to walk through minefields to a village near Kandahar where an American soldier massacred 16 civilians.
Now based in London as a presenter and correspondent for BBC World News, Hakim's face is familiar to millions of viewers abroad. Her reporting is also fast earning her a reputation in Britain. In a rare double bill, her interview with President Karzai in October, in which he accused Western allies of causing "great suffering" in his country, made the BBC News at Ten and Newsnight minutes later. Several newspapers picked up the story the following day.
But it was Hakim's first assignment in Kabul five years ago, where she had an emotional reunion with her grandparents, that brought home the extent to which that night in 1983 changed the course of her life. "When I was there and meeting young women about my age, who had never been to school, were married and had seven children and no prospects," she says at Broadcasting House in Central London, "I thought, God, that could have been me."
Hakim's parents grew up and met in a very different Afghanistan, before it was torn apart by conflict in the Cold War, and, later, the "war on terror". Her father was a 31-year-old architect when he fled under the threat of conscription by the army. Her mother, a midwife, was 27. They had met 10 years earlier when, as a young tutor, Hakim taught maths to his future wife.
"Their memories were very romanticised," Yalda, now aged 30, recalls. "Everything from day-to-day living – even the wrapping paper was 'better in Afghanistan' – to these great warriors who fought to defend the land against Soviet invaders. My mother would tell me about how the fashions in Kabul were inspired by those in Paris. She and her friends would read Vogue magazine and rip off the styles at the tailors in Kabul."
In 1978, a communist coup triggered a series of events that would guide the future of Afghanistan – and the Hakim family. By then they had two young children, but their father left the country for several years to study architecture in Czechoslovakia. A year after the revolution, a nine-year war broke out between the Moscow-backed government and rebel Mujahideen forces bankrolled by the US. Hakim's father was first conscripted on his return to Kabul. "About a year later, I was born and they were going to conscript him for a second time," Yalda says. "He just knew the country was on the brink and that he had to get us out."
An estimated one million Afghan civilians died between 1979 and the Soviet withdrawal in 1989. Millions more were displaced inside the country, or fled to Pakistan and Iran. The Hakims ended up first in Islamabad, where they would remain for two years, until Yalda was almost three. Her mother worked as a midwife with a German charity at refugee camps. Her father began planning a new future for his family; they, too, were refugees and needed a sponsor to help them get out.
Hakim's father called an architect friend of his who was still in Kabul, who called another architect – an Australian who was working in Denmark. "But his wife answered the phone," Yalda says. "She wanted to help, but first called her husband, who said they couldn't help everyone. But she put in an application to host us anyway and three months later, Dad phoned her and said, you don't know me but you've sponsored me to come to Australia and, well, I'm coming."
When the woman broke the news to her husband, he flew to Islamabad to meet the family. Satisfied, he returned to work in Denmark while the Hakims travelled to meet their host and a new life in Sydney. The woman who held up a sign at the airport was Nancy Sibtain, a writer and crossword compiler for the Sydney Morning Herald. The family lived with her for a short time before establishing themselves. They remain close, and Hakim credits Sibtain with inspiring her choice of career.
Hakim's mother found work as a nurse, while her father studied at night to regain his qualifications as an architect. Their older children, who had been seven and nine when they left Kabul, quickly adapted to life in Australia. Yalda grew up knowing nothing else. All of the children, including a younger sister, now have successful careers. "The one thing my parents really instilled in us is an awareness of the huge opportunity we had growing up in Australia," Yalda says. "They made sure we had the right education… and kept our focus."
Afghanistan rarely featured in life in Sydney, notwithstanding the reminiscences of Hakim's parents. "I remember being four or five and every time there was a 30-second mention of Afghanistan on the news we'd all run through the house and tell our parents," she says. Then 9/11 happened, and the country was never out of the headlines. When Hakim got a job as a trainee at Australia's Special Broadcasting Service, going on to report for its flagship Dateline world news programme, she knew Afghanistan would become an important part of her life and career.
In 2008, then aged 25, Hakim made that first journey back to Kabul, a city she could not remember and which her parents would not recognise. "I had no idea what to expect because all I had were the stories they had told me. I was confronted by the poverty. I found a people who were very war-weary and tired. Their country was ripped apart and felt very soulless."
Some of those people were Hakim's relatives, including her paternal grandparents. As part of her report for Dateline, for which she travelled to an opium den and a refugee camp as she examined a ruined capital, she met them for the first time. "That was emotional," she says. "But what I find incredible in Afghanistan is the huge pride people feel there for other Afghans, whether it's the woman you're interviewing who realises your origin in their country or my own grandparents. They feel proud that someone whose family left is able to come back in such a different capacity."
The film set the tone for Hakim's journalism as she began telling human stories behind the headlines, typically after the media caravan has rolled out. In 2011, when Dateline's veteran anchor stepped down, Hakim was offered his chair. She took it on the condition she could spend half her time in the field, alternating with a co-host in the studio. She is most proud of her exclusive report from Panjwai District near Kandahar, where in March last year Robert Bales, an American soldier who had enlisted after 9/11, shot dead 16 civilians, including nine children, and burned their corpses. The US Army still maintains Bales acted alone but Hakim, the first reporter to go to the scene of the massacre to talk to witnesses, heard testimony to the contrary.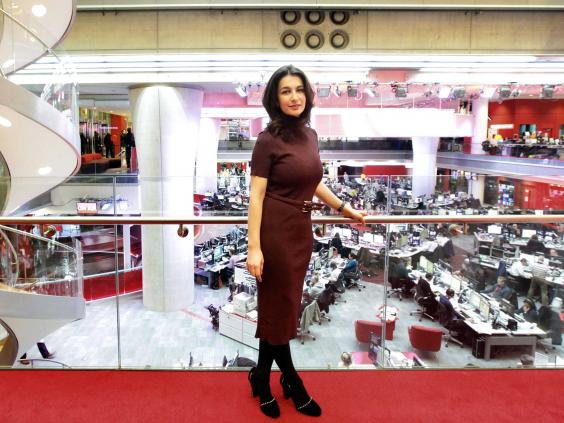 In the film, Hakim talks to generals and leaders, pushing for access to the village. She has never felt being a woman is a disadvantage, despite regular assignments to countries, including Afghanistan, with restricted rights for women. "In Yemen, I found I had more access," she explains. "When I'd be in a car, I'd be wearing local dress and men at checkpoints would see a woman in the back seat and wave us through. Or in the case of the Robert Bales story or going into the homes of women into Iraq or Yemen, I could speak to women who would not talk to a male reporter."
Last December, BBC World News hired Hakim, multiplying her audience several times. She and her partner, who was in the Australian Air Force, moved to London, where he is now studying pharmacology. The Karzai interview, her second with the outgoing president, has been her biggest scoop for the corporation. She has just returned from Romania, meanwhile, where she met Roma people whose homes had been bulldozed, and has plans to meet Syrian refugees in Jordan and survivors of Typhoon Haiyan in the Philippines. But first, Christmas with her family in Sydney, and her first holiday for years.
Hakim leaves with a word of hope about the country of her birth, which, she says, "gets in your blood" even if it is not already there. UK and US troops are expected to complete their withdrawals by as early as next year, and while Afghanistan remains a shadow of the bright place Hakim's parents remember, Yalda says: "Every time I go back now I find there's more construction, more women out on the streets. I see TV channels with programmes inspired by those in the West, like talent contests and cooking programmes. I see women wearing bright headscarves with their fringes showing, and fewer and fewer burkas. There is progress."
Reuse content