Timo Makinen, who has died aged 79, was rally driving's first "Flying Finn", one of the best and most buccaneering drivers of the 1960s and 1970s. Had a world rally championship existed in his peak era, it is hard to imagine him not winning it.
He won the RAC rally three years consecutively from 1973-75, driving a Ford Escort RS with Englishman Henry Liddon as co-driver. It was a time – before the modern World Rally Championship – that the RAC event was one of the world's most prestigious. The others were the Monte Carlo Rally, which Makinen won in 1965 at the wheel of a Mini Cooper S despite horrific blizzard conditions, and the 1,000 Lakes Rally in his native Finland (now renamed Rally Finland), which he won consecutively in 1965, 66 and 67, also in a Cooper S.
With Britain's Paul Easter as co-driver, he also finished first in the 1966 Monte but was robbed of the win by a trumped-up ruling that his Mini Cooper S's headlights were not road standard. The second and third-placed Minis – one driven by Northern Irishman Paddy Hopkirk – were also disqualified for the same reason, as was Englishman Roger Clark's fourth-placed Ford Cortina. With French (and therefore neighbouring Monte Carlo) honour at stake, the organisers were clearly irritated by the new British kids on the block – especially the Mini Cooper S – and the trophy was given to fifth place Citroën driver Pauli Toivonen, also a Finn. To Toivonen's credit he refused to accept the trophy, saying it belonged to Makinen. Prince Rainier of Monaco, a motor sport buff, left in disgust before he was supposed to present the trophies. The corrupt result stood, as did the bitter taste in the mouths of all rally fans.
Makinen's will to win was best demonstrated during the 1967 1,000 Lakes in Finland, when the leather strap securing the bonnet of his Cooper S snapped. Unwilling to lose precious time by stopping to fix it, he drove for half a stage – 12km – leaning out his window and deliberately side-skidding to be able to see round the bonnet. He went on to win the overall event.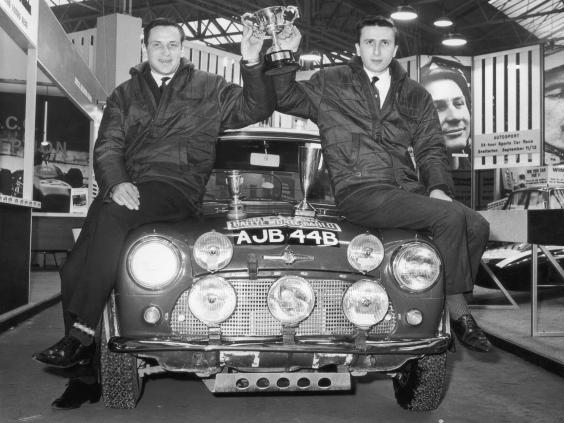 He was also a pioneer of left-foot braking, which allowed him to keep his right foot more or less flat down on the accelerator, left-footing his brake pedal. He developed the technique by racing cars, including a D-Type Jaguar, on ice as a young man in Finland. To fellow competitors he was a "flying Finn", and not only on roads or gravel. He was often a "bar fly" at night, when his post-race press conferences were conducted at his hotel bar and often went on into the wee hours. He and Hopkirk were considered the "drive hard, play hard" drivers of the time.
Maniken was born in Helsinki in 1938, and got involved in motor vehicles as a child thanks to his father Antero's large transport company, initially delivering newspapers. He recalled, as a boy, wading through head-high snow to get newspapers to doors. He began rallying a Triumph TR3 along with his brother, moving on to an Austin Healey 3000 before getting works drives in the Mini Cooper S. 
In the late 1960s Makinen also got involved in power boat racing and won the inaugural Round Britain race in 1969 in his boat Avenger Too, powered by three V8 engines.  
Timo Makinen, born 18 March 1938, died 4 May 2017
Reuse content