A whiz at conducting small-screen action drama, the Canadian director William Brayne found a natural home in British commercial television of the 1970s, his no-nonsense style effectively delivering both crowd-pleasing car chases and scuffles, and lean and mean atmospheres in the quieter interludes.
Whatever one may think of the politics and primitivism of The Professionals (LWT, 1977-83), visually at least, directors like Brayne and Martin Campbell created some masterful small-screen epics which, after a serious backlash in the 1990s, have since been praised by the makers of more broadsheet-friendly hokum such as Spooks (2002) and Life on Mars (2006). Yet while Campbell went on to direct Bond films, including Casino Royale, Brayne's career tailed off; he never reached the cinema, and even his contributions to the most successful series he worked on are rarely remarked upon.
Born in Vancouver in 1935, Charles William Brayne was educated at North Vancouver High School. In the mid-1950s, after army service, he joined the Canadian Broadcasting Corporation. CBC was a good place to be at this time: Sydney Newman was running the drama department, while the film unit that Brayne joined after failing to become an announcer was populated by talents such as Arla Saare and fly-on-the-wall champion Allan King. It was a fruitful, freewheeling adventure playground, and when Newman defected to the UK it began an exodus of Canadian talent that would enrich and enliven British TV for two decades.
King moved to London to form Allan King Associates, a company that made documentaries for CBC looking at the world "through Canadian eyes". Brayne was by now working as a cinematographer and editor, and his credits before becoming a fully-fledged director are varied and fascinating.
He shot King's most celebrated film, Warrendale (1967), an unforgettable visit to a home for emotionally disturbed children, Horace Ové's Reggae (1971) and Fred Wiseman's Hospital (1970). A real curiosity which he shot in this period is Love in Our Time (1968), by the journalist and Ready Steady Go! producer Elkan Allan, in which genuine couples who had responded to an advertisement re-enacted their own experiences of the permissive age. It's a fascinating concept – and although the film did very little except invite accusations of voyeurism, it preceded by a year King's own A Married Couple (1969), a documentary with a similar modus operandi. Brayne, however, loathed working on the piece and tendered his resignation halfway through shooting, failing to see any potential merit in the copious copulation scenes.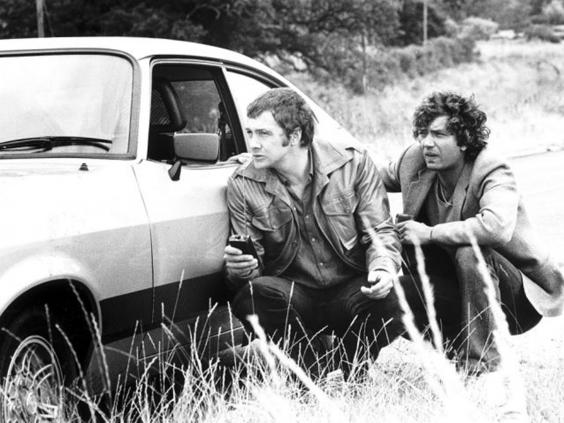 His break as a drama director came courtesy of another Canadian creative force in England, Lloyd Shirley. As one of the founders of Euston Films, Shirley was looking for directors who grasped his philosophy of "kick, scramble and bollock", making fast-paced, gritty television with 16mm cameras capturing the grime and energy of the London streets. Euston's first major series, Special Branch, had become sluggish and sterile, but Brayne was brought in on the final season (he always claimed he was hired by mistake), and once Shirley saw that he could deliver the goods stylishly, on budget and on time, made him one of the regular directors on the pacier, burlier The Sweeney (1975-78).
His first effort for the series, "Jigsaw", saw John Thaw as DI Jack Regan blatantly harassing a suspect in the face of his "liberal intellectual" MP and his disbelieving family, in a psychological cat-and-mouse that exemplified Brayne's trademark mix of flailing violence and bus-shelter dialogues. "Sweet Smell of Succession", meanwhile, was a tremendous mélange of film noir and cops-and-robbers, with Hywel Bennett as the recently orphaned son of a London gangster finding himself in the midst of a fight for the spoils.
Brayne was equally thoughtful directing the almost forgotten Strangers (1980-82) and Bulman (1985-87) with his favourite actor, Don Henderson, and the corporate connivings of Gentleman and Players (1988); but he was back masterminding the action with Dempsey and Makepeace (1985). The Saturday night crime-fighting of a blue-blooded blonde and a rough-diamond New Yorker was as daft as a brush, but audiences forgave it because we were never quite sure just how seriously it was intended to be taken. It did occasionally throw up credible episodes, such as "Judgement", in which a retired judge exacts private revenge on a man wrongly accused of murdering his daughter.
British television's experiments with crime series had led it, it seemed, not away from mindless American fare, but straight into its hands; and audiences had had enough for a while, both of imports and of home-grown imitations. The genre on television was reaching middle age, and retiring into rustic sleuthing, from Inspector Morse to The Ruth Rendell Mysteries. Even repeats of The Professionals were blocked from terrestrial television, and Brayne fell out of favour.
His friend, the television historian Werner Schmitz, remembers that on their first meeting, "He seemed disillusioned. He was still able to work, but no longer got the call. Honesty, modesty and loyalty ranked highly with him; but he was habitually dismissive: 'Why do you live in the past?'" But at its best, the television Brayne choreographed made living in the past an experience still preferred by a great many people.
Charles William Brayne, director and cinematographer: born Vancouver, Canada 10 October 1935; married 1958 Ellen Finck (died 2011); died Vancouver 1 April 2014.
Reuse content