Amnesty International has apologised to Iggy Pop for using his likeness without his consent.
The charity published a picture of the musician looking bloodied and bruised to front an anti-torture campaign. A caption under the picture read: "The future of rock 'n' roll, it's Justin Bieber" – demonstrating the campaign's message, "Torture a man, and he will tell you anything."
The advert was published in Belgium.
However, the charity has now issued a statement apologising, which Pop shared on Twitter.
"To generate awareness about our campaign against torture, Amnesty International Belgium French speaking section used an image of Iggy Pop without his authorization. Even though we acted in good faith, we would like to apologise to Iggy Pop for having done so. The overall goal of this campaign is to try to influence people's ideas on the use of torture.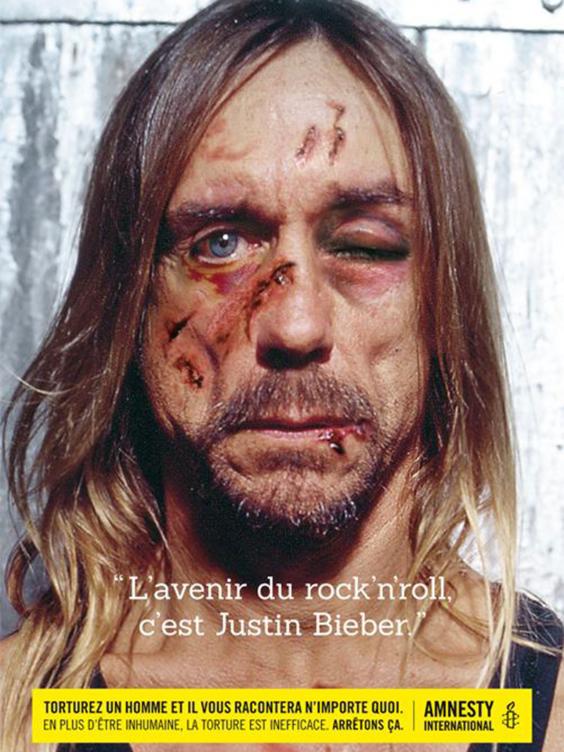 "We would therefore also like to make it clear that the statement attributed to Iggy Pop that he believes Justin Bieber is the future of rock and roll does not represent Iggy Pop's personal opinion but was part of the creative process for this campaign and was intended to be ironic."
It's unclear what Pop would have been the most irritated by – a picture of himself looking bruised and bloodied emerging without his permission, or being quoted as saying "Justin Bieber is the future of rock 'n' roll".
Pop wasn't the only high-profile name to have featured in the campaign. Others included an image of Dalai Lama, which has now been removed, after the charity learned that it had "caused particular concern in some quarters".
Reuse content