When searching for inspiration as to how to solve the ever-escalating conflict between Israel, the Palestinian people, and the Gaza strip, the lyrical works of Beyoncé might not be the most obvious of choices.
But that hasn't stopped liberal advocacy group J Street from adopting one of her finest tracks to troll Benjamin Netanyahu on Twitter.
The US organisation that promotes peace in the Middle East has designed a cartoon graphic of the  Israeli Prime Minister performing the "Single Ladies" dance in front of two women wearing leotards in the shape of the country.
The lines on said leotards? Well, they denote the borders of a potential Palestinian state in the West Bank and Gaza.
"If you like it then you should put a border on it," reads the caption.
As well as appearing in physical sticker form, the image, which accompanies a petition demanding Netanyahu shows "his commitment to peace by proposing clear borders for a final agreement", has been circulated online.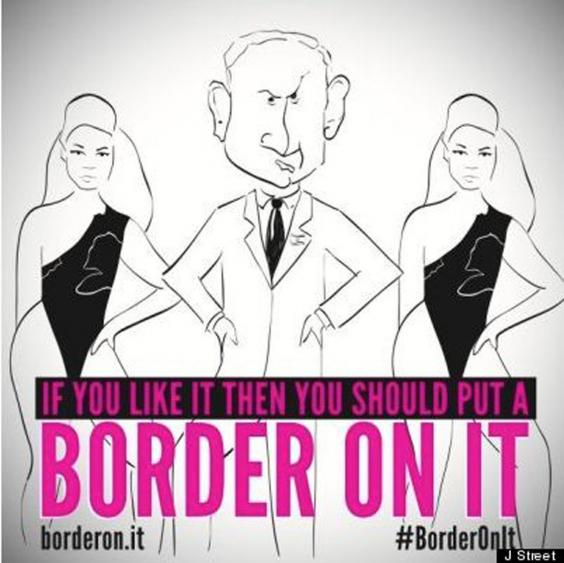 In a statement, J Street adds: "Defining Israel's borders would make the settlement issue – one of the most contentious in this conflict – moot.
"It would give the Palestinians renewed hope in the diplomatic path and demonstrate to the world that peace is possible."
The campaign comes after Netanyahu delivered his annual address to the United Nations General Assembly in New York on Monday (29 September).
In it, he controversially equated criticism of his country's recent 50-day bombardment of Palestinians in the Gaza Strip to the current US-led aerial strikes against terrorists of Isis (also known as the Islamic State).
"Hamas' immediate goal is to destroy Israel, but it has a broader objective," he said. "When it comes to its ultimate goals, Hamas is Isis, and Isis is Hamas."
He also likened Islamist extremism to Nazism.
"Nazis believed in a master race... Militant Islamists believe in a master faith."
Reuse content