More women have come forward accusing US comedian Bill Cosby of sexually assaulting them during his heyday.
The alleged victims, named Linda Kirkpatrick, Lynn Neal and "Kacey", gave a press conference yesterday with their lawyer Gloria Allred and described their experiences with the once beloved American TV star of The Cosby Show.
They claimed to have been sexually assaulted by the now 77 year old in Los Angeles and Las Vegas.
Kirkpatrick told the assembled press she had not come forward earlier because she feared she would not be believed.
Bill Cosby: Career in pictures
Bill Cosby: Career in pictures
1/20 Bill Cosby

Winner of his first Emmy for 'I Spy' is Bill Cosby being congratulated by his wife Camille held at Americana Hotel, 1966

2/20 Bill Cosby

Bill Cosby in 'I Spy', 1960s

3/20 Bill Cosby

Bill Cosby in July 1973 in Perth

4/20 Bill Cosby

Bill Cosby and Richard Pryor in 'California Suite', 1978

5/20 Bill Cosby

Bill Cosby and Elmo in Sesame Street, 1989

6/20 Bill Cosby

Bill Cosby poses for a picture with Florence Griffith-Joyner in June 1989

7/20 Bill Cosby

Comedian Bill Cosby back in 1992

Rex Features

8/20 Bill Cosby

A scene from a 1992 episode of 'The Cosby Show'

AP

9/20 Bill Cosby

US Monica Seles breaks into laughter as she jokes with comedian Bill Cosby during a celebrity match in the stadium at the US Open for the Arthur Ashe AIDS Challenge on 27 August 1995

10/20 Bill Cosby

Bill Cosby meets Toronto Blue Jays' All-Star Joe Carter after the Stars played the Stripes in the Celebrity All-Star game which preceded workouts for the 67th All-Star Game at Veterans Stadium on 8 July 1996 in Philadephia

11/20 Bill Cosby

Co-hosts Oprah Winfrey and Bill Cosby joke with each other during the opening of the 2000 Essence Awards 14 April 2000 at Radio City Music Hall in New York City

12/20 Bill Cosby

Bill Cosby jokes with baseball great Hank Aaron after they both received the Presidential Medal of Freedom Award from U.S. President George W. Bush during a ceremony on 9 July 2002 at the White House in Washington

13/20 Bill Cosby

Bill Cosby poses backstage after winning the 'Bob Hope Humanitarian Award' during the 55th Annual Primetime Emmy Awards at the Shrine Auditorium on 21 September 2003 in Los Angeles

14/20 Bill Cosby

'Tonight Show' host Jay Leno and comedian Bill Cosby laugh during a surprise visit by Cosby to sign a Harley-Davidson motorcycle that Leno is using to raise money for the victims of Hurricane Katrina at NBC studios on 9 September 2005 in Burbank, California

15/20 Bill Cosby

Bill Cosby speaks during a taping of 'Meet the Press' at the NBC studios on 14 October 2007 in Washington

16/20 Bill Cosby

Bill Cosby at the 12th annual Mark Twain Prize for American Humor at the John F. Kennedy Center on 26 October 2009 in Washington

17/20 Bill Cosby

Bill Cosby speaks at the National Action Network's 20th annual Keepers of the Dream Awards gala in New York on 6 April 2011

Reuters

18/20 Bill Cosby

Bill Cosby during the 100th anniversary celebration of the Beverly Hills Hotel & Bungalows supporting the Motion Picture & Television Fund and the American Comedy Fund, 2012

Getty Images

19/20 Bill Cosby

Bill Cosby speaks onstage at the Thurgood Marshall College Fund 25th Awards Gala on 11 November 2013 in Washington

20/20 Bill Cosby

Bill Cosby performs at the Treasure Island Hotel & Casino on 26 September 2014 in Las Vegas
All of the allegations, the latest in a series that has seen at least 15 women accuse the TV star of drugging and sexually assaulting them, have passed the statute of limitations.
This means that criminal charges or lawsuits cannot be brought against him, although the women's lawyers have urged Cosby to waive the statute of limitations.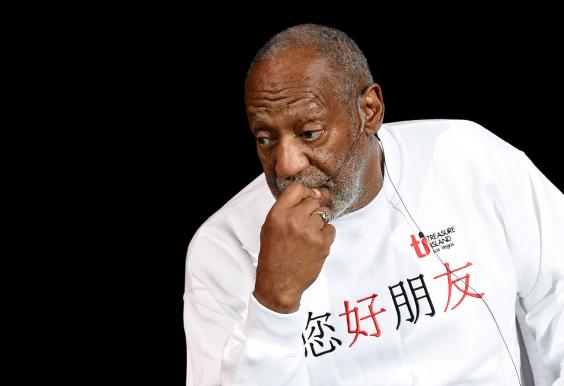 Cosby had not responded to requests for comment regarding these latest claims, but he has previously denied all other allegations, describing them as "fantastical" and "uncorroborated".
Some of the TV stars latest projects have been pulled, but yesterday he began a three-night tour in Ontario, Canada.
The performance last night was picketed with protesters carrying placards reading: "Shame on you."
Reuse content