Donald Trump has yet again come under fire after posting and deleting a tweet that made offensive comments about Jeb Bush's wife.
Mr Trump quoted another user's tweet which claimed to know why former Governor Jeb Bush likes 'Mexican illegals.' Columba, Mr Bush's wife, is Mexican, and the pair met while Jeb was visiting the country in high-school.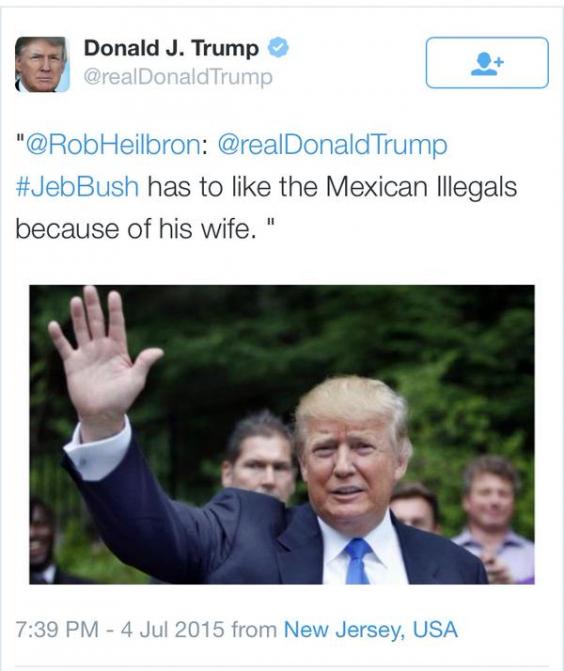 The social media gaffe comes days after Mr Trump lost numerous business partnerships and supports for calling Mexicans "rapists" and "drug dealers."
According to entertainment blog the Wrap, Mr Trump's comments have cost him nearly $50 million after being dropped by Macy's, NBC Universal and Univision.
Donald Trump's most controversial quotes
Donald Trump's most controversial quotes
1/14 On Isis:

"Some of the candidates, they went in and didn't know the air conditioner didn't work and sweated like dogs, and they didn't know the room was too big because they didn't have anybody there. How are they going to beat ISIS?"

Getty

2/14 On immigration:

"I will build a great wall — and nobody builds walls better than me, believe me —and I'll build them very inexpensively. I will build a great, great wall on our southern border, and I will make Mexico pay for that wall. Mark my words."

Reuters

3/14 On Free Trade:

"Free trade is terrible. Free trade can be wonderful if you have smart people. But we have stupid people."

PAUL J. RICHARDS | AFP | Getty Images

4/14 On Mexicans:

"When Mexico sends its people, they're not sending their best. They're sending people that have lots of problems. They're bringing drugs. They're bringing crime. They're rapists."

Getty

5/14 On China:

"I just sold an apartment for $15 million to somebody from China. Am I supposed to dislike them?... I love China. The biggest bank in the world is from China. You know where their United States headquarters is located? In this building, in Trump Tower."

Getty Images

6/14 On work:

"If you're interested in 'balancing' work and pleasure, stop trying to balance them. Instead make your work more pleasurable."

AP

7/14 On success:

"What separates the winners from the losers is how a person reacts to each new twist of fate."

8/14 On life:

"Everything in life is luck."

AFP

9/14 On ambition:

"You have to think anyway, so why not think big?"

Getty Images

10/14 On his opponents:

"Bush is totally in favour of Common Core. I don't see how he can possibly get the nomination. He's weak on immigration. He's in favour of Common Core. How the hell can you vote for this guy? You just can't do it."

Reuters

11/14 On Obamacare:

"You have to be hit by a tractor, literally, a tractor, to use it, because the deductibles are so high. It's virtually useless. And remember the $5 billion web site?... I have so many web sites, I have them all over the place. I hire people, they do a web site. It costs me $3."

Getty Images

12/14 On Barack Obama:

"Obama is going to be out playing golf. He might be on one of my courses. I would invite him. I have the best courses in the world. I have one right next to the White House."

PA

13/14 On himself:

"Love him or hate him, Trump is a man who is certain about what he wants and sets out to get it, no holds barred. Women find his power almost as much of a turn-on as his money."

Getty Images

14/14 On America:

"The American Dream is dead. But if I get elected president I will bring it back bigger and better and stronger than ever before and we will make America great again."

GETTY
New York City mayor Bill de Blasio previously condemned the real-estate mogul saying his values do not represent the city and there
"I don't think he represents the values of the vast majority of New Yorkers. I think whoever [the Republicans] produce for the general election will not represent the values of not only this place, but I suspect they will not represent the values of the American people."
Mr Trump's comments have also drawn criticism from his fellow Republicans. The only Republican in his corner seemed to be Texas Senator Ted Cruz who told NBC "The Washington Cartel" doesn't want to address the issue of illegal immigrations.
Reuse content