Few famous marriages have garnered quite so much public adoration as that of Stephen Fry's recent nuptials to Elliott Spencer – a meticulously planned event that saw the actor deliberately leak false information to the press to throw them off the trail.
During his appearance on The Jonathan Ross Show on Saturday, Fry, 57, said he knew he wanted to spend the rest of his life with the 27-year-old writer almost as soon as they met.
Now, Spencer has spoken for the first time about his romance with Fry, and the disapproval that surrounds their 30-year age gap.
"I don't care what people think," he said. "Stephen is the love of my life, the light of my life."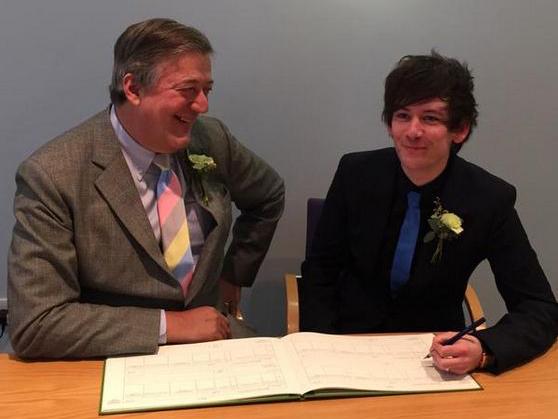 What really makes their relationship work, he says, isn't aesthetics, financial status or fame, but something far simpler.
 "We laugh all the time," he continued. "Humour is the binding thing in our life. I think that's what brought us together.
Stephen Fry's Finest Quotes
Stephen Fry's Finest Quotes
1/19 On Being Bipolar

"There's a moment in the film where I recognised that this was the last moment we filmed before this wave of depression came over me, and I was idiotic or victim enough, or whatever one wants to call it, of this mad compulsion."

Getty Images

2/19 On Taking Cocaine At Buckingham Palace

"I take this opportunity to apologise unreservedly, to the owners, managers or representatives of the noble and ignoble premises and to the hundreds of private homes, offices, car dashboards, tables, mantelpieces and available polished surfaces that could so easily have been added to this list of shame."

3/19 On His Age

"I don't need you to remind me of my age. I have a bladder to do that for me."

4/19 On Swearing

"It would be impossible to imagine going through life without swearing and without enjoying swearing."

Getty Images

5/19 On TV

"I don't watch television. It destroys the art of talking about oneself."

PA

6/19 On Happiness

"Having a great intellect is no path to being happy."

7/19 On Technology

"One technology doesn't replace another, it complements. Books are no more threatened by Kindle than stairs by elevators."

PA

8/19 On Being On Stage

"You are who you are when nobody's watching."

Geraint Lewis

9/19 On Education

"Education is the sum of what students teach each other between lectures and seminars."

Getty Images

10/19 On Creativity

"An original idea. That can't be too hard. The library must be full of them."

Getty

11/19 On Journalism

"Many people would no more think of entering journalism than the sewage business - which at least does us all some good."

PA WIRE

12/19 On Love

"Love in all eight tones and all five semitones of the word's full octave."

PA

13/19 On The English Accent

"A cut glass English accent can fool unsuspecting Americans into detecting a brilliance that isn't there."

REX

14/19 On Being An Author

"I get an urge, like a pregnant elephant, to go away and give birth to a book."

15/19 On Homosexuality

"I've never wanted one extra gay person in the world, there are plenty of us around."

Susannah Ireland / The Independent

16/19 On Christmas

"Christmas to a child is the first terrible proof that to travel hopefully is better to arrive."

17/19 On Clichés

"It is a cliché that most clichés are true, but then like most clichés, that cliché is untrue. Sticks and stones may break my bones, but words will always hurt me."

BBC

18/19 On Smoking

"I think I have always linked smoking and sex. Maybe this is where I have been going wrong all my life."

Getty Images

19/19 On Homophobia

"Homosexuals are not interested in making other people homosexuals. Homophobes are interested in making other people homophobic."
 "It's been incredible. We met at a house party three years ago after we were introduced by friends. The rest is history."
According to The Mirror, the writer intends to take a break from comedy to focus on married life and his photography.
"I'm just really happy and enjoying being married," he said. "It's all been really exciting and new. I'm not really doing anything else.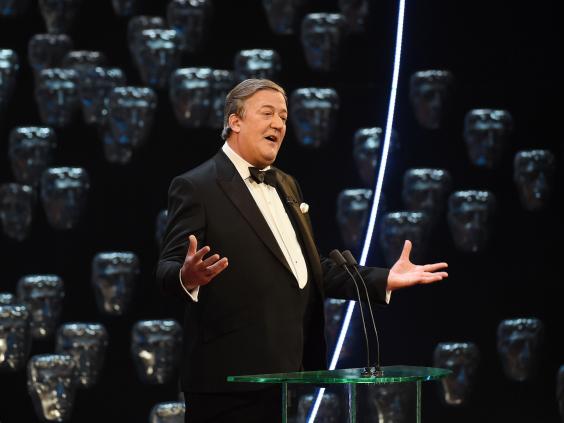 "I'm focusing on photography now rather than comedy, and being creative. I'm hoping to hold an exhibition so Stephen and all our friends can see my work."
Elliott and Fry made their first public appearance as a married couple at the pre-Bafta's party on Saturday.
Reuse content