John Green has written an essay defending Cara Delevigne against seemingly sexist questions and her now infamously awkward interview with Good Day Sacramento.
The Paper Towns author says that after promoting the film in more than 300 on camera interviews, the media rounds can become quite dehumanising — especially when casual sexism comes into play. [Delevigne was asked if she read the book before starring in the film adaptation.]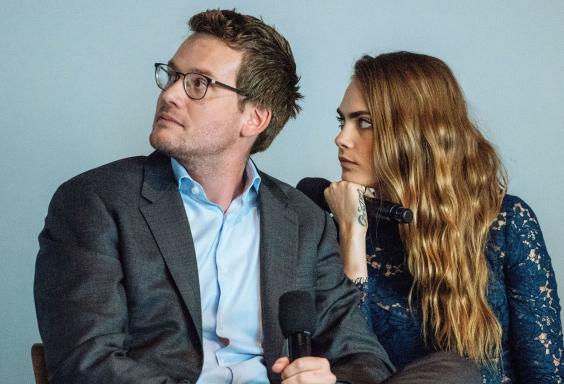 "I spent more than a month with her on tour in Europe and the US, and I watched as again and again, she was asked this question. Cara has read the book (multiple times), but the question is annoying — not least because her male costar, Nat Wolff, was almost always asked when he'd read the book, while Cara was almost always asked if she'd read it."
He continued by saying that "There are bigger problems in the world — in fact, almost every problem in the world is bigger — but if people are going to pay attention to these junket interviews and criticize Cara for responding flippantly to a stupid question, I think context might be helpful."
Green wrote that if anyone can break through the painstaking monotony of the media — it's Delevingne.
"Cara, however, refuses to stick to the script. She refuses to indulge lazy questions and refuses to turn herself into an automaton to get through long days of junketry," he said.

"I don't find that behavior entitled or haughty. I find it admirable. Cara Delevingne doesn't exist to feed your narrative or your news feed  —  and that's precisely why she's so f***ing interesting."
The British model and actress responded to the essay by posting a snippet of the piece on Twitter and thanking Green.
Whoever said this! Thank you so much! pic.twitter.com/PyshC8DqNG

— Cara Delevingne (@Caradelevingne) July 30, 2015
@johngreen thank you so much john!! I just read the article and it made me want to cry! You are so special!! I am so happy I know you x

— Cara Delevingne (@Caradelevingne) July 30, 2015
Read John Green's entire Medium essay But Did You Read the Book here.
Reuse content