Hall of Fame basketball coach Jerry Tarkanian has passed away in a Las Vegas hospital. He was 84.
Tarkanian was renowned for his passion which transformed the University of Nevada-Las Vegas team from an obscure blip in the game into a national powerhouse.
He was hospitalised in Las Vegas on Monday after suffering breathing difficulties and an infection.
His son Danny Tarkanian led tributes to his father on Twitter.
Coach Tark, my father, the greatest man I have ever known, passed today, to take his place in heaven. I will miss him every day of my life.

— Danny Tarkanian (@DannyTarkanian) February 11, 2015
Fondly known as "Tark the Shark", the coach was often seen chomping on white towels with an anguish look on his face during games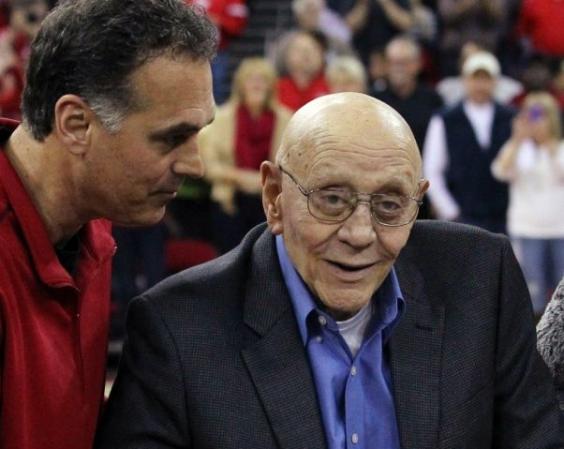 He launched his lengthy career in southern California, where he worked at community colleges in the 1960s before becoming the coach at Long Beach state in 1968.
Tarkanian's teams were known for their fast-pace, and his commitment to his team saw him come to blows with the National Collegiate Athletic Association over everything from recruiting violations to what he claimed was personal harassment.
He coached UNLV from 1973-92, and resigned after a newspaper published a picture showing three of his players in a hot tub with a well-known gambler, who had been convicted of sports bribery.
He ended up collecting a $2.5 million settlement after suing the organisation for trying to run him out of college basketball.
Tarkanian went on to coach the NBA's San Antonio Spurs for the first 20 games of the 1992 season before he was sacked.
His final gig was coaching the Fresno State University, from 1995 to 2002.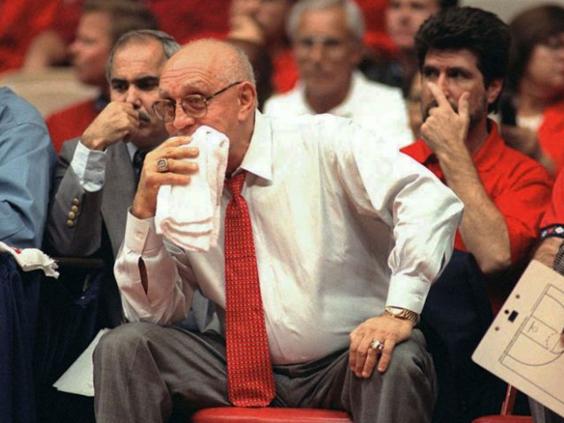 Tarkanian was inducted into the Naismith Memorial Basketball Hall of Fame in 2013, and a statue of him with a towel in his mouth was erected outside the UNLV arena.
UNLV President Len Jessup called Tarkanian "inspiring" in a statement.
"He made Runnin' Rebel basketball a brand name during his 19 years on campus, inspiring our community and creating a legacy that endures to this day," he said.
"He will be deeply missed, though fondly remembered as a college basketball icon and as one of the greats in our university's history."
US Senate Democratic leader Harry Reid of Nevada said: "No one in Nevada history has been able to entertain crowds like Jerry Tarkanian and his legendary Runnin' Rebels; this includes renowned Vegas entertainers like Frank Sinatra, Dean Martin, Cher and Celine Dion."
Reuse content