Barack Obama appeared to be having fun on his adventure with Bear Grylls, as he joked about meeting a "Bear in the park" during a three-day trip to Alaska.
Posting a selfie on the official Whitehouse Instagram account, he wrote: "Glad this is the only Bear I met in the park - bo."
The US President has been observing the effects of climate change on the area, as he attempts to build support for new rules on carbon emissions from power plants.
He also recorded an episode of NBC survival show "Running Wild with Bear Grylls" which will air later this year.
An NBC statement read: "President Obama will become the first US president to receive a crash course in survival techniques from Bear Grylls. The visit will be taped and aired on NBC later this year."
In Alaska, the president's showcasing of thawing permafrost and melting sea ice was met with some scepticism by leaders of a state that is heavily dependent on oil revenues.
At the same time, environmentalists argued that in the lead up to the visit he had not done enough to protect Alaska and the climate.
With Bear Grylls, however, there was only one question on the minds of social media users.
As well as being a celebrated wilderness expert, Grylls has become known as the man who encourages famous people to drink their own urine.
Both Obama and Grylls were reminded of this on Twitter ahead of their meeting.
Obama is going to be on Running Wild with @BearGrylls! Bear has drank pee before but wonder if he has ever drank Presidential pee before?

— Bryan Kremkau (@bryankremkau) August 31, 2015
I hope Bear makes Obama drink his own pee. https://t.co/Vy7GWsHYsR

— sarainitaly (@sarainitaly) August 31, 2015
There was even a petition to make it happen, which reached over 500 signatures.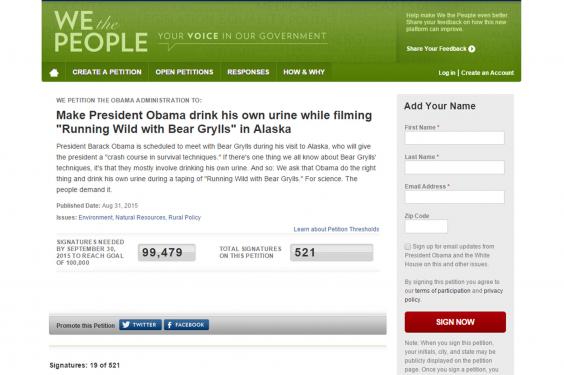 So did he do it? We'll have to wait and see.
Reuse content