One Direction's search for Zayn Malik's replacement is officially over.
And this time, it wasn't the work of an ingenious new talent show format dreamt up by pop puppet master Simon Cowell.
Instead, the recruitment was left down to Niall Horan, who went particularly off piste to make a selection on the band's behalf.
In pictures: Zayn Malik
In pictures: Zayn Malik
1/15 2010

Zayn performed Mario's 'Let Me Love You' in his audition in front of the X Factor judges

2/15 2010

December 2010: Zayn (second right) and his bandmates ahead of the X Factor final

Getty Images

3/15 2011

Zayn performing in Germany on tour with the band's first album, 'Up All Night'

REX

4/15 2011

Zayn Malik made it his New Year's resolution to quit smoking to improve his voice after being criticised by One Direction's management team

REX

5/15 2012

February 2012: One Direction pick up the British Single award for their song featuring Rizzle Kicks 'What Makes You Beautiful', at the Brits

Getty Images

6/15 2012

The band perform on NBC's 'Today' show as they look to crack America

Getty Images

7/15 2013

Zayn getting inked in Weymouth. The singer likes "getting tattoos and loves the whole culture behind them"

Rex

8/15 2013

August 2013: Zayn gets engaged to Perrie Edwards, a singer with the group Little Mix

Rex Features

9/15 2013

Zayn signing promotional material at Alexandra Palace following the release of One Direction's book 'Where We Are'

REX

10/15 2013

Zayn Malik and Harry Styles from One Direction attend the 'One Direction This Is Us' world premiere at the Empire Leicester Square

Getty Images

11/15 2014

February 2014: One Direction win for British Video and Global Success at the Brit awards

Getty Images

12/15 2014

May 2014: a video of Zayn Malik and his fellow bandmate Louis Tomlinson smoking a "suspicious-looking cigarette" was leaked online

Rex

13/15 2015

19 March 2015: Zayn and bandmate Louis Tomlinson are told to post bonds of $5,000 each before they are allowed to take to the stage for a scheduled One Direction performance in Manila

Getty Images

14/15 2015

20 March 2015: Zayn flies home from One Direction's World Tour due to stress

Getty Images

15/15 2015

25 March 2015: Zayn becomes the first member to leave One Direction. 'I have to do what feels right in my heart,' he says

Getty Images
Step up, the world's No.1 golfer, Rory McIlroy, who'll be joining the band on stage in exchange for Horan's expert caddying ahead of the Masters tournament last week.
He'll be making his debut at the Gillette Stadium in Foxborough, Massachusetts on 12 September.
"He's allowed to pick the song, that was part of the deal," Horan told The Sun. And yes, sadly, this is a one-off. For now.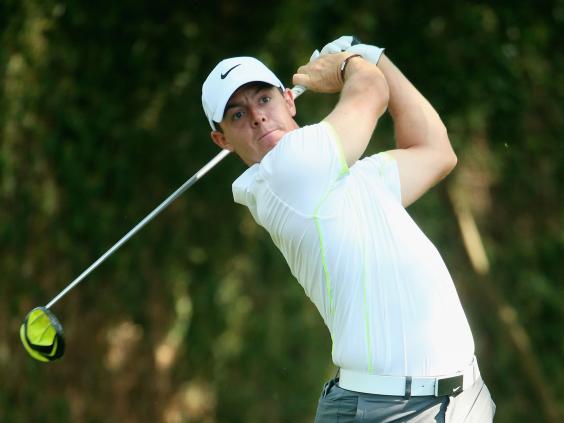 "If I went on the bag with him he would come on stage and sing with us. Apparently he's terrible."
Malik quit the band in March after leaving the Asian leg of the world tour with stress-related health issues.
Since then, there has been speculation that the remaining members - Horan, Harry Styles, Louis Tomlinson and Liam Payne - have also parted ways with their management team, Modest Management.
Rumours of the breakup began to circulate among Directioners on Twitter following Modest's website account being suspended over the weekend.
Remaining members Niall, Harry Styles, Louis Tomlinson and Liam Payne insisted they would continue without him, but Harry broke down in tears during their first gig as a foursome in Jakarta, Indonesia.
After seeing him, one fan wrote: "I didn't think my heart could break any more than it has."
Reuse content