After more than a decade of high profile addiction to drugs and alcohol, Pete Doherty is finally clean – and has a moving message for those battling with their own demons.
Writing for The Independent from the "peaceful" Hope rehab centre in Thailand, where he is nearing the end of his 12 Steps treatment and has just taken his last dose of methadone, he said: "To anyone struggling with addiction, I would say this: just hang on, hang on.
"There is a way out. You will heal. I don't care how much damage you've done, you can heal.
"I would say ask someone for help, just get yourself along to an NA or AA meeting, you'll be amazed. I know I was."
Behind the scenes: Pete Doherty in Thailand
In his piece, The Libertines guitarist admitted to becoming intrigued by the idea of heroin when it was referred to as opium – a "magic potion" he'd read about and that conjured "dream-world" images of Sixties psychedelia and Oscar Wilde.
He first got his hands on the drug, he said, shortly after signing his first record deal with the band in 2001.
"I was offered a line of coke," he writes, "and I soon started washing it up and smoking crack. Carl [Barat – Libertines frontman] didn't like it."
"I loved making music with Carl," he continues, "but the drugs became my be-all and end-all of everything."
"I never even considered that I was an addict. But I remember a time, where I ended up in a prison cell, and it was so squalid. I was crouched down in the corner with some guy using a spoon to try and get heroin out of my a**e – and yet I still thought I was enjoying drugs. It was insane."
Doherty was jailed for six months in 2011 on drugs charges after police uncovered a DVD showing him smoking crack cocaine with his friends. He served six weeks of his sentence.
But it wasn't until he became suicidal later on in his career that he considered seeking help for his problem.
"I was at the end stage," he adds. "When you have all the people around you, like your family and most of the world, saying it's your fault, pull yourself together, get a haircut etc, it's pretty hard to believe in the whole 'addiction as disease' concept.
"But now I'm in rehab at Hope I've begun looking at how powerless drugs have made me. I've been thinking about my life, my loss of friends, relationships, opportunities, money, my values.
"There's also the loss of relationship with my son and my daughter, who I've only met once. All that loss; I just got so good at blocking it out."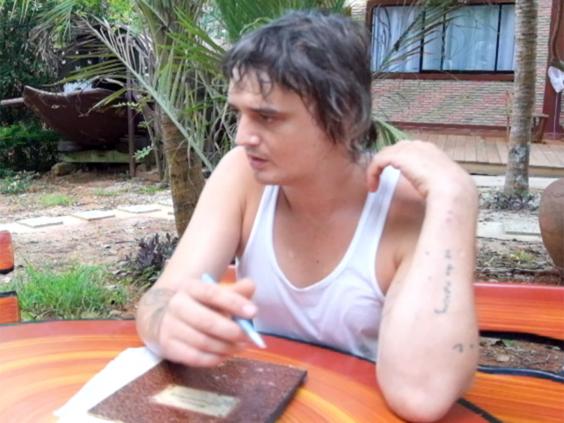 After researching the Hope treatment centre in Thailand, he got in touch with rehabilitation leader Simon Mott, and flew over to start the program.
"It's so peaceful here," he writes. "When I can't sleep at night I can just step out and it's quiet, maybe I can hear a frog or cricket. Alon, our teacher, takes us on amazing little meditative journeys – I prefer the ones where I can lie on my back rather than the ones where I'm in a yoga position pretending I'm a mango tree.
"It's an informal atmosphere, but it's definitely not a holiday camp. There are quite a few 'successful' people here but there doesn't seem to be that much ego. I'm with a great group of people, everyone seems really interconnected and we help each other."
He adds that while he's been a "bit slack with the 6.30am exercise", he's recently completed the detoxing process and took his final dose of methadone a few days ago.
"It seems really weird to say that I'm clean," Doherty concludes. "It doesn't really seem possible."
"I've been managing peter for eight years and I've never heard him speak so honestly and openly about his drug addiction," Adrian Hunter, Doherty's manager, told The Independent of his candid piece.
"It instils a lot of hope in me.
"Obviously, rehab is a long and complicated process and I don't pretend to understand how it works. Pete has obviously got a long road ahead of him, I just think whatever happens, what he's done so far will stand in good stead for the future.
"I'm so proud of him, and long may it continue."
Reuse content