The Prince of Wales's preparations for an activist monarchy prompted a backlash last night, as a new book revealed a dysfunctional and rivalrous court around him, compared by one former courtier to Wolf Hall.
Someone who has worked closely with him told The Independent on Sunday: "He is dying to having his go with the train set. He does cause concern with his outbursts. He'll struggle to restrain himself."
The Prince has stepped up the number of meetings with ministers and civil servants recently, partly in recognition of the Queen's advancing age. The Supreme Court is expected to rule this month on whether his "black spider" letters to ministers should be published. But some observers are concerned he is pushing for a more active role in national life even before he succeeds to the throne.
Someone with close links to the Palace said yesterday: "It is no accident that he writes all those letters to ministers. He does see himself as a kind of saviour of the nation, someone who can mend the broken country. Some might see that as presumptuously messianic."
Another said: "He tends to dash off his letters without a great deal of consideration. He is far too energetic for his own good."
Constitutional experts are concerned that he could provoke a political crisis, especially if he were to become involved in discussions in a hung parliament after an election. Civil servants have had discussions about the transition to a new monarch, and are believed to have touched on the sensitive question of what should happen if the Queen's health fails.
In pictures: Prince Charles's most controversial moments
In pictures: Prince Charles's most controversial moments
1/10 Princely influence

The Prince of Wales tried to influence Tony Blair's government on issues such as grammar schools, alternative medicine and GM food, a BBC radio programme revealed.

2/10 Charles and grammar schools

David Blunkett, right, was among those who disclosed they had been contacted by the Prince of Wales. The former Education Secretary spoke about Prince Charles' attempts to expand grammar schools, and how he 'didn't like' it when his suggestion was refused.

Rex

3/10 Ignoring austerity

The cost of the monarchy to the taxpayer rose by nearly six per cent last year - more than double the rate of inflation. Travel costs incurred by the Prince of Wales, who has recently begun to take over official duties previously undertaken by his mother, included a £434,000 visit to India with the Duchess of Cornwall, and a charter flight to attend the funeral of Nelson Mandela which cost £246,160

Getty

4/10 The 'withered' Prince

Spain's King Juan Carlos reportedly said the aging Prince Charles was partly his inspiration for abdicating in favour of Crown Prince Felipe (left). He was reported to have said: 'I do not want my son to wither waiting like Prince Charles'

JAVIER SORIANO/AFP/Getty Images

5/10 Reforming capitalism

In May, the Prince of Wales spoke at a major conference about reforming capitalism - despite being advised not to speak on matters of public controversy. Charles' comments over the course of the month had reignited debate about the British monarchy

Getty

6/10 Putin 'acting like Hitler'

Prince Charles was claimed to have compared the actions of Russian leader Vladimir Putin to those of Adolf Hitler during a private conversation with a woman who had fled the Nazis

PA

7/10 Australia? Take it or leave it

In April the veteran Australian journalist David Marr said the Prince of Wales once privately expressed his belief that if Australia became a republic it would be 'no skin off anyone's nose'

Getty

8/10 Satanic Verses

Prince Charles turned his back on Sir Salman Rushdie during his fatwa over publication of The Satanic Verses because he thought the book was offensive to Muslims, it was reported earlier this year. The claims were made by Martin Amis, who said Charles told him that he would not offer support 'if someone insults someone else's deepest convictions'

AP

9/10 Homeopathy

Prince Charles has reportedly pushed for further research on the NHS about homeopathic remedies for a number of years. Labour MPs reacted with fury at the revelation in July 2013 that the heir to the throne had met Health Secretary Jeremy Hunt, with NHS support for homeopathy believed to be on the agenda

Getty Images

10/10 The 'black spider letters'

The Guardian has been trying for years to secure the release of a series of 'particularly frank' letters written by Prince Charles to senior Government figures. In October 2012, the attorney-general Dominic Grieve overruled a court's decision to allow access but now, barring a successful appeal to the Supreme Court, Charles's correspondence will be revealed at last
There is some relief that the Fixed-Term Parliament Act has removed virtually all the remaining elements of royal prerogative in the event of a hung parliament, but also some anxiety that the Prince is less likely than his mother to be a largely passive onlooker.
"There is a bit of a cycle whereby politicians at first are interested and amused by Charles, but then they realise that he just does keep going on about things," said a Palace insider. "My feeling is that this lot are at that stage with him. I am sure the civil servants are war-gaming all the options. They will do whatever they can to avoid putting the Queen in a difficult position."
A senior official said yesterday: "He does seem more difficult to deal with the older he gets. The age of smooth relations between the Palace and politicians, when they were all of roughly the same milieu, is not as it was. They are facing a difficult period as William Nye, PPS to the Duke and Duchess of Cornwall, who had a link with Westminster, having been at the Cabinet Office, is leaving Clarence House in March and Christopher Geidt, private secretary to the Queen, is going to be off for six months. Relations between Clarence House and Buckingham Palace are also as bad as ever, and Charles is not getting any easier. It's chaos."
The Prince has let it be known that he hopes other religions will be included when he accedes the throne, and this weekend stories have emerged suggesting he wants to modernise the honours system. Jonathan Dimbleby, the Prince's biographer, commented a year ago: "A quiet constitutional revolution is afoot… I predict he will go well beyond what any previous constitutional monarch has ever essayed."
He is also understood to support the case for proportional representation in Westminster elections and he opposes the Human Rights Act. Whether he would keep his counsel on such issues is debatable at best, given the fervour with which he has lobbied ministers in the past on issues of concern to him.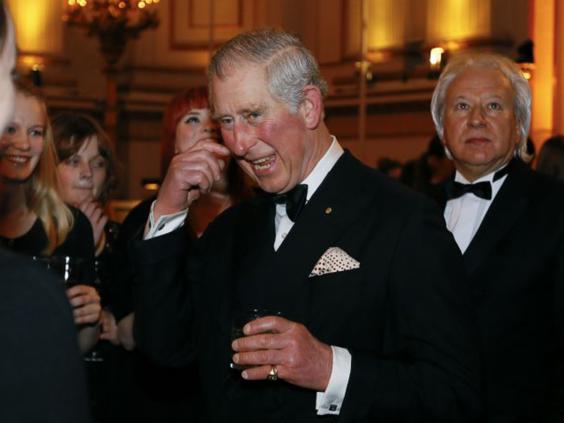 Concerns about the Prince's self-image as a political actor have led some to speculate that politicians might even welcome a decision by the Supreme Court whereby his previous letters be made public. The resulting furore, it is claimed, might have the effect of showing the importance of a degree of royal reticence in the face of elected politicians. With the letters unpublished, so the argument goes, he would feel all the less inhibited.
Paul Flynn, the Labour MP, said yesterday: "If he becomes the meddling monarch – and it's almost certain that he will – he will precipitate a constitutional crisis."
Mr Flynn urged a referendum on whether the royal succession should skip a generation. "We're into referendums: we might as well have a referendum on that and have some choice in the matter, rather than continue to have the head of the state on the principle of first past the bedpost."
Kevin Maguire, associate editor of the Daily Mirror said: "Spoilt, petty, self-pitying, meddling and a plonker – Prince Charles is a gift … for republicans."
And Graham Smith, spokesperson for Republic, the campaign against the monarchy, said that the new book by Catherine Mayer, Charles: The Heart of a King, "is evidence that Charles wants to become an active king". He added: "The monarchy presides because people think that it is harmless, but Charles will create a clash with public opinion. Our message to Charles is: bring it on. We welcome an active king, as the more he interferes, the more chance there is of bringing down the monarchy."
Additional reporting by Alexander Ward and Alexandra Sims
Reuse content