Stephen Sutton, the 19-year-old cancer sufferer who has raised more than £3.1million for the Teenage Cancer Trust by promoting his battle to overcome the disease, has defended himself against claims he has "duped" followers because his condition has improved.
Two weeks ago, Sutton had posted a heartbreaking "final thumbs up" picture on Facebook as he feared his life was coming to an end.
But over the last seven days, his health has taken a turn for the better.
After reporting to fans that he had "coughed up" a tumour, he was discharged from hospital on Friday and told he could return to his home in Burntwood, Staffordshire for the time being.
However, his change in fortunes appears to have riled some people, who are alleging Sutton misrepresented the severity of his situation.
A dissatisfied follower tweeted at former footballer Stan Collymore – one of several famous faces to lend their name to Sutton's fundraising campaign – complaining about the turn of events.
"Quick question Stan," it read. "That kid you raised 1000s for left hospital how'd that happen? Lots feel duped."
Similarly, on the Birmingham Mail's Facebook page, another added: "Am I the only one who thinks something is not quite right here? While I hope I am wrong it feels like we are being conned. One minute he tweets saying he is dying and won't see the next day, then all of a sudden he is being released to go home. As I said, I hope I am wrong but I have a strange feeling about this."
Sutton was quick to reply, tweeting: "Sorry to disappoint you! So you know, I still have my cancer and it's incurable, if that makes you feel less 'duped' x"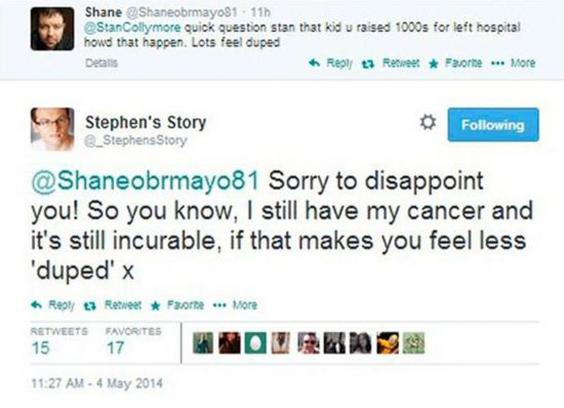 Following the news he was leaving hospital last week, Sutton posted a message on Facebook about his "remarkable" recovery.
"This extra period of time I now have feels like a gift, one that I'm determined to use productively," he said. "I'll probably be straight back to doing some crazy stuff/events/etc soon, but for now, it just feels great to be home!!"
He has since tweeted the following regarding his response: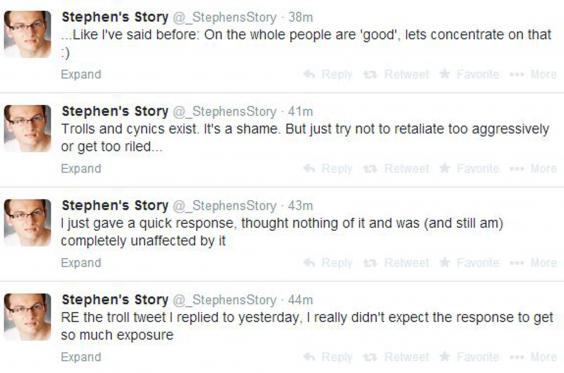 Reuse content