It's a pity not to interview Dame Vivienne Westwood in person. That personage, after all, is one of fashion's most instantly recognisable. It's frequently her palimpsest for ideas – both aesthetic, through the clothes she designs with her husband, Andreas Kronthaler, and political. The political notions are often evoked better through her clothes than her actual person. Westwood's conversation is frequently tangential, occasionally malapropistic. That's entirely understandable. Westwood is fiercely intelligent, her thought processes complex and multi-layered, and while her complicated clothing can often ingeniously convey those varied facets, she sometimes stumbles over the hurdle of conveying them in words.
It was a pity to miss that, but needs must. I was in New York, covering the stateside leg of the autumn/winter 2015 season, knee deep in snow and Victoria Beckham, while Westwood and her team were ensconced in her headquarters in Battersea, putting the finishing touches to the two lines she shows each womenswear season. Her Red Label, a lower-priced range that relies heavily on the designer's archive, was shown during London Fashion Week. Gold Label has been presented during Paris fashion week since 1992.
However, although her words were conveyed via emails bouncing back and forth with her press office, I feel as if I got the measure of an exchange with Westwood. Drafts were frequently revised, original deadlines missed. The revisions generally lengthened both the word count and the proceedings.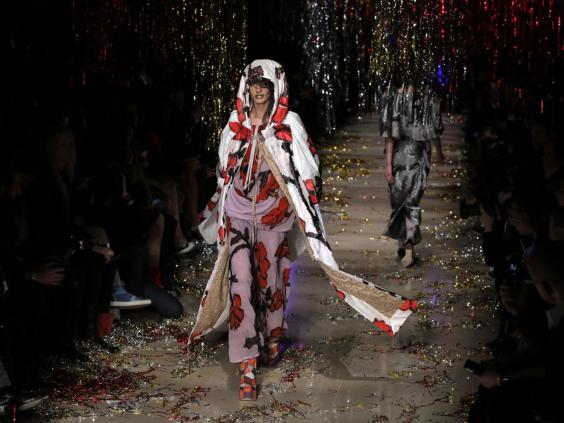 The exchange wasn't only with Westwood, but with Andreas too. Twenty-five years her junior, he met Westwood in 1988 at the Vienna School of Applied Arts. "I think next year is our silver wedding and we have been working together longer than that," states Westwood. "We met in Vienna when I was a teacher and Andreas came to do work experience." He first collaborated with Westwood on fashion design in 1989; they married in 1993. In his words: "I stayed and never went back."
Today, Kronthaler is the creative director of the Westwood company, working in tandem with the founder. The presumption is that he will helm the company when (and if) Westwood retires – she turns 74 in April. But Westwood has frequently worked in collaboration with other creatives. In the Seventies and early Eighties, she worked alongside Malcolm McLaren. The clothes they devised helped to define the punk and New Romantic movements. Westwood works best with someone to bounce ideas off.
"I love designing with Andreas. Like all the great male designers in the world, he puts women on a pedestal," she says. "Andreas's ideas are so big. When I first met him as a student, the girl had to climb a step ladder to best display the dress he made. I helped pin down his ideas.
"I am an anchor. And he locked into my ideas and built them into new triumphs."
Kronthaler agrees. "We really do work with each other's strengths," he says. "We can't seem to do without each other. It's incredible how she's able to come up with something that's amazing every day. Vivienne has an original mind that keeps ticking away. We are the opposite in many ways, but opposites attract and there is a deep attraction. I just like who she is, the way she is and how she sees the world."
Dame Vivienne Westwood in pictures
Dame Vivienne Westwood in pictures
1/29 Dame Vivienne Westwood

Punk was dead as soon as the fashions, created in part by Vivienne Westwood, were mass produced (Rex)

Rex

2/29 Dame Vivienne Westwood

Fashion designer Vivienne Westwood with singer Malcolm McClaren

Sunday People

3/29 Dame Vivienne Westwood

4/29 Dame Vivienne Westwood

Vivienne Westwood - the most influential designer of the 1980s, first found notoriety with her shop, Sex, from left in 1976, identity unknown, shop assistant Alan Jones, Chrissie Hynde, Jordan and Westwood

Rex Features

5/29 Dame Vivienne Westwood

Vivienne Westwood at the launch of her new autobiography with Jerry Hall

6/29 Dame Vivienne Westwood

The fashion designer was for Scotland's Independence

7/29 Dame Vivienne Westwood

Legendary fashion designer Vivienne Westwood has joined the Hall of Fame at the Scottish Fashion Awards

8/29 Dame Vivienne Westwood

Vivienne Westwood, Peter Gabriel and Emma Thompson show their support at the People's Climate March, London

PA

9/29 Dame Vivienne Westwood

Vivienne Westwood at Milan Fashion Week in June

Rex

10/29 Dame Vivienne Westwood

Dame Vivienne has become increasingly interested in green issues in recent years

Justin Sutcliffe

11/29 Dame Vivienne Westwood

The designer Dame Vivienne Westwood joined hundreds of anti-fracking campaigners in central London yesterday who want the Government to stop its investment in the gas extraction process

EPA

12/29 Dame Vivienne Westwood

Vivienne Westwood and Peaches Geldof arrive at the reading of Westwood's manifesto as part of 'Design Icons' at The design Museum in 2008

Getty Images

13/29 Dame Vivienne Westwood

Vivienne Westwood's show

Getty Images

14/29 Dame Vivienne Westwood

Vivienne Westwood joined the protesters today at Balcombe

Rex Features

15/29 Dame Vivienne Westwood

British fashion designers Vivienne Westwood and Katharine Hamnett pose on the doorstep of 10 Downing Street as they help pass on a petition in support of apiarists

AFP/Getty Images

16/29 Dame Vivienne Westwood

British fashion designer Vivienne Westwood holds up a sign supporting bee-keepers as she joins a demonstration outside the Place of Westminster in support of apiarists

AP

17/29 Dame Vivienne Westwood

British designer Vivienne Westwood acknowledges the audience at the and of the her show during Milan Menswear Fashion Week (Pier Marco Tacca/Getty Images)

18/29 Dame Vivienne Westwood

Vivienne Westwood, Vivienne Westwood Collection Autumn Winter 2011, Nairobi 2011

Juergen Teller

19/29 Dame Vivienne Westwood

Vivienne Westwood at her show yesterday

Getty Images

20/29 Dame Vivienne Westwood

Designer Vivienne Westwood walks on the catwalk

Getty Images

21/29 Dame Vivienne Westwood

Vivienne Westwood sports a money print dress for her catwalk show

AP

22/29 Dame Vivienne Westwood

Designer Vivienne Westwood added her voice to the protests yesterday

Reuters

23/29 Dame Vivienne Westwood

On 8 April, Vivienne Westwood turned 70

GETTY IMAGES

24/29 Dame Vivienne Westwood

Vivienne Westwood at her show's finale

PA

25/29 Dame Vivienne Westwood

Daisy Lowe (left), Vivienne Westwood (centre) and Jacquetta Wheeler (right) walk the runway during the Vivienne Westwood Red Label Spring/Summer 2011 show

GETTY

26/29 Dame Vivienne Westwood

Vivienne Westwood takes to the runway at her show

Getty Images

27/29 Dame Vivienne Westwood

Dame Vivienne Westwood at the funeral of Malcolm McLaren

REX FEATURES

28/29 Dame Vivienne Westwood

Vivienne Westwood

© Rankin

29/29 Dame Vivienne Westwood

Chris Jackson/Getty Images
Westwood, her writing as engagingly off the cuff as her speech, comes in: "I think I should mention that Andreas is the one who works most closely with our team, and as we are so busy with two shows coming up. He gets interrupted and he is leaving this interview mainly to me. Otherwise he may or may not have answered more. He and I are both bossy."
Vivienne Westwood was originally a primary school teacher. There's still a didactic sense to her clothes, the need to impart knowledge. You're frequently struck by that when it comes to the slogans that have been a major part of her work since punk – the word "Destroy", for instance, writ large on a T-shirt.
Latterly, rather than inciting destruction, she's been highlighting the environmental issues causing it. "I realise you need slogans on clothes if they are to be political and, yes, punk for me was political," says Westwood. "The world we live in is run by death and destruction, and my idea of punk was that we didn't need these criminal leaders. That's why I advocated anarchy. Young punks rejected all adult values. Then I realised it wasn't enough to pogo and spit.
"Subversion needs ideas, and ideas come from culture. Culture gives you an anchor, roots – and from that you build your vision. If we had true culture we would not be in danger from environmental collapse. Now through graphics and slogans I am telling young people that propaganda has replaced culture; propaganda to consume and suck up: non-stop distraction! Culture is to engage with the world and our past… you get out what you put in."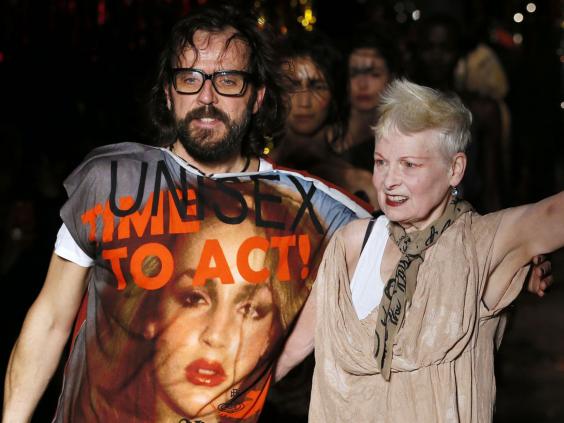 There's a (metaphorical) pause. "I'm afraid I don't have time to continue with a full explanation. But if we don't stop climate change we will soon have mass extinction of all life forms." With Westwood, it's not the usual fashion designer discussion.
If the world was going to end tomorrow, what would she like to be remembered for? "The best and most useful thing I've ever done is my analysis on the end of capitalism," says Westwood. And she sends me a link to her Climate Revolution blog.
I would argue her clothes communicate those ideas far more succinctly. And, I hope, if tomorrow does mark Armageddon, she will be remembered for those.
The new collection
Talking to Vivienne Westwood, you sometimes lose her meaning under the sheer torrent of words. It's often the same case with her shows, where the assemblage of textile on offer ends up seeming random and rambling, obscuring her message.  What's the story? You yearn to extract her yarn from all that yarn.
This autumn/winter season, actually, the tale is more straightforward than usual, and arguably more in tune with the shifting mood of contemporary fashion.
Unisex is Westwood's grand idea – "We like cross-dressing," she said – which offers a different slant. Rather than Westwood's clothing being neutered of gender bias, she has simply freed corsets, 18th-century paniers and wide-shouldered tweed jackets from clothing a specifically male or female body.
Westwood has memorably tinkered with those notions before, to more provocative avail than most. Women in trousers are standard, men in skirts a cliché, but in the Nineties Westwood put men in basques and women in codpieces. When she reprised them today, they didn't have the same jolt of shock – but nor did they seem like stuff ordinary folk might wear.
Wearable clothes, however, can be extracted. Irritatingly for Westwood, it's probably when you put her ballgowns back on women.
Alexander Fury in Paris
Reuse content