Support for Britain's EU membership is higher than it has ever been, according to a new poll.
YouGov has found that a record-breaking 45 per cent would vote to keep Britain in the EU if a referendum were held today, up from 42 per cent last month.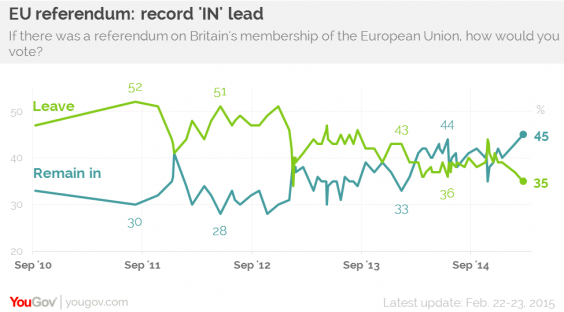 Anti-EU sentiment has fallen three to 35 per cent, its lowest point since the polling on the topic began in September 2010.
Less than three years ago, at the height of the Eurozone crisis, the UK appeared to be headed towards an eventual EU exit, with just 28 per cent supporting the beleaguered body and more than half of the country wanting out.
Prime Minister David Cameron announced in January 2013 that the Conservative Party would hold an 'in' or 'out' referendum of Britain's EU membership if it wins the general election.
The groundswell of public support for the EU since then has coincided with an improving economic situation, with YouGov reporting that the trajectory of pro-EU sentiment has almost exactly mirrored that of economic optimism.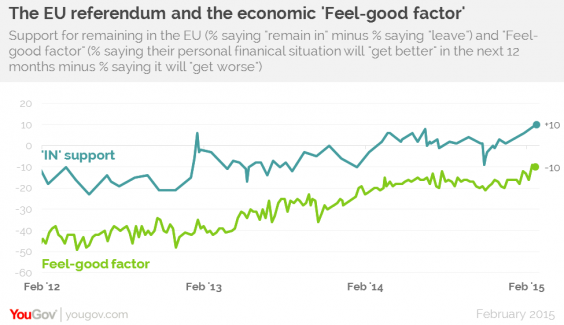 In a blog post, YouGov suggested one possible explanation for the rising number of EU 'in' votes is that "voters have become less interested in disrupting the status quo as they have increasingly felt its rewards".
New heights of EU approval have been reached as the Eurosceptic political party Ukip has witnessed its years-long surge in popularity slow down.
In pictures: The rise of Ukip
In pictures: The rise of Ukip
1/8 1993: Alan Sked forms Ukip

History professor Alan Sked had been active in anti-EU politics for a while beore he founded Ukip in 1993. He resigned from the party after the 1997 election, concerned that it was attracting far-right members, and has been critical of Ukip since. Picture: Reuters

Reuters

2/8 2005: Kilroy defects

Former TV presenter Robert Kilroy-Silk founded Veritas in 2005, after a failed bid to become leader, and took many of Ukip's elected members with him. But the party slowly lost its popularity and didn't put forward any candidates in the last election. Picture: REUTERS/Kieran Doherty REUTERS KD/RUS

3/8 2010: Farage becomes leader, again

Farage had led Ukip from 2006 until 2009, when he stood down to fight against the Speaker, John Bercow, for his Buckingham seat. He failed to win the election and returned to lead the party in November 2010. Picture: REUTERS/Kieran Doherty

REUTERS/Kieran Doherty

4/8 2010: Ukip fights for election

Nigel Farage was injured in a plane crash on polling day in the 2010 general election, but his party increased its success in the votes. It fielded 572 candidates and took 3.1% of the vote, though failed to win any seats. REUTERS/Darren Staples

REUTERS/Darren Staples

5/8 2013: Eastleigh gains

Ukip's candidate Diane James got the highest ever number of votes for any candidate from the party, but was beaten by the Liberal Democrats. The surge in support gave Ukip confidence ahead of local and European elections later in the year. Picture: Reuters

6/8 2013: Bloom kicked out

Godfrey Bloom, who served as an Ukip MEP from 2004 to 2014, had the whip withdrawn in 2013 after sexist comments and an attack on a journalist. He sat as an independent MEP until 2014, when he ended his term in office. Picture: REUTERS/Luke MacGregor

7/8 2014: European election success

Ukip got a higher proportion of the vote than any other party in 2014's European elections, adding 11 new MEPs and taking its total to 24. REUTERS/Luke MacGregor

8/8 2014: Carswell defects

Douglas Carswell defected from Ukip at the end of August, and was followed by Mark Reckless at the end of September, who resigned from the Tories amid rumours of many more defections to come. Picture: REUTERS/Toby Melville
Another recent YouGov poll found flagging support for Ukip, down to around 14 per cent from an all-time high of 19 in October last year.
An increasing number of Ukip voters are fearful that the party will not be a long-term force, though that may change as leader Nigel Farage reasserts himself in the national debate after weeks campaigning quietly in South Thanet where he will stand for Parliament in May.
A recent Comres poll for the Daily Mail also found Ukip struggling, slipping four points to 13 per cent, its lowest point since early 2014.
Reuse content