One person has died and eight people have been taken to hospital after being hit by a van in a "potential terror attack" near a north London mosque.
The van driver, described by eyewitnesses as a large white man, was detained by members of the public after the attack in Seven Sisters Road at 12.20am on Monday. 
One witness described being surrounded by bodies in the wake of the attack outside the Muslim Welfare House, close to Finsbury Park mosque.
Eyewitnesses said the attacker shouted about killing Muslims as he was held by local people.
Finsbury Park attack
Finsbury Park attack
1/14

Police officers attend to the scene after a vehicle collided with pedestrians in the Finsbury Park, killing one person and injuring eight

Reuters

2/14

The incident is being treated as a potential terror attack

Reuters

3/14

A man has been arrested on suspicion of attempted murder

Reuters

4/14

Police cordon off a street in Finsbury Park

AFP/Getty Images

5/14

A man prays in the street after the attack

Reuters

6/14

Men gather and pray together in the street in the aftermath of the attack

AFP/Getty

7/14

Reuters

8/14

PA

9/14

Onlookers gather near a police cordon

EPA

10/14

Forensic investigators arrive at the scene

PA

11/14

A forensic tent stands next to a van

PA

12/14

A police officer talks with residents

AFP/Getty Images

13/14

Onlookers watch proceedings at the security cordon

AFP/Getty Images

14/14

Local residents react at the scene

AFP/Getty Images
Sadiq Khan, the Mayor of London, said it was an attack on common values. 
"Like the terrible attacks in Manchester, Westminster and London Bridge it is also an assault on all our shared values of tolerance, freedom and respect," he said in a statement.
Prime Minister Theresa May said: "Police have confirmed this is being treated as a potential terrorist attack.
"I will chair an emergency meeting later this morning.
"All my thoughts are with the victims, their families and the emergency services on the scene."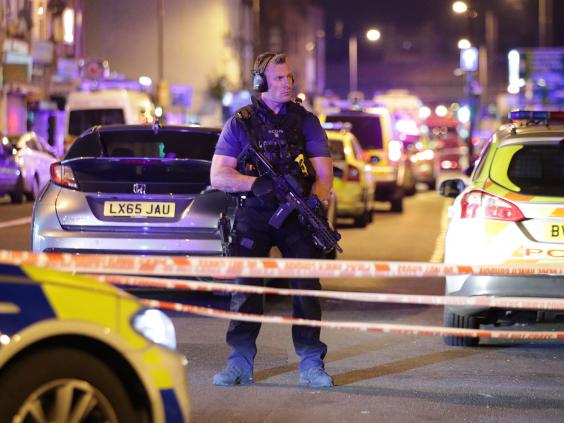 The Metropolitan Police said in a statement: "One man was pronounced dead at the scene.
"Officers are in the process of informing next of kin. A post mortem examination will be scheduled due course.
"Eight people injured were taken to three separate hospitals; two people were treated at the scene for minor injuries."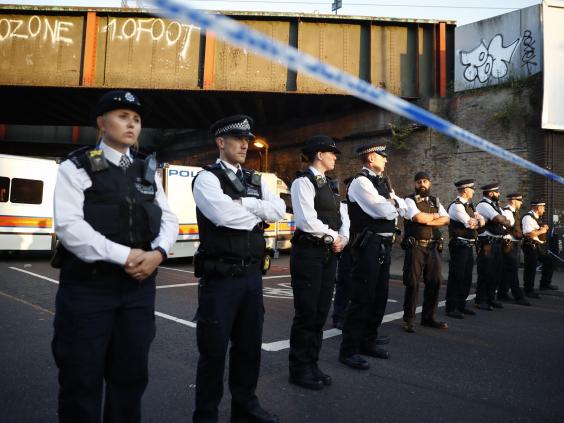 Commenting on reports that the van driver also produced a knife, the statement went on: "At this stage there are no reports of any persons having suffered any knife injuries.
"The driver of the van - a man aged 48 - was found detained by members of public at the scene and then arrested by police in connection with the incident.
"He has been taken to hospital as a precaution and will be taken into custody once discharged.
"He will also be subject of a mental health assessment in due course."
The force said the investigation of the incident is being carried out by the Counter Terrorism Command.
Reuse content