A British man is thought to be the first suicide bomber from the UK to die in Syria, following a raid on a prison in the city of Aleppo.
The man, believed to be of Pakistani origin and only known by his pseudonym Abu Suleiman al-Britani, was believed to have had links with the with the Jabhat al-Nusra arm of al-Qa'ida.
Mr Britani would be the eighth Briton to die fighting in the three-year-long civil war, if reports by are confirmed.
A photo posted on Twitter by a senior professor at Kings College London, Shiraz Maher, allegedly shows the lorry driven by Mr Britani, with the black Jabhat al-Nusr flag draped over the top.
Mr Maher also tweeted claims that a foreign fighter had contacted him to confirm the bomber was Mr Britani.
Another image posted by a man claiming to be a fighter, was reportedly taken shortly after the blast and shows clouds of smoke rising from the prison.
Here's a picture of the suicide bomb driven by British citizen Abu Suleiman al-Britani into Aleppo prison yesterday. pic.twitter.com/4t6t2lxV7p

Shiraz Maher (@ShirazMaher) February 7, 2014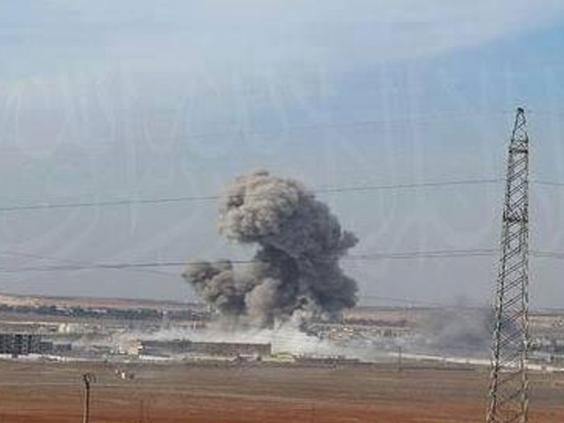 Around 4,000 prisoners were left in their cells before the strike, despite the building having been under siege by rebels for almost a year, and more recently becoming a military base for the Syrian army, The Telegraph reported.
According to the Syrian Observatory for Human Rights, up to 300 prisoners were released in the Jabhat al-Nusra and Ahrar al-Sham-led operation.
The alleged attack comes after Cecilia Malmström, the EU's Domestic Affairs Chief, warned in January that 1,200 citizens from the bloc are believed to be fighting in the war-torn country.
She claimed that the fighters were putting European governments at risk of more terror attacks at home unless they tackle growing the growing threat of extremism.
Four British fighters who had joined Syrian rebels also died in November last year, but were not involved in suicide attacks as Mr Britani is alleged to have been.