An Australian model has shared pictures of her wounds after she was caught up in a suspected acid attack in a London nightclub.
Isobella Fraser, 22, received third degree burns to her arm and back when a fight broke out in Mangle nightclub in Dalston, east London, where hundreds of people were attending a bank holiday LoveJuice event.
The packed crowd became sprayed with a corrosive liquid in the early hours of Monday morning, leaving 12 people injured, including Isobella's 20-year-old sister, Prue.
Ms Fraser, who had been visiting her sister in London for the Easter weekend, told Sunrise she saw a fight break out and two men being targeted with the acid, which was carried in a "drink bottle". 
"I couldn't breathe, I thought we were getting gassed or I thought it was a terrorist attack or something, I was freaking out because of all the things that have been happening," Ms Fraser told the program.
"I was coughing and felt this thing on my arm and realised that it was some sort of acid." Others caught up in the attack had acid thrown in their face and eyes, she added.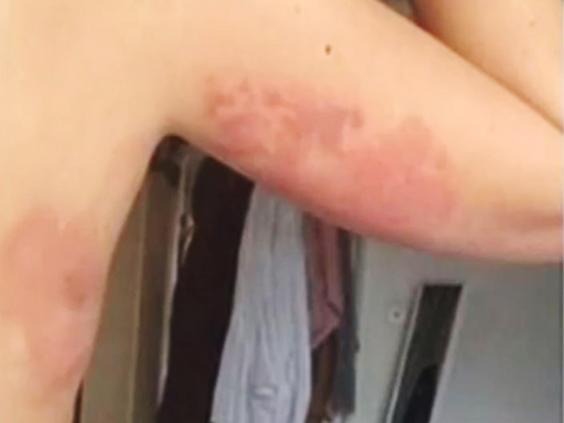 "It was a pain like I had never experienced before," Prue, also a part-time model, told The Daily Telegraph in Australia. 
"I couldn't see anything on my arm but my friend said, 'You've had acid thrown on you'. I thought, 'What the hell's going on?'" she said.
Isobella said she had to pick her top off of her back, which had become stuck to her where the acid had hit her skin.
Police have launched a man hunt following the attack. No one has yet been arrested.
One witness described how the attacker had produced the bottle of acid when a bouncer attempted to kick him out.
"I was at the bar with friends and a guy was pushing some people around," clubber Scott Kempster, 25, told The Sun. A bouncer asked him to leave, but the man grabbed the bouncer's arm and pulled a bottle out of his pocket, he said. 
"He sprayed the bouncer and my friend and some girls got hit. At first everyone thought it was water, then people started running as they realised it was acid."
The man began throwing "other stuff" before running off, he said.
The London Ambulance Service said it took 10 patients to hospital, while police said a further two people with similar injuries sought treatment at hospital.
The Only Way Is Essex stars Jamie Reed, Jade Lewis and Chloe Meadows were among the hundreds of people forced to leave the club in the wake of the attack, while a relative of Celebrity Big Brother star and ex-Premier league footballer Jamie O'Hara was among those injured.
He tweeted a picture of his cousin, Sadie Wright, showing the injuries on her face, calling the attack "sick".  
Additional reporting by Press Association
Reuse content