Junior doctors preparing to walk out on their second 24-hour strike fear contract changes proposed by the Government will give them a pay cut – but how much are they really paid?
The term "junior doctor" covers a wide range of roles below GP or consultant level, encompassing jobs performed by 55,000 people in England - around a third of the country's medical workforce.
According to the NHS careers website, the basic starting salary for trainees coming out of medical school is £22,636, although extra pay is awarded for hours outside 7am-7pm Monday to Friday, or more than 40 hours a week.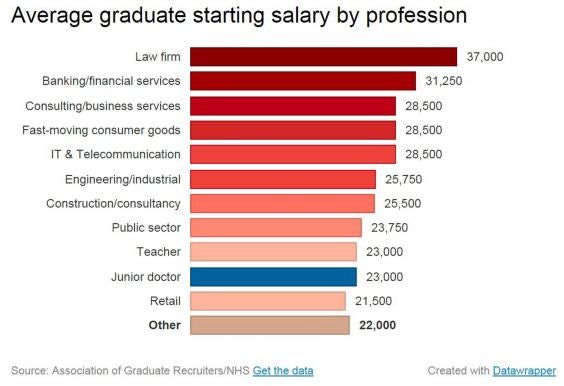 The basic rate rises to £28,000 in the second year of training and it increases again for anyone working as a specialist doctor, reaching £37,000 to £69,000.
According to figures from the NHS Employers Organisation, which is opposing the British Medical Association (BMA) in the current negotiations, the average total wage for a doctor in training is around £37,000.
According to research carried out by the Association of Graduate Recruiters last year, that average is in line with starting salaries for graduates entering law firms, which it rates as the best-paid profession for those leaving university.
But the basic salary for entry-level junior doctors is at the other end of the scale, alongside jobs in the public sector.
What is the strike about?
Proposed changes to junior doctors' contracts are at the heart of the current dispute, which continued on Tuesday with last-ditch talks aiming to avert the strike.
It would re-define "anti-social" hours to outside 7am to 10pm Monday to Saturday, making Saturday effectively part of a junior doctor's normal working week.
Katharine Mcdevitt, a consultant paediatrician quoted by the BMA, argued that the change would increase hours and reduce pay.
"This contract is not safe; it's going to remove the safeguards that prevent them [junior doctors] working dangerously long hours," she said. 
"It's going to give them a pay cut — pay protection for a few years means nothing.
"I have gaps on every single one of my rotas, I cannot fill them because there aren't enough junior doctors in this country.
"I believe that we need more junior doctors not fewer, we need to pay them more, we need to respect them and we need to train them."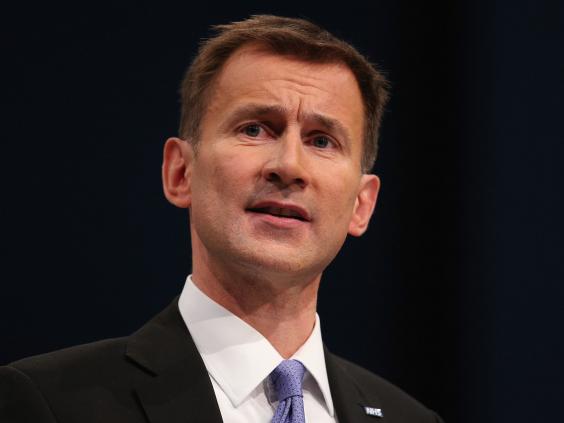 What does the Government say?
The Department of Health argues the new contract is a better deal and insists it will increase basic salaries and improve training so junior doctors will not get paid less on average overall.
Sir David Dalton - the chief executive of Salford Royal NHS Foundation Trust who has been drafted in by the Government to broker a deal - was in discussions with BMA representatives and officials from NHS Employers this afternoon.
Jeremy Hunt refused to deny claims he rejected a deal on contracts that could have averted the industrial action in the House of Commons.
In pictures: Junior doctors protests in UK
In pictures: Junior doctors protests in UK
1/10

20,000 Junior Doctors marched through central London in protest at the new contract changes the government is trying to impose which they say will be unfair and unsafe

2/10

Junior doctors protest in London

3/10

4 year old Cassius takes part in a demonstration in Westminster, in support of junior doctors over changes to NHS contracts, London

4/10

Protest over proposed changes to junior doctors' contracts, Leeds

5/10

Junior doctors and NHS staff protesting against the health service cuts and the proposed contract changes offered by the government outside Parliament

6/10

Junior doctors and NHS staff protesting against the health service cuts and the proposed contract changes offered by the government outside Parliament

7/10

Over 5000 junior doctors rallied in Waterloo place, before marching through Whitehall and onto Parliament Square, in opposition to Jeremy Hunt's new working conditions for doctors

8/10

Demonstrators listen to speeches in Waterloo Place during the 'Let's Save the NHS' rally and protest march by junior doctors

9/10

Junior doctors marched in London to highlight their plight

10/10

A protester at a demonstration in support of junior doctors in London
When asked by shadow health minister Justin Madders about the Independent's report that he personally vetoed a cost-neutral deal that would have reduced premium pay on Saturdays but stopped it being considered as a normal working day.
Mr Hunt refused to answer the question directly as he attacked Labour for failing to condemn the industrial action.
"If (the BMA) are prepared to negotiate and be flexible on that so are we," he added.