A London Marathon runner who collapsed and died after crossing the finish line had struggled with "nightmare" pollution and breathing difficulties during training, it emerged today.
Rob Berry, 42, an IT expert from Newbury, Berkshire, wrote in an online training diary on the Sunday before the race that he had been having breathing problems which may have been caused by pollution and the Sahara dust cloud which engulfed the UK last month.
"I have now used my inhaler 3 times in the last week whereas I might use it 3 times in year", he wrote on Sunday the 6th of April.
On April 1, just under a fortnight before the race, he wrote: "What a nightmare this morning was. Yesterday I did a gentle 5 miles as my breathing still not too good and knees a little achy.
"Today on the other hand my eyes were itching, nose running and breathing a big struggle."
In the blog he writes that he hopes his breathing difficulties are down to pollution and the dust from the Sahara and not hay fever because: "I don't want to be running like this during the Marathon."
In a message on his personal website, Mr Berry, explained his reasons for running the Marathon: "This page is dedicated to my mum, who despite being diagnosed with osteoporosis at the relatively early age of 52 years, has been an inspiration through the continued positive outlook she has displayed ever since, despite some quite clear discomfort."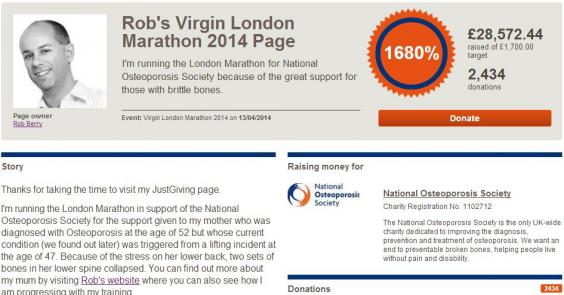 Marathon organisers have said that his death left the event "tinged with sadness".
Mr Berry set out to raise 1,700 for the National Osteoporosis Society. Since his death donations have flooded into his JustGiving page and the total currently stands at £38,557.62.
Two years ago, donations to the Samaritans appeal of Claire Squires, the last runner to die, soared above £1 million.
The National Osteoporosis Society said in a statement: "It is with great sadness that the National Osteoporosis Society has learnt of the death of Robert Berry, one of our runners in this weekend's London Marathon.
"The charity would like to express its heartfelt condolences to Mr Berry's family and friends."
Claire Severgnini, chief executive of the charity, said: "Our immediate concerns are for Mr Berry's family. Our thoughts and deepest sympathies are with them at this tragic time."
Tributes and donations began pouring in to his fundraising page after news of his death broke.
Janet Lewis wrote: "Your mum has a good son and will no doubt be so proud of you."
Eric Sheley posted: "My condolences to Rob's family and friends. Such a tragic end to a wonderful challenge."
Katie Weeks said: "So sad, hope your family take comfort from the amount you raise for this fantastic charity."
A statement from race organiser Virgin Money said: "It is with regret that we can now confirm that Mr Robert Berry, aged 42, collapsed at the finish of the London Marathon. He was immediately taken to one of our medical facilities where he was treated by four consultants, including one in emergency medicine. He was transferred to St Mary's Hospital, where he was pronounced dead.
"The organisers of the Virgin Money London Marathon would like to continue to express their sincere condolences to the family and friends of Mr Berry and our thoughts and deepest sympathies are with them all at this difficult time."
"Despite the regular pain and discomfort, with the two hip operations on bones the density of someone typically the age of 100, I am able to walk short distances and with my husband's support it is manageable," says Mrs Berry.
Mr Berry began training for the race soon after securing his place last May and had completed a number of half-marathons and long runs in preparation for Sunday's event.
Reuse content