Witnesses to the terror attack outside a mosque in Finsbury Park have spoken of their shock and fear after a van ploughed into pedestrians – but said they plan to return tonight for Ramadan prayers.
Counter terror police are investigating the incident in north London, in which one man has died and several were injured.
Bahga Al-Maleeh, 41, who has lived in Finsbury Park for three years, said the van struck pedestrians on the street just after midnight outside her home on Seven Sisters Road, where many people were gathered after evening prayers.
"I had come back from the mosque and was eating at home. I heard screaming and shouts and went outside. I saw lots of people running and going inside," she told The Independent.
"My neighbour was there, calling: 'Help, help, he's down there'. A man was under the van – oh my God. People were screaming as they didn't know if there was another attacker."
Emergency services workers came and tried to pull the man out, said Ms Al-Maleeh. "His leg was broken, his arm was broken, his head – he was bleeding from his ear. 
"There was a man vomiting, another man with a broken leg, someone behind the car, another one in front, around six or seven in total.
"Two girls who had seen the van said the way it drove was deliberate. The community in this area are all coming from the mosque at that time, and he meant to get that group. It's so sad."
Police said the white 47-year-old man who was driving the van has been arrested on suspicion of attempted murder and taken to a hospital as a precaution.
Finsbury Park attack
Finsbury Park attack
1/14

Police officers attend to the scene after a vehicle collided with pedestrians in the Finsbury Park, killing one person and injuring eight

Reuters

2/14

The incident is being treated as a potential terror attack

Reuters

3/14

A man has been arrested on suspicion of attempted murder

Reuters

4/14

Police cordon off a street in Finsbury Park

AFP/Getty Images

5/14

A man prays in the street after the attack

Reuters

6/14

Men gather and pray together in the street in the aftermath of the attack

AFP/Getty

7/14

Reuters

8/14

PA

9/14

Onlookers gather near a police cordon

EPA

10/14

Forensic investigators arrive at the scene

PA

11/14

A forensic tent stands next to a van

PA

12/14

A police officer talks with residents

AFP/Getty Images

13/14

Onlookers watch proceedings at the security cordon

AFP/Getty

14/14

Local residents react at the scene

AFP/Getty Images
Abdul Rashid, 18, who witnessed the aftermath of the attack, described the suspect as "desensitised" and said he "wasn't distressed, not in the slightest. When people were holding him down he was saying 'you can kill me, I've done my job'".
"He was saying he had come here to kill Muslims," he added. "Everyone was shouting but he was completely desensitised. He looked blank. You could tell he didn't care. It was 100 per cent deliberate. He knew exactly what he was doing."
Another eyewitness who gave his name as Abdul told The Independent​: "People gather on that part of the street during Ramadan to chat and socialise so it was premeditated. He knew what he was doing.
"He waited until people had come out then drove at the people on the right then swerved to hit people on the left. Someone was lying under his van shouting 'Help me'.
"He tried to run away but we brought him down. He would've died because so many people were punching him but the imam came out and said 'No more punching, let's keep him down until the police come'.
"As he was being arrested he was laughing and smiling and shouting things about Muslims. I don't want to say what but it was the sort of thing that made people want to punch him."
He described the attacker as a tattooed white man in his late 30s or early 40s.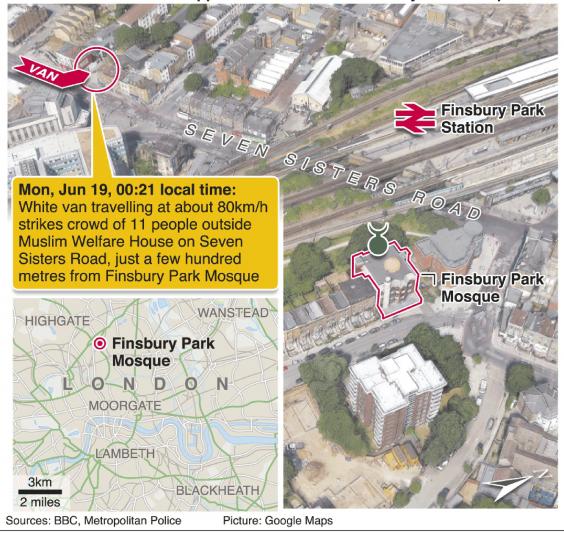 Saide Ottman, 27, was leaving the mosque at the time of the attack. "I heard people screaming and at first I thought it was an accident or a fight had broken out. Then I saw about 10 people holding a man back," he said. 
"People told me he had clapped after the attack and seemed proud of what he'd done, and said 'yes, I did it'.
"This is racism. I haven't ever experienced racism in London before, this is the first time. I'm scared, we're all scared, but I'm going back to the mosque tonight."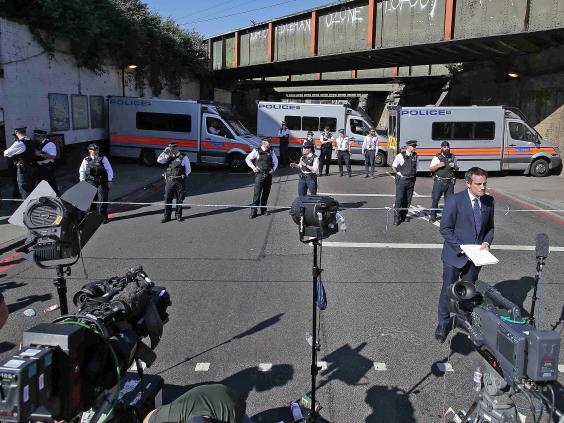 Theresa May has condemned the Finsbury Park terror attack as "every bit as sickening" as other recent terrorist outrages, vowing that "hatred and evil of this kind will never succeed".
The Metropolitan Police, already stretched by a series of recent tragedies including a high-rise fire in which 79 people are presumed dead and a terror attack near London Bridge that killed seven people, said they are putting more officers on the street to reassure the public. Muslim leaders called for calm. 
Ebu Seyitoglu, 44, who lives in a block of flats off Biggerstaff Street, parallel to Seven Sisters Road, where there is a heavy police presence.
He and his neighbours have been told they can leave the building but cannot return inside for several hours if they do so as police investigate.
An imam reportedly saved the van driver involved in the incident from being attacked by members of the public in the immediate aftermath of the crash.
Ibn Omar, a worshipper at the mosque, told Sky News: "I've been coming to this mosque since I can remember. I came back and there was sheer pandemonium. Anarchy. People panicking and screaming.
"Some people were injuring the man on the floor and the imam said 'no don't do that'. 
"After that I went home and I've been thinking they've said it's a major incident, from what I've seen, first and foremost I was dazed and confused. I didn't know what was going on. 
"From what one of my companions have told me is that it was reported as a collision, so police didn't rush as maybe they would have as in a terror incident.
"Unfortunately, as you can see in widespread media outlets and even with the police, the way in which they treat incidents which come from ethnic minority individuals in particular, straight away you see it's either this can potentially be a terrorist attack or this is a terrorist attack.
"But if it's a far-right extremist then unfortunately it's not treated the same way."
One witness who wanted to be identified as Abdulrahman, which is not his real name, said the attacker was pinned to the ground by onlookers after saying: "I want to kill Muslims."
"He wanted to run away and was saying, 'I want to kill Muslims'. So he came back to the main road and I managed to get him to the ground and me and some other guys managed to hold him until the police arrived, for about 20 minutes I think," he told Press Association.
"People were very upset, people were shouting, people were saying, 'where's the police, where's the ambulance?' People were saying, 'keep him on the ground'. People were asking questions, saying 'why did you do this?' People were laying down on the floor."
Abdulrahman claimed the driver said "kill me", as he was holding his head on the ground.
He added: "I said, 'tell me why did you try driving to kill innocent people?' When he went into the [police] van he made gestures, he was laughing.
"He deliberately did this. He caused this incident."
Amina Abdi, 50, who goes to a Hornsey mosque but knows lots of people who attend the Finsbury Park mosque, said she and her friends are all "shocked" by the incident.
"It's confused young men, Islamists, that cause people to do this. But yes, we have been victimised in the press too. It has been treated as if our religion is responsible," she told The Independent.
"We always feel guilty when walking around, as if people suspect us to be terrorists. But really it's young people, spending their days alone.
"We expected some retaliation [for London terror attacks] but we didn't know what it would be.
"I've been in London for 30 years, and it's a very safe city, so I'm really saddened by these recent attacks."
Reuse content