The mother of a girl who won the right to be cryogenically frozen has accused her ex-husband of lying in comments regarding his daughter's death.
The terminally ill 14-year-old had her remains frozen and stored in the hope she could be revived in the future after winning a High Court battle shortly before she died of cancer.
Her divorced parents were embroiled in a dispute over whether her wish should be granted.
Her mother, who she lived with, supported her wish for cryogenic preservation but her father was reluctant to approve the plan.
The girl's father said a judge had prevented him from saying goodbye to his dead daughter before her body was frozen and claimed he had not seen her since 2007 on the insistence of his ex-wife.
He told The Telegraph he had spent months being treated for cancer in the same hospital as his daughter without ever knowing she was there.
"My daughter didn't even know all the court case procedures that I have been so desperately trying to see her," he told the newspaper last week. "I am so sad about it."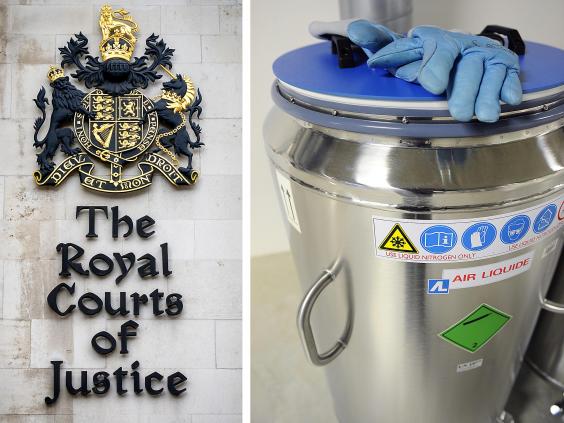 But the girl's mother has called his comments "unacceptable and untrue" in a statement released by her lawyers.
It said she did not wish to comment herself as she was "devastated" by her daughter's death.
"The mother wishes to clarify that she considers the comments made by the father and his family in the press to be unacceptable and untrue," it said.
Mr Justice Peter Jackson found in favour of the girl, who cannot be named for legal reasons, and she is now being stored at the Cryonics Institute in Clinton Township, Michigan, USA.
Her father has heavily criticised the institute and accused it of selling "false hope" to vulnerable people such as his daughter.
"I believe they are selling false hope to those who are frightened of dying – taking advantage of vulnerable people," he told the Mail on Sunday.
"When I asked if there was even a one in a million chance of my daughter being brought back to life, they could not say there was.
"I think it would be doubly impossible to both bring her back from the dead and cure her cancer, and companies should not hold out some false hope."
13 ways to help prevent cancer
13 ways to help prevent cancer
1/13

Stopping smoking. This notoriously difficult habit to break sees tar build-up in the lungs and DNA alteration and causes 15,558 cancer deaths a year

2/13

Avoiding the sun, and the melanoma that comes with overexposure to harmful UV rays, could help conscientious shade-lovers dodge being one of the 7,220 people who die from it

3/13

A diet that is low in red meat can help to prevent bowel cancer, according to the research - with 30 grams a day recommended for men, and 25 a day recommended for women

4/13

Foods high in fibre, meanwhile, can further make for healthier bowels. Processed foods in developed countries appear to be causing higher rates of colon cancer than diets in continents such as Africa, which have high bean and pulse intakes

5/13

Two servings of fruit and three servings of vegetables a day were given as the magic number for good diet in the research. Overall, diet causes only slightly fewer cancer deaths than sun exposure in Australia, at 7,000 a year

6/13

Obesity and being overweight, linked to poor diet and lack of exercise, causes 3,917 deaths by cancer a year on its own

Getty

7/13

Dying of a cancer caused by infection also comes in highly, linked to 3,421 cancer deaths a year. Infections such as human papilloma virus - which can cause cervical cancer in women - and hepatitis - can be prevented by vaccinations and having regular check-ups

8/13

Cutting back on drinks could reduce the risk of cancers caused by alcohol - such as liver cancer, bowel cancer, breast cancer and mouth cancer - that are leading to 3,208 deaths a year

2014 Getty Images

9/13

Sitting around and not getting the heart pumping - less than one hour's exercise a day - is directly leading to about 1,800 people having lower immune functions and higher hormone levels, among other factors, that cause cancers

2011 Getty Images

10/13

Hormone replacement therapy, which is used to relieve symptoms of the menopause in women, caused 539 deaths from (mainly breast) cancer in Australia last year. It did, however, prevent 52 cases of colorectal cancers

2003 Getty Images

11/13

Insufficient breastfeeding, bizarrely, makes the top 10. Breastfeeding for 12 months could prevent 235 cancer cases a year, said the research

AFP/Getty Images

12/13

Oral contraceptives, like the Pill, caused about 105 breast cancers and 52 cervical cancers - but it also prevented about 1,440 ovarian and uterine (womb) cases of cancer last year

2006 Getty Images

13/13

Taking aspirin also prevented 232 cases in the Queensland research of colorectal and oesophagal cancers - but as it can also cause strokes, is not yet recommended as a formal treatment against the risk of cancer
Clive Coen, a neuroscience professor at King's College London, said cryogenics companies should not be allowed to advertise because there is no evidence the technique works in humans.
He told The Guardian: "There is no evidence outside amphibia and tissue slices that any of this works. We're not at a point where regulation is appropriate. The whole body is just ridiculous and the whole brain is only slightly less ridiculous."
The judge's ruling was made in October but could not be revealed until after her death.
Reuse content