The Duke of Windsor, who is widely regarded as a Nazi sympathiser, once argued that bombing England could bring peace by ending WWII, it has emerged.
Correspondence kept in the Royal Archives between the British royal family and their German relatives in the run up to WWII remains confidential.
However, information pieced together from open archives across 30 countries, including Germany, Spain and Russia, has revealed the close relationship some members of the European aristocracy had with the Nazis.
Dr Karina Urbach, senior research fellow at the Institute of Historical Research at the School of Advance Study at the University of London, has uncovered how the Duke of Windsor told Don Javier Bermejillo, his old friend and Spanish diplomat, that the British royal blamed "the Jews, the Reds and the Foreign Office for the war".
Writing for The Conversation, Dr Urbach explained how Windsor told Bermejillo on 25 June 1940 that "if one bombed England effectively this could bring peace.
"Bermejillo concluded that the Duke of Windsor seemed very much to hope that this would occur: 'He wants peace at any price.'," wrote Dr Urbach.
She added: "This report went to Franco and was then passed on to the Germans. The bombing of Britain started on 10 July."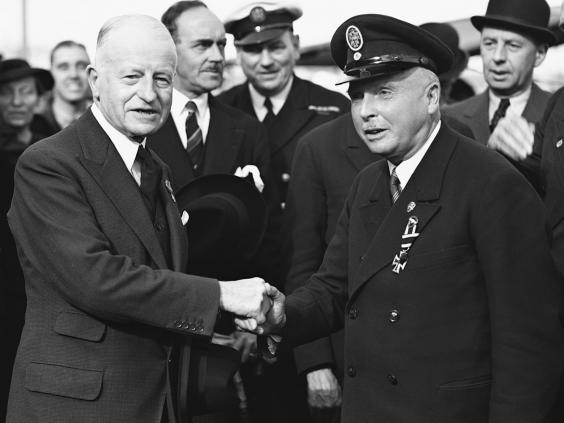 Research Dr Urbach has documented in her new book Go-Betweens for Hitler also shows how Nazi supporter Charles Edward Duke of Coburg was a key figure in the network of private individuals who Adolf Hilter used for covert negotiations when he mistrusted his foreign ministry.
As Coburg's sister Alice Countess of Athlone was the Queen Mary's sister-in-law, he was "welcomed […] by the royals, including the Duke of Windsor" to the extend he was invited to visit George V and the Queen at Sandringham in 1932, according to Dr Urbach.
Britain during WWII - in pictures
Britain during WWII - in pictures
1/30 WWII

1939: A squadron of Spitfires took part in mimic 'air alarms', during a speed demonstration at Duxford Aerodrome

2/30 WWII

1939: British railway workers fit floodgates below river level at Underground Stations

3/30 WWII

1939: A patient on a stretcher is loaded into a Green-Line coach ambulance when being evacuated from Guy's Hospital in London

4/30 WWII

1939: Metropolitan Police Constables wearing gas masks line up to enter a mobile gas chamber at East Ham Police Station, London

5/30 WWII

1939: A young female British Navy officer sitting astride a minesweeper's cannon and lighting a cigarette whilst two officers look on

6/30 WWII

1939: Schoolchildren crowd Ealing Broadway Station in London, some of the first youngsters to be evacuated to the country during World War II

7/30 WWII

1940: Bells rescued from the belfry of St Giles in Cripplegate, London, which was bombed during a night raid

8/30 WWII

1940: A projector, operating from its sunken sandbagged emplacement, at a searchlight station in the London area

9/30 WWII

1940: Auxiliary Territorial Services personnel sealing and preparing a Churchill tank for export to the Soviet Union

10/30 WWII

1940: An Australian soldier leaps from a tank during training exercises in Britain

11/30 WWII

1940: A man flies a Union Jack on a bomb site. The area was bombed twice, and the second time it tore the flag in two

12/30 WWII

1941: A policeman coaxing his pony to leave an area which is being evacuated due to the discovery of an unexploded bomb

13/30 WWII

1941: Charles de Gaulle (C), Chief of the French Free Forces, inspects the French colonial troops during during his visit of a military base in Great Britain

14/30 WWII

1941: US politician Wendell Willkie viewing the bomb damage to the Guildhall during the Blitz, London

15/30 WWII

1941: Men, women and children stand with their belongings on a pavement in Clydeside, in the aftermath of a severe bombing raid

16/30 WWII

1941: The famous American 'Eagle' Volunteer Air Squadron, formed during WWI, takes its place in the ranks of the RAF

17/30 WWII

1942: Work in progress of the decks of almost completed ships, being built for the merchant navy

18/30 WWII

1942: Two London buses passing through thick smoke screens during Civil Defence Service training operations

19/30 WWII

1942: A British ship (either the Cathay or the Karanja) on fire in Bougie Harbour (Bejaia), during the North African 'torch' landings. The Luftwaffe bombed three of the Allied ships as they attempted to reach shore

20/30 WWII

1943: American soldiers viewing some of London's raid damage during a tour

21/30 WWII

1943: A crashed German Messerschmitt is towed past the Houses of Parliament in London

22/30 WWII

1943: The wreckage of Sandhurst Road School in Catford, south London, the day after it was partially destroyed in a German bombing raid

23/30 WWII

1944: Extensive manoeuvres for invasion being carried out by American Sherman tank units in Britain

24/30 WWII

1944: Rescue workers searching through the rubble of a block of flats destroyed by German raids in London

25/30 WWII

1944: Bomb damaged buildings in London's Pall Mall after an air raid

26/30 WWII

1945: British officers liberated by the 9th Army from Brunswick Oflag 79, the largest British officers' camp in Germany

27/30 WWII

1945: Essex-class fleet carrier USS Franklin after suffering a hit by a Japanese dive-bomber off Japan, during war in the Pacific

28/30 WWII

1945: The scene in Farringdon Road, London, after a V-2 rocket had fallen in daylight on the Central Markets

29/30 WWII

1945: VE day, held to commemorate the official end of Britain's involvement in World War II, is celebrated by crowds at Trafalgar Square in London

30/30 WWII

1945: Soldiers from the Women's Royal Army Corps in their service vehicle, driving through Trafalgar Square during the VE Day celebrations in London
The two Dukes became so close that they hoped to strike an Anglo-German alliance.
According to Dr Urbach's findings, the Soviet intelligence services were certain that the Duke of Windsor was a Nazi sympathiser when war broke out, and reported in 1940 that he and Hitler had discussed forming a new English government, and striking an alliance with Germany based on having the USSR as their shared enemy.
The revelations come after a book published earlier this year revealed that Hitler wanted to use Windsor when he was still King as a puppet on the British throne.
Before he abdicated and a month after Hitler occupied the Rhineland in March 1936, Windsor sent Hitler a telegram wishing him "happiness and welfare" for his 47th birthday, according to an extract of Seventeen Carnations - The Windsors, The Nazis and the Cover-Up by author Andrew Morton seen by the Mail on Sunday.