Private rents are higher in Britain than any other European Union country and swallow up more of people's earnings, according to a new analysis.
The average UK rent is nearly double the European average and about 50 per cent more than in countries with similar wage levels such as Germany and the Netherlands. The National Housing Federation report calculates that Britons who rent are handing over almost 40 per cent of their earnings to landlords, compared with a European average of 28 per cent.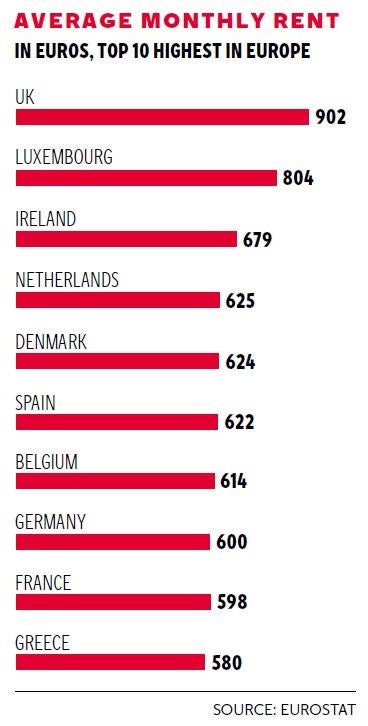 It said the findings illustrated the "raw deal" faced by renters compared with their European counterparts and called for an increase in house-building to force down rents. According to the federation, the average monthly rent in Britain was £750 at the end of 2013, compared with £400 across Europe. It was £520 in the Netherlands, £500 in Germany, £482 in France, £447 in Italy and £268 in Poland.
British renters also have less security with the shortest tenancies, the NHF warns. More than three-quarters (77 per cent) had moved in the last five years, compared with 43 per cent across Europe.
The federation, which represents housing associations, accused governments of all parties of being responsible. It said that Britain had invested 3 per cent of  GDP on housing between 1996 and 2011, against 6 per cent in Germany and 5 per cent in France.
David Orr, its chief executive, said: "British renters get a raw deal in comparison to their continental counterparts. Not only do they face crippling rents, but renters in the UK have almost no certainty about whether they will be able to stay in their home from one year to the next. How can we expect people to raise families, start businesses or save for their first home if they don't know where they will be able to afford to live?"
Roger Harding, of the campaign group Shelter, said: "For decades, successive governments have failed to build the homes we so desperately need, pushing housing costs sky-high and leaving renters stuck in a 'rent trap', paying out dead money to landlords with barely any stability.
"This can't go on. In the short term, the government needs to make renting fit for purpose with longer-term contracts and a crackdown on rogue landlords."
Emma Reynolds, the shadow Communities and Local Government secretary, said: "The growing housing crisis means a whole generation of young people and families are paying record rents while their aspiration of home ownership becomes a distant dream."
A spokesman for the Department for Communities and Local Government said: "We are determined to create a bigger, better private rented sector that meets the needs of tenants and landlords and encourages investment."
He pointed to the £1bn Build to Rent fund which had helped to fund 4,200 new homes worth a combined £464 million since 2013. "This is part of our wider efforts that have got the country building again, with housing starts more than double their level in 2009."