In a nation so steeped in vulgarity it thinks nothing of striding straight from the beach into the sea, ankles on display for all to view, there is hope.
It lies hidden, for now, behind the Turner Contemporary gallery in Margate, Kent, at a discreet remove from the "Funshine Amusements" and bingo.
Surrounded by workers applying the finishing touches, it is so much more than the shed on wheels it initially resembles. With body of pine and wheels of oak, it is a bathing machine – probably the first built in England for a century.
Devised by Dom Bridges, local purveyor of seaweed-based remedies, and built with the help of £32,000 raised via the crowdfunding website Kickstarter, it will revive one of the most civilised traditions of the British seaside.
In a more genteel age, swimmers entered a bathing machine in normal attire, changing inside before the contraption was pulled into the sea by horses. Only then would they exit via a ladder into the sea. Thus would the ankles, and other bits, of ladies and gentlemen, but particularly ladies, be shielded from watchers.
Queen Victoria had one, at the private beach attached to Osborne House, her Isle of Wight bolthole. (She feared being spotted by sailors peering through telescopes.) Then, in 1901, the last year of her reign, came the end of legal segregation of the sexes in British swimming areas, and the decline of the bathing machine. By 1920 nearly all had been destroyed or turned into beach huts.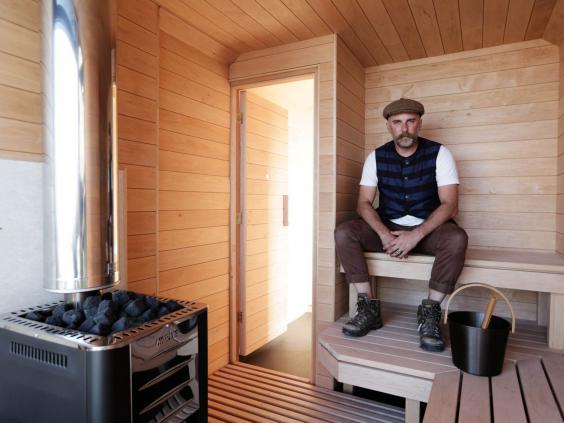 But now Mr Bridges, 41, is poised to restore decency to our seaside – although he doesn't see it like that. In fact, when the machine makes its debut on Margate beach in October it will, scandalously, admit mixed bathing parties. Already, he says: "I have had a pre-order from an Ibiza hotel, and another from Cornwall. We are talking to people in Coney Island [New York]."
And where better to start the great bathing machine revival than Margate? Its claim to be the birthplace of the device may be disputed, but it was certainly in Margate that the bathing machine acquired its finest adornment: the modesty hood.
Invented in the 1750s by the Quaker Benjamin Beale, it was a kind of concertina canvas tent which could be pulled down at one end of the machine to ensure that, as one 1776 guidebook put it: "bathing [is] consistent with the strictest delicacy".
Mr Bridges's bathing machine, too, will have a sailcloth modesty hood – but will be pulled into the water by a vintage tractor, not horses.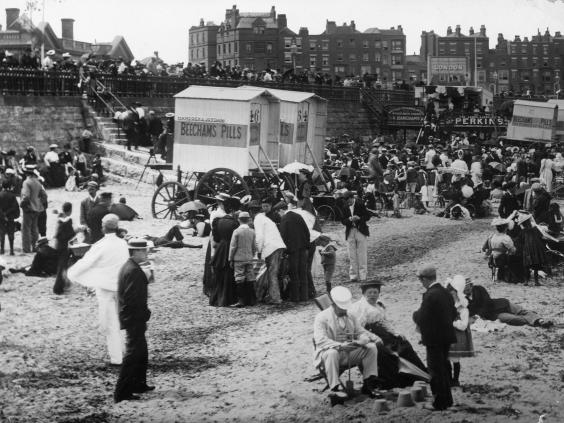 It will also boast a "state-of-the-art" wood and herb-burning sauna. The sea will be its cooling plunge pool – "No other UK sauna uses the sea as its plunge pool," says Mr Bridges.
His machine will help reacquaint us with the year-round, health-giving properties of the local waters, as sampled in the glory days, he says, when Londoners flocked to Margate's Royal Sea Bathing Hospital, seeking "the sea-water cure" for scrofula and other ailments.
Then there are the restorative powers of Margate seaweed. At his shop, Haeckels, the former London-based advertising director sells his own seaweed-based body care and perfumery products. With prices starting at £40 for the "hammam-style" experience, bathing machine customers will be offered seaweed facials, seaweed body wraps, massages with seaweed oils. As well as products such as  the seaweed-based beard oil with which Mr Bridges treats his own exquisitely tended moustache. Nothing, he says, beats local Fucus serratus, serrated bladderwrack: "The best one-stop ingredient for rejuvenating the skin…"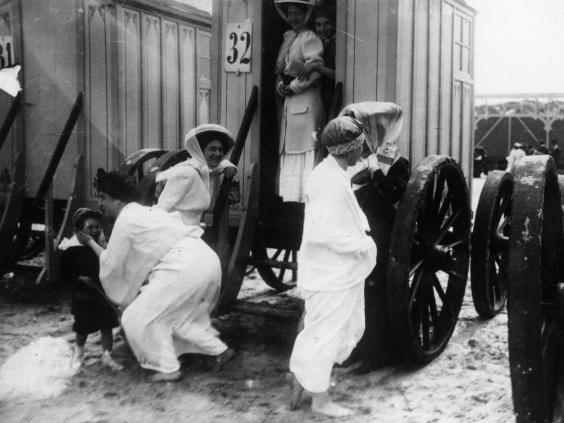 Mr Bridges wants, of course, to rejuvenate more than skin. There is, he says, a certain poetry in the fact that his bathing machine will operate from a reclaimed patch of wasteland next to the seaside shelter where T S Eliot composed Part III of The Waste Land.
His project, he hopes, will add to a mini-renaissance returning Margate to its bustling heyday, via ventures such as the £17.5m Turner gallery and Dreamland, Britain's oldest seaside pleasure park, rescued from dereliction and re-opened in June.
The £52,000 bathing machine has been built mainly by Kentish craftspeople and will be staffed by locals. "I want it to be part of the spirit of ingenuity and entrepreneurship that made Margate great and which is making Margate great again," says Mr Bridges.  "Every resort should have one."
Reuse content