The 200th anniversary of the Battle of Waterloo was a day for realism and a day for surrealism.
You could gaze at four Napoleonic soldiers, in plumed hats and blue uniforms, as they waited to catch a bus to Brussels with a black woman in jeans. You could stare at one of Wellington's red-coated infantrymen as he checked his emails in the wi-fi tent at the bivouac of the allied armies. You could also marvel at the precision in which 500 "British" soldiers – some Canadian – formed into a defensive square near Hougoumont Farm.
The biggest ever re-enactment of the Battle of Waterloo will start tonight before 100,000 spectators. It will finish late on 20 June with, one presumes, the defeat of the Emperor Napoleon (aka Frank Samson, a lawyer from Paris). The event began with a representation of Waterloo in music, ballet, poetry and a thunderous son et lumière. The original battle was, in cricket terms, a one-day international. The double centenary re-enactment has grown into a three-day Test Match.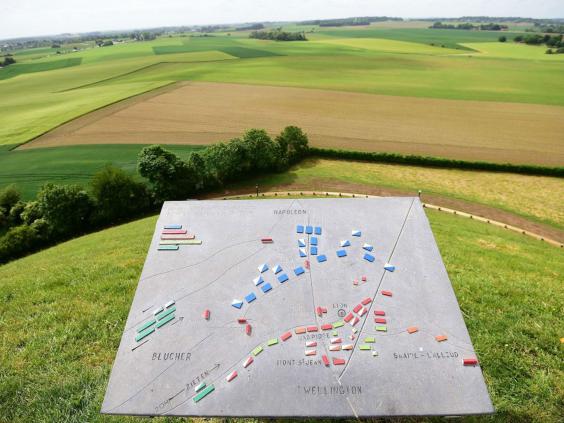 One of the more surreal sights at the pre-battle bivouac of the allied armies was a man wearing a pinstriped suit amid all the tourists in T-shirts and soldiers in bright uniforms.
He was drinking beer from a plastic cup. He looked  like Nigel Farage. On closer examination, he was Nigel Farage,
What, The Independent asked, was the Ukip leader doing commemorating such a great European victory as Waterloo? It was, after all, a prototype European army which the Irish-born Duke of Wellington and the Prussian General Blucher led to victory over the French on 15 June 1815. More than half of Wellington's force consisted of Hannoverians, Saxons, Dutch and Belgians. A third of the British soldiers were Irish. If you include the Prussians, about a quarter of the 120,000 soldiers who defeated  the Emperor Napoleon at Waterloo were "British" – and maybe one in eight were English.
Mr Farage was momentarily taken aback. He counter-attacked, "Yes, we had allies," he said. "We also had allies in World War One and World War Two. You can't claim this as a 'European victory'. It was the Emperor Napoleon, who was trying to create a European union, who lost the battle."
Instead, we agreed how moving it had been to see a full British infantry square formed on the battlefield of Waterloo. This was almost certainly the largest infantry square to be formed on this spot for 200 years. There are re-enactments of Waterloo every year but on nothing like the scale of this year's event. There will be 5,000 official "re-enactors" in the main events on the nights of 19 and 20 June.
Wellington's infantry practised its square-forming drill close to the allied encampment at Hougoumont Farm, one of the key British strongholds 200 years ago. An impromptu commentary was provided by Robert Elliott, 59, a compliance officer in the City, and also "exploration officer", or spy, for the 44th East Essex Regiment of Foot.
10 historic moments to mark in 2015
10 historic moments to mark in 2015
1/10 Death of Sir Winston Churchill, 24 January 1965

This January will be 50 years since the death of Britain's wartime prime minister, and one of the towering figures of the twentieth century. Alongside defeating the Nazis, Churchill also enjoyed bricklaying, painting and Islamic culture. His death was followed by a state funeral, and thousands of people paying their respects along the route of the cortege to his burial site at Woodstock, Oxfordshire. You can visit the Cabinet War Rooms (020 7416 5000), London, and Churchill's home, Chartwell (07132 868381), Kent, year-round.

Gareth Williams

2/10 Battle of Waterloo, 18 June 1815

No one can claim that nothing important happens in Belgium – this was the site of one of the most famous showdowns in European history. On one side were the forces of Napoleon Bonaparte, self-declared Emperor of France, and on the other the coalition of nations led by the Duke of Wellington. The battle was decisive in curbing the territorial ambitions of the Napoleonic regime. Wellington Arch (020 7930 2726), London, will host an exhibition about the battle. Walmer Castle (01304 364288), Kent, will re-produce the rooms where Wellington spent his final days.

Karen Roe

3/10 Signing of the Magna Carta, 15 June 1215

The signing of the Magna Carta by King John at Runneymede, Surrey, may not be quite the defining event in the history of English liberty as it is sometimes presented. After all, John went on to ignore all of its demands. But the idea that it represented – the principle that kings, as well as subjects, are accountable to the law – is a cornerstone of our constitution. Take part in Magna Carta Trails at Dover Castle and Pevensey Castle. Copies of the document itself can be found at Salisbury Cathedral (01722 555120), Lincoln Castle (01522 782040 – closed until 1 April 2015), and the British Library (01937 546060)

Jack Pease

4/10 Viking invasion of England by Cnut, 1015

"They miserably ravaged and pillaged everything; they trod the holy things under their polluted feet, they dug down the altars, and plundered all the treasures of the church." So Symeon, a monk from Durham, described a Viking raid on Lindisfarne. King Cnut was no doubt equally terrifying when he arrived in Wessex in 1015, but after pillaging he chose to settle. He brought an age of prosperity after a period of warfare between Vikings and Saxons, and established an empire that stretched from England to Scandinavia. Lindisfarne Priory (01289 330733), Northumberland, will host a 'Vikings in Lindisfarne' even on 18/19 July.

Richard Pigott

5/10 First English parliament, 20 January 1265

The story of England's first parliament, much like today's Prime Minister's Questions, is one of squabbles, upheaval and violence. 750 years ago, Simon de Montford, in the midst of civil war against King Henry III, called together an elected body of representatives from across the country in what is thought to be the first meeting of 'the commons'. You can visit Kenilworth Castle (0870 333 1181), Warwickshire, where the forces of Simon de Montford besieged the royalist garrison.

Stephen Jones

6/10 Siege of Carlisle, 1315

700 years ago, the northern edge of England was in constant terror of invasion from the Scots, who regularly came south under the command of fierce warlords. None were more feared than Robert the Bruce, who invaded England after his victory at the Battle of Bannockburn. Having marched into Cumbria, his forces laid siege to Carlisle Castle, in a brutal fight that saw ladders and siege towers used in a futile attempt to capture the fort. Carlisle Castle (01228598596) will host a siege re-enactment on 6/7 July.

7/10 Evacuation of Dunkirk, 27 May to 4 June 1940

It is the triumph that emerged out of disaster – the removal of Allied troops from the beaches of northern France spared thousands of lives and allowed Hitler's enemies to keep on fighting. The evacuation, which took place 75 years ago, has entered folklore on account of the actions of the 'little ships', which rescued soldiers and helped prevent a catastrophic defeat. The Wartime Tunnels at Dover Castle, from which the evacuation was coordinated, can be visited all year round. Dover Castle's (01304 211067) "WWII Weekend" will take place over the late May Bank Holiday (24 May).

Jake Keup

8/10 Agincourt, 15 October 1415

"We few, we happy few, we band of brothers". Henry V's speech in 1415, admittedly invented by Shakespeare, embodies the myth of Agincourt. The small number of English and Welsh archers, standing up against the masses of French knights. Despite being ripped off by generations of football managers hoping for an inspirational team talk, it still holds its power. Porchester Castle (023 92378291), Hampshire, will be holding an event to celebrate the anniversary of the battle in October. More details released at a later date.

David Blaikie

9/10 First World War, 1915

The optimism of 1914 was tempered by the horrors of the following year, when troops settled in for a long slog of trench warfare along the Western Front. Key events which took place 100 years ago this year include the first recorded use of chlorine gas and the start of Zeppelin attacks on England. Meanwhile, Winston's Churchill's failed Gallipoli invasion forced him to depart from the Admiralty. Wrest Park, Bedfordshire, will host a "Wrest at War" weekend. Details released at a later date.

Karen Roe

10/10 VE Day, 8 May 1945

Victory in Europe Day – a public holiday to mark the Allies' formal acceptance of Nazi Germany's unconditional surrender – witnessed an outbreak of street parties across Britain. Huge crowds gathered in Trafalgar Square to hear Churchill's speech broadcast over a tannoy, with one eye-witness noting an "extraordinary hush over the assembled multitude". Audley End (01799522842) will host a WWII weekend event over the August Bank Holiday. Details released at a later date.
"You see how easy they make it look," he said. "But it is actually very tricky and takes a lot of work to move from a line into a square. It was the best possible defence against cavalry. See how the front row are pointing their bayonets at an angle to keep the horses at bay while the ranks behind them fire their muskets."
Mr Elliott was wearing a smart, dark uniform. He has been taking part in Napoleonic re-enactments for five years "for love of the history, for love of the period".
He had paid his own way from Norfolk. Others came farther. On the Belgian bus to the site there was Francisco Perez. He was wearing a smart green Belgian militia uniform of the Napoleonic period, which he had made entirely himself.
Mr Perez, 40, is Chilean. He is a forensic architect in the Chilean police force. He had come to Europe for the first time with his wife and two children. He is enrolled as one of the official re-enactors, on Wellington's side, on 19 and 20 June
"In Chile, when we do re-enactments, we are lucky to have 15 or 20 people," Mr Perez said. "Here, we will be 5,000. Can you imagine? This will be a fantastic experience."
Crossing the Brussels ring road which cuts through the battlefield, there were two French soldiers in full Napoleonic uniform. They did not speak French; nor much English. They were Russians.
A man offered to interpret. He was a French man with a Scottish wife. Waterloo is complicated, whatever Mr Farage says.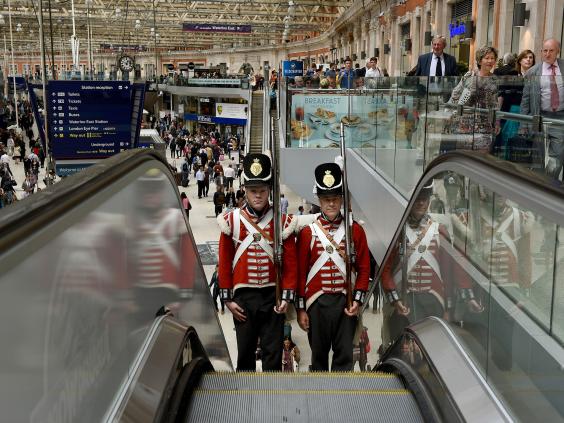 Dimitri and Andrei had come from Moscow. Napoleonic re-enactment was their "hobby". Why were they dressed as French soldiers? "For us," Dimitri  said. "The Napoleonic army in that period represents progress and freedom. They fought against the Tsar and other monarchies."
There were many nationalities in the Napoleonic Grande Armée, which reassembled at its own bivouac on the Waterloo battlefield: Germans, Swedes, Italians, Austrians, many French, even some Britons.
One soldier in a British infantry uniform used to fight for Napoleon. Peter Lee, 36, a local government officer from Lincoln, was once on a British-based Napoleonic regiment. He swapped sides a few years ago and joined the 33rd Regiment of Foot. He is  known to his new British colleagues as "blue".
He and his comrade Derek Roberts, 60, an electrical engineer from north Wales explained, "You are not really scared, except maybe in the bayonet charges," said Derek. "You know that you're not going to be killed or injured but the adrenalin runs all the same," said Peter. What was their prediction? "We should do fine, if it goes according to history," said Derek.
Reuse content