A mother who allowed her grieving son to take time off school after the death of his father may be jailed.
Kris Jarvis, 39, was killed in a drinking-driving incident in February 2014.
The driver, Alexander Walter, was over the drink limit when he hit Mr Jarvis and friend and fellow cyclist John Morland, 30, at 70mph in Purley on Thames, in Berkshire. Both men were killed in the incident, and Walter was subsequently sentenced to 10 years and three months in prison. 
In the months following Mr Jarvis' death, the attendance of his grieving youngest son, Adam, 11, at Battle Primary School in Reading dropped to 45 per cent.
Reading Borough Council – who employed the father – is now prosecuting Tracey Fidler, 40, Mr Jarvis' fiancee and partner of over 20 years, for letting their son miss school.
Ms Fidler appeared at Reading Magistrates Court on Friday 25 September, and was bailed until Friday 9 October after pleading not-guilty, GetReading reported, and could now face a custodial sentence. 
The mother-of-five, who met David Cameron as she campaigned for stricter drink-driving sentences in the wake of her partner's death, said the school was aware of the circumstances but did not agree that her son should have been kept at home. 
She told The Sunday Times that Adam "was in bits" after his father died, and feared going to school in case his mother "wouldn't be there" when he returned.
A Change.org petition defending Ms Fidler has garnered over 6,000 signatures in three days.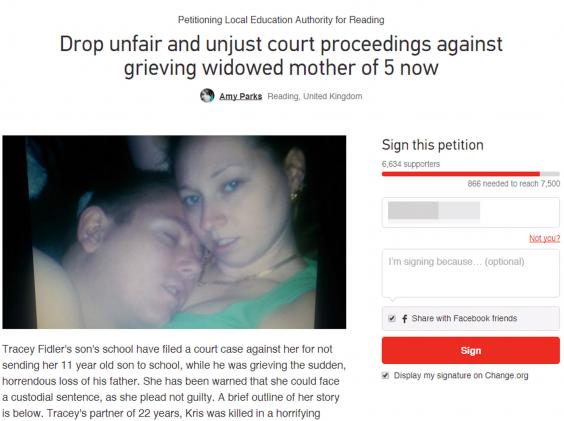 Amy Parks, Ms Fidler's friend and the author of the petition, wrote on Change.org: "[Adam] was not truanting, he was grieving. They all still are! Tracey now has just two weeks to build her case against the school, and to defend herself, and her family."
Reading Borough Council told The Sunday Times: "We are making contact with the family with a view to urgently meeting them and finding a resolution."
At the time of the crash, a spokesman for the authority said, according to MailOnline: "It is with great sadness that news of the tragic death of two council employees reached us this morning.
"The thoughts of everyone at Reading Borough Council are obviously with their families at this sad time."
The Government introduced stricter penalties on school absences in 2013. However, the rules have been called into question assome parents have been punished when children have missed lessons to attend medical appointments and other important events.
Ms Fidler's case comes after Gaynor Hodge, 39, and her husband Leigh, 41, were threatened with a £1000 fine after they asked permission for their ten-year-old daughter to miss school to attend her grandfather's funeral. 
Hanbury's Farm Primary School, Tamworth, told the couple the reason did not amount to "exceptional circumstances", Mail Online reported. 
Reuse content