A senior Ukip official has said he shared offensive Facebook posts about Islamic dress "by accident".
Gordon Parkin, who is assistant to Ukip North East MEP Jonathan Arnott, is facing a party probe after sharing posts calling traditional Islamic dress "offensive" and  apparently praising right wing idol Enoch Powell.
Mr Parkin, whose role includes vetting potential general election candidates for the party, claims he shared the posts, by far right groups Britain First and the New Daily Patriot, by mistake and accused critics of "dirty politics".
One image Mr Parkin shared depicts former Conservative MP Powell, who warned immigration would lead to rivers of blood in a notorious 1968 speech, beside the House of Commons with the slogan "I told you so...".
One from Britain First, which was founded by a former BNP members, shows three women wearing Islamic face coverings with the words: "share if you find this offensive".
Another from the group, which fights what it calls the "Islamification of the UK", urges people to share and image of a butcher's counter if they think schools replacing pork with halal meat are "wrong".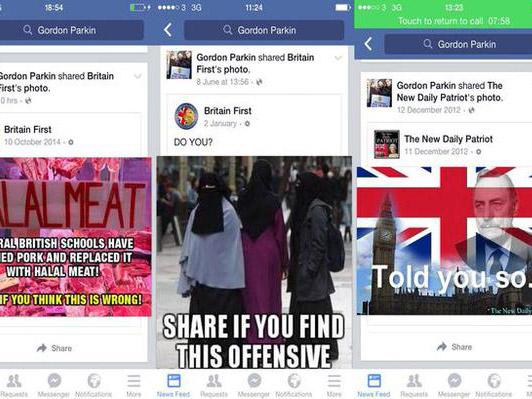 Despite sharing the posts Mr Gordon, who stood for Ukip in the 2010 election, denied he held the views expressed and claimed he clicked the "share" button unwittingly, only realising when he was approached by reporters.
He has since deleted the posts, but Ukip is investigating the matter.
Mr Gordon, who also stood in the 2009 European elections, said: "Anyone who knows me knows that I do not hold the views expressed in those pictures. It's so easy on Facebook to accidentally click 'share' and a post appears on your timeline.
"If only I'd noticed these were on my timeline by mistake, I'd have deleted them straightaway. Look at these posts, you'll see there is no engagement or comment from me.
"As a gay man, I know all about discrimination and prejudice, and would never intentionally upset anyone.
"I've visited local mosques in my UKIP role, I work to drive down division not stir it up, and have nothing but respect for my colleagues of all ethnic backgrounds.
"Sadly, modern politics is a dirty game: someone motivated by hatred has trawled back over two and a half years on my Facebook and found three errors.
"Let he who has mis-clicked 'share' throw the first stone."
The revelations have left Mr Parkin's boss red-faced. Mr Arnott played a key role in attempting to clean up the gaffe-prone party, even helping draft a rule book that specifically bans members from having links to organisations like the BNP.
Mr Arnott has confirmed he has met with Mr Parkin about the matter but said no disciplinary proceedings were under way.
The MEP said: "I am now looking in to this, and will be consulting with the party authorities before any decisions are taken."
The inquiry is expected to take up to two weeks.
Reuse content