A candidate to be the next leader of the Labour party has confirmed that he would spend billions renewing the Trident nuclear weapons system in full.
Andy Burnham said he could not be certain that Britain would not need the £100bn system, which has never been used.
"I believe in multilateral disarmament but I can't say to you on the radio now that I would back away from renewing Trident, because I wouldn't," he told BBC Radio 4's World at One programme.
"I've been an MP for coming on 15 years and when I first got elected I don't think I could have possibly imagined the world events I have seen in those years."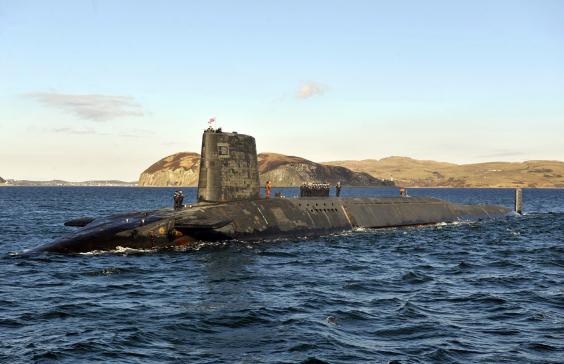 "I do not think I'll know enough about how this world will develop in the rest of this century for our country now to say 'you know what, we're going it alone now'."
When it was pointed out to Mr Burnham that only nine countries out of around 200 had nuclear weapons, Mr Burnham replied:
"Their history is different, isn't it? In respect of their involvement in conflicts past and our membership of the security council gives us a leadership position on these matters."
Cost estimates for the nuclear weapons range between £60bn and £120bn over its lifetime.
Labour leadership: The Contenders
Labour leadership: The Contenders
1/4 Jeremy Corbyn

Jeremy Corbyn readily admits he is only standing to ensure the left of the party is given a voice in a contest dominated by candidates promising to move the party towards the centre-ground of British politics

Profiles by Matt Dathan

BBC

2/4 Andy Burnham

Andy Burnham is the current front-runner to win the leadership election according to bookmakers, but the fact that the Conservative party leadership hopes he wins shows the task that awaits if he is Ed Miliband's successor. He will have to find a way of distancing himself from both the last five years under Mr Miliband and the Blair and Brown years, during which he served in the Cabinet

Jon Super

3/4 Yvette Cooper

Yvette Cooper will also face a battle in convincing voters she offers a sufficient break with the past, having served in Gordon Brown's Cabinet and she played a key role in Mr Miliband's team as shadow home secretary. The fact that her husband is Ed Balls will not have a negative impact internally but voters are not likely to look favourably on the prospect of Mr Miliband's ousted shadow chancellor entering Downing Street if Ms Cooper wins in 2020

Getty Images

4/4 Liz Kendall

Liz Kendall faces criticism over her lack of experience – she was only elected in 2010 and has no experience of serving in government and wasn't even in Ed Miliband's shadow cabinet. But that very lack of experience means she can make a pitch as the only candidate offering real change and a real break from the Blair/Brown/Miliband years

Getty Images
Last time nuclear weapons were used in war they killed around 200,000 people. The 70th anniversary of the use of such bombs against Japan was marked this month.
Yvette Cooper and Liz Kendall are also in favour of keeping Trident, while Jeremy Corbyn says he would not renew the system, whose current iteration is nearing the end of its life.
The SNP, which runs the Scottish government, is against Trident, as is the Green Party.
Reuse content