David Cameron has said he would be "delighted" to stage an early referendum on Britain's membership of the EU, if the Conservatives get voted into power in the general election next May.
The Prime Minister said that he wants to re-draft the terms on which the country is a member of the European Union and bring forward the referendum before the current agreed deadline of the end of 2017.
His comments came as Ukip leader Nigel Farage suggested that although it was "unlikely" his party would join another, he could be prepared to support a minority Conservative government in order to achieve his long-held objective of an EU referendum.
2014 Right-Wing Power List - Top 25
2014 Right-Wing Power List - Top 25
1/22 1. Nigel Farage

A still from the Paddy Power advertisement

2/22 3. George Osborne

On 30 September, at the Tory conference in Birmingham, the Enterprise Forum hosted an invitation-only reception with the CBI and George Osborne

Getty

3/22 4. Boris Johnson

Boris Johnson argued that he could perform both roles as MP and Mayor

AFP/Getty Images

4/22 5. Lynton Crosby

Lynton Crosby has told ministers to stop announcing minor policies which distract from the party's core messages

Tal Cohen/Rex Features

5/22 6. Theresa May

Home Secretary Theresa May will outline plans to curb extremists' freedom of speech (Getty)

Getty

6/22 7. Philip Hammond

Foreign Secretary Philip Hammond says the killing of James Foley is an "utter betrayal of our country, our values and everything the British people stand for"

Getty

7/22 8. Sajid Javid

Baroness Warsi described Culture Secretary Sajid Javid as 'the only non-white person' in the Cabinet

Getty

8/22 9. Jeremy Hunt

Health Secretary Jeremy Hunt

Getty

9/22 10. Lord Ashcroft

Lord Ashcroft

PA

10/22 11. Samantha Cameron

Samantha Cameron: a high-flyer with a wealthy background

Getty Images

11/22 12. Michael Gove

Durham Free School had earlier been praised in the Commons by Mr Gove

Getty Images

12/22 13. William Hague

William Hague

Getty

13/22 14. Michael Fallon

Rex

14/22 15. Grant Shapps

Grant Shapps was mocked over the 'beer and bingo' ad

15/22 16. Edward Llewellyn

16/22 17. Chris Grayling

Chris Grayling, the Justice Secretary

Rex

17/22 18. Iain Duncan Smith

Iain Duncan Smith

Getty Images

18/22 19. Nicky Morgan

New education Secretary Nicky Morgan

Getty

19/22 20. Eric Pickles

Eric Pickles is often to be seen down at the RSPB's Rainham Marshes nature reserve in Kent

Getty

20/22 21. Oliver Letwin

Getty

21/22 24. Francis Maude

Francis Maude, Minister for the Cabinet Office

EPA

22/22 25. Patrick McLoughlin

Patrick Mcloughlin is considering using taxpayers' money to build homes around the HS2 line

Getty Images
Appearing on BBC1's The Andrew Marr Show, Mr Cameron said: "The referendum must take place before the end of 2017. If we could do that earlier, I would be delighted," he said. "The sooner I can deliver on that the better."
Mr Farage told Sky News' Murnaghan programme: "The Cameron offering, frankly, isn't good enough in the sense that it's all been kicked into the long grass into 2017 following a renegotiation that looks highly improbable at any level.
"I want our democracy back, I want control of our borders back, I want us to be able to negotiate our own deals on the world stage. To do all of that, I need a referendum. We need a referendum."
However, Farage could be in for a disappointment as the Conservatives think his party is neither able or effective in negotiating an in/out referendum, as their website simply claims: "UKIP are neither credible nor competent and they can't deliver for Britain."
The Prime Minister also launched attacks on the Labour and Liberal Democrat spending plans while he defended his own party's budget as one that would eliminate the deficit by 2018 through a controversial combination of spending cuts and stricter welfare regulations as well as a claim to clampdown on tax evasion.
"It is not some ideological obsession, it is not because we are dessicated accountants. It's because I think it's right for our country," he said while pointing to other EU countries that were severely affected by the recession.
"People know if you don't do that, that is when you get real poverty. Look what happened in countries like Portugal and Greece that saw their debts and their deficits go out of control."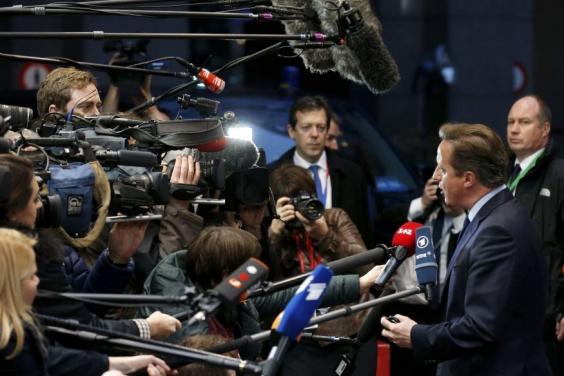 However, Shadow business secretary Chuka Umunna dismissed Mr Cameron's blame for the economy on Labour's plans that were implemented before the Coalition government in 2010, saying the Conservatives' economic strategy had failed regardless.
"What you see here are desperate claims from a desperate Prime Minister," he said onMurnaghan.
Deputy Prime Minister Nick Clegg is expected to use a press conference tomorrow to attack the planned budget of his Conservative coalition partners as "a con".
"They're trying to sell you an ideological approach to cuts to public services packaged up as continuity. It's a con," he is expected to say.
"They have made a choice to remorselessly cut the money for public services even after the deficit has been eliminated. That's not sticking to the plan. That is a new plan to shelter the very wealthy and impose unnecessary cuts to public services."
Reuse content