An anti-EU rally in London came to a divisive conclusion after over a hundred people reportedly walked out as George Galloway took to the stage as the event's special guest speaker
The appearance of the Respect Party leader prompted shouted complaints from many people at the QE II Centre in Westminster where supporters of Grassroots Out campaign (GO!), a movement urging Britain's exit from the EU, gathered as the Prime Minister held negotiations to secure an EU reform deal on Friday.
According to reports on Twitter, boos and jeers were heard from the audience as Mr Galloway began to speak, which was dominated by Conservatives and UKIP members.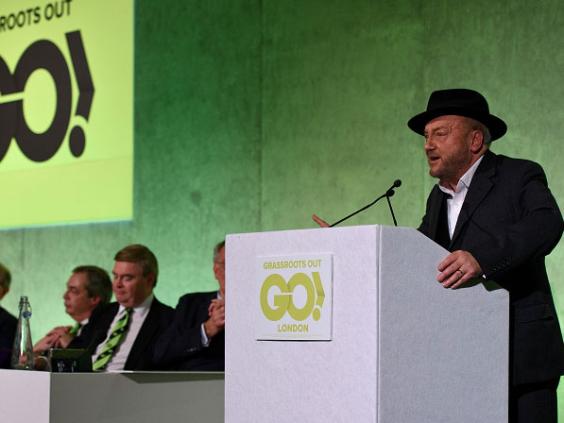 The Telegraph's Kate McCann said "hundreds of people" left the event with some making comments such as, "This has ruined this as far as I'm concerned," and "it's disgusting".
Organisers were witnessed by the Huffington Posts's Owen Bennett telling security to guards to "shut the doors" to prevent a mass exodus.
James McGrory, chief campaign spokesman for Britain Stronger in Europe, suggested Mr Galloway was "the worst special guest since Jean-Claude Van Damme appeared in that episode of Friends".
Hundreds of people are leaving, all very angry. "It's a disgrace" says one man. Very annoyed about Galloway pic.twitter.com/H9YdjaKwEi

— Kate McCann (@KateEMcCann) February 19, 2016
Security guards told by organisers to shut the doors to stop people leaving the hall as @georgegalloway speaks

— Owen Bennett (@owenjbennett) February 19, 2016
Among those believed to have left the event on account of Mr Galloway were Tim Aker, UKIP MEP for East of England, and Raheem Kassam, the editor-in-chief of the conservative news and option website Breitbart London.
Mr Kassam reportedly said, "I don't like George Galloway", while Mr Aker has denied the claims saying he left the event early to "catch a train."
Nearly 1,500 people are believed to have attended the rally and those who remained in the hall reportedly gave Mr Galloway a warm reception.  
"This has ruined it as far as I'm concerned" "I said to my husband we must go" "He is disgusting" "disgrace" - just a few comments ...

— Kate McCann (@KateEMcCann) February 19, 2016
People are leaving the hall as @georgegalloway is on the stage

— Owen Bennett (@owenjbennett) February 19, 2016
Mr Galloway – who was introduced as a "towering figure" by UKIP leader Nigel Farage who also spoke at the event – said the Respect party were committed to joining the GO coalition.
He also claimed too many labels such as "nationalist" and "little Englander" were attached to the anti-EU movement, according the Guardian.
Others who made addresses to the crowd included Labour MP Kate Hoey, former Shadow Home Secretary David Davis, Tory MP Peter Bone and economist Ruth Lea.
Prime Minister David Cameron struck a deal with other EU leaders over Britain's future in Europe after marathon talks in Brussels on Friday night.
"I have negotiated a deal to give the United Kingdom special status inside the European Union," Mr Cameron said in a press conference shortly after the end of talks, adding that he would update Cabinet at 10am on Saturday morning.
Additional reporting by Press Association
Reuse content