Traditionally, it has been relatively straightforward to identify the constituencies that were likely to determine the outcome of a general election. Everything more or less turned on a collection of marginal seats that were closely fought by Conservative and Labour. Whoever won the bulk of those seats could expect to form the next government, irrespective of what happened elsewhere.
True, there were also a few key contests involving the Liberal Democrats where the outcome could make a difference at the margin to the overall balance of power at Westminster, but this was but a sideshow.
This election is very different. Not that the key Conservative-Labour marginals have disappeared. They are still to be found, especially so in outer London, in places like Brentford and Croydon; in many a town in southern England, such as Bedford and Gloucester; across the West Midlands including in Warwick and Wolverhampton; and in the more suburban and commuting areas of the North-west and Yorkshire, such as Bury and Dewsbury.
However, even if Labour were to win all of the 70 most vulnerable Tory-held seats (and Labour needs to gain 70 seats to win a majority on 7 May) there is still no guarantee that the party would secure the 326 seats it needs for victory. Conversely, the Conservatives could conceivably win an overall majority without capturing a single Labour-held seat.
Election Analysis: The Key Voters
Election Analysis: The Key Voters
1/6 Settled Silvers

These are the comfortably-off over-60s, still in work or drawing a decent pension – or both – who are enjoying their entitlements such as the Winter Fuel Allowance, free bus passes and free TV licence. They are worried about immigration and Europe. Both the Conservatives – who are pledging to keep benefits for wealthier pensioners – and Ukip want their votes

Micha Theiner

2/6 Squeezed Semis

Slightly older than the Harassed Hipsters, they are the second key group for Labour's family-focused election strategy. They are married couples on low to middle incomes who own unpretentious semi-detached homes in suburban areas. In 2001, these were the Pebbledash People sought by the Conservatives. Now the pebbledash is gone and a modest conservatory has been built at the back

Micha Theiner

3/6 Aldi Woman

In 1997 and 2001 she was Worcester Woman – a middle-class Middle Englander shopping at Marks & Spencer and Waitrose. Today, the age of austerity means she still goes to Waitrose for her basic food shop but cannily switches to Aldi for her luxury bargains such as Parma ham and prosecco. Identified by Caroline Flint, she is a key target of both Labour and the Conservatives

Micha Theiner

4/6 Glass Ceiling Woman

In her thirties or forties, she has an established career under her belt, perhaps in the "marzipan layer" – one position below the still male-dominated senior executive level. She is now, according to Nick Clegg, forced into making the "heart-breaking choice" between staying at home to bring up her children and going to work and forking out for high-cost, round-the-clock childcare

5/6 Harassed Hipsters

One of the two key groups identified by Labour as crucial to hand Ed Miliband the keys to Downing Street. Well-paid professional couples, often with children, they live in diverse urban and metropolitan areas rather than the suburbs. More comfortably off than most swing voters, they are time poor – struggling to balance raising a young family with busy work schedules

Micha Theiner

6/6 Neo-Greens

These are mainly first-time voters, though some are in their twenties – students and digital-age generation renters helping to fuel the "Green Surge". Idealists, but with no tribal loyalty to any party, they are anti-austerity, middle class, living in urban areas. Despite studying at university or recently graduated, they are struggling to find decent jobs and want cheaper housing and a higher minimum wage

Micha Theiner
Sharp rises and falls in the popularity of the Lib Dems, the SNP, Ukip and even perhaps the Greens mean that there are many other battles that could play an important role in shaping the outcome.
The polls in Scotland suggest the Scottish National Party is on course to make sweeping gains. As a result, what have hitherto looked like very safe Labour seats, including Douglas Alexander's Paisley and Renfrew South, where Labour was more than 40 percentage points ahead in 2010, now have to be regarded as marginal. Indeed, there is hardly a seat in Scotland that Labour can be 100 per cent sure of winning.
If Labour were to lose 20 or 30 of its Scottish seats, it could still be well short of a majority even with a barrow load of Tory marginals south of the border.
Meanwhile, the Lib Dems are apparently at risk of registering their worst performance since 1970. Although the party hopes that many of its incumbent MPs will stem the outgoing tide in their own seats, many a hitherto safe Lib Dem seat now has to be regarded as marginal.
As the party that lies second in most Lib Dem seats, the Conservatives would appear best placed to profit.
If the election does produce the finely balanced outcome currently anticipated by the polls, just how many seats the smaller parties win could also make a difference to who occupies Downing Street. Their rise has also created some new three-way marginals.
Apart from Clacton and Thanet South (where Nigel Farage is standing), Ukip's best chances lie primarily down the east coast of England. Two of its targets, Great Yarmouth and Thurrock, now look like three-way contests.
Similarly, apart from trying to defend Caroline Lucas's Brighton Pavilion seat against Labour, the Greens' hopes rest on two seats held by the Lib Dems – Norwich South and Bristol West – in both of which Labour also has hopes.
Northern Ireland cannot be ignored either. The DUP and the UUP have agreed a unionist electoral pact in four seats. Top of their list is Fermanagh & South Tyrone, where in 2010 Sinn Fein scraped home by just four votes. Now that's a marginal!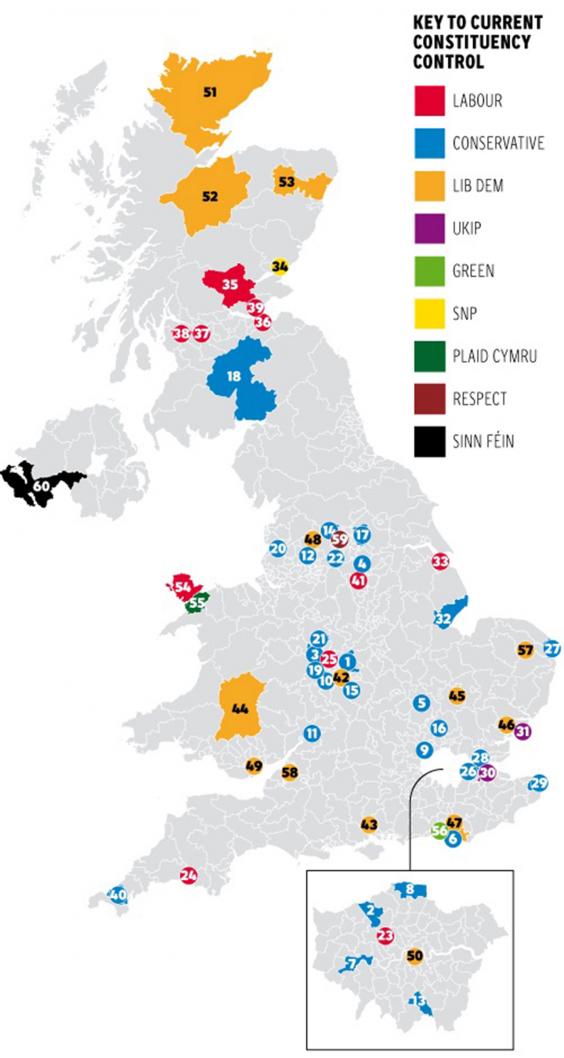 First up, the Con/Lab marginals…
Labour likely to be the largest party if it wins all of:
ASSUMING NO LOSSES
1 Warwickshire North (most marginal Con/Lab seat)
2 Hendon
3 Wolverhampton South West
4 Dewsbury
5 Bedford
6 Brighton Kemptown
7 Brentford & Isleworth
8 Enfield North
9 Watford (three-way marginal)
Labour likely to have an overall majority if it wins all of:
ASSUMING NO LOSSES
10 Halesowen & Rowley Regis
11 Gloucester
12 Bury North
13 Croydon Central
14 Keighley
15 Warwick & Leamington (7.2% Con lead is closest to the 7.3% lead Con won nationally in 2010)
16 Stevenage
17 Elmet & Rothwell
18 Dumfries, Clyde & Tweeddale (only Conservative seat in Scotland)
19 Dudley South
20 South Ribble
21 Stafford
22 Colne Valley (three-way marginal)
Conservatives likely to have an overall majority if they win all of:
ASSUMING NO LOSSES
23 Hampstead & Kilburn (most marginal Lab/Con seat)
24 Plymouth Moor View
25 Walsall South
...but don't forget the Ukip targets…
26 Thurrock (also Con/Lab marginal)
27 Great Yarmouth (also a Con/Lab marginal)
28 Basildon South & East Thurrock
29 Thanet South
30 Rochester & Strood
31 Clacton
32 Boston & Skegness
33 Great Grimsby (Labour held)
...and then there's Scotland…
34 Dundee East (Most marginal SNP/Lab seat)
35 Ochil & South Perthshire (Most marginal Lab/SNP seat)
36 Edinburgh East (Lab lead and Lab/SNP close to 2010 Scotland result)
37 Glasgow South (Lab on course to lose about half of its seats)
38 Paisley & Renfrew South (Lab could be left with just six seats)
39 Kirkcaldy & Cowdenbeath (Utter disaster if lost)
…and the Lib Dems' targets to consider…
40 Camborne & Redruth (Most marginal Con/LD contest)
41 Sheffield Central (Most marginal Lab/LD contest)
…and the seats the Lib Dems could lose to the Conservatives…
42 Solihull (Most marginal Con/LD seat)
43 Eastleigh
44 Brecon & Radnor (Could get Tories to 326 even without any gains from Lab)
45 Cambridge
46 Colchester
47 Lewes
…and to Labour…
48 Burnley
49 Cardiff Central
50 Bermondsey
…and to the SNP
51 Caithness, Sutherland & Easter Ross
52 Inverness, Nairn, Badenoch & Strathspey
53 Gordon
…while Plaid Cymru will be targeting…
54 Ynys Mon (Most marginal Lab/PC contest)
55 Arfon (Most marginal PC/Lab seat)
…and the Greens have their eyes on defending…
56 Brighton Pavilion (Only current seat)
…and taking…
57 Norwich South (Also most marginal LD/Lab seat)
58 Bristol West (Also a marginal LD/Lab seat)
…not to mention…
59 Bradford West (George Galloway, Respect MP)
60 Fermanagh & South Tyrone (Smallest majority of any seat in 2010; Unionist pact to try to unseat Sinn Fein)
John Curtice is professor of politics at Strathclyde University
Reuse content