The Labour Party was incompetent in its handling of anti-Semitic incidents within its party, and Jeremy Corbyn has not provided "consistent leadership" in dealing with anti-Semitism, according to a detailed and damning report by the Home Affairs Select Committee.
The cross-party report, which was begun under the chairmanship of Labour MP Keith Vaz who has since stood down, questions whether the Labour leader "fully appreciates" what anti-Semitism is, in the years since the foundation of the state of Israel, and was fiercely critical of the party's own internal anti-Semitism investigation, led by Shami Chakrabarti, who has since been given a seat in the House of Lords and is now serving as shadow Attorney General.
"The failure of the Labour Party to deal consistently and effectively with anti-Semitic incidents in recent years risks lending force to allegations that elements of the Labour movement are institutionally anti-Semitic," the report says.
Its own incompetence extends to the incidents involving former London Mayor Ken Livingstone, who has made dozens of TV and radio appearances to defend his claim that Hitler conspired middle eastern authorities to repatriate Jews to Palestine, and was therefore a Zionist.
Mr Corbyn said the report, which is a wide investigation into anti-Semitism, was biased in its focus on Labour and said the criticism of Lady Chakrabarti was "unfair".
The Labour leader said: "The report's political framing and disproportionate emphasis on Labour risks undermining the positive and welcome recommendations made in it.
"Although the committee heard evidence that 75 per cent of anti-Semitic incidents come from far right sources, and the report states there is no reliable evidence to suggest anti-Semitism is greater in Labour than other parties, much of the report focuses on the Labour Party.
"As the report rightly acknowledges, politicising anti-Semitism – or using it as a weapon in controversies between and within political parties – does the struggle against it a disservice."
The report was jointly authored by a cross-party panel of MPs. Its wording has been agreed in full by Chuka Umunna, who is a critic of the Labour leader, and David Winnick, a veteran MP and himself Jewish.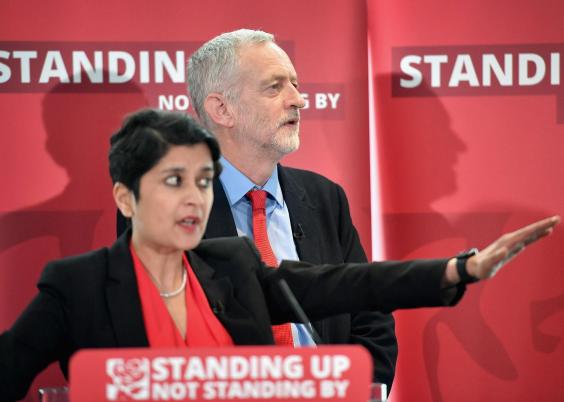 Labour MP Naz Shah is also a member of the committee, but she did not contribute to the inquiry after she was suspended from the Labour Party over Facebook posts that were anti-Semitic.
The report said Mr Corbyn had a "proud record of campaigning against racism" but added: "On the evidence we have received, we are not persuaded that he fully appreciates the distinct nature of post-Second World War anti-Semitism."
The report also highlights the "appalling" level of abuse directed at Jewish MPs, including Ruth Smeeth, who recently claimed she had received 25,000 separate messages of anti-Semitic abuse on social media.
"Clearly, the Labour leader is not directly responsible for abuse committed in his name, but we believe that his lack of consistent leadership on this issue, and his reluctance to separate anti-Semitism from other forms of racism, has created what some have referred to as a "safe space" for those with vile attitudes towards Jewish people," the report states.
"This situation has been further exacerbated by the Party's demonstrable incompetence at dealing with members accused of anti-Semitism, as illustrated by the saga involving the suspension, re-admittance and re-suspension of Jackie Walker.
"The ongoing membership of Ken Livingstone, following his outbursts about Hitler and Zionism, should also have been dealt with more effectively.
"The result is that the Labour Party, with its proud history of fighting racism and promoting equal rights, is seen by some as an unwelcoming place for Jewish members and activists."
It said that Lady Chakrabarti's report into these incidents was "clearly lacking in many areas".
Labour antisemitism row: What Livingstone said
Labour antisemitism row: What Livingstone said
1/14 On Israel and Palestine

The simple fact in all of this is that Naz made these comments at a time when there was another brutal Israeli attack on the Palestinians; and there's one stark fact that virtually no one in the British media ever reports, in almost all these conflicts the death toll is usually between 60 and 100 Palestinians killed for every Israeli. Now, any other country doing that would be accused of war crimes but it's like we have a double standard about the policies of the Israeli government

2/14 On Antisemitism in the Labour Party

As I've said, I've never heard anybody say anything antisemitism-Semitic, but there's been a very well-orchestrated campaign by the Israel lobby to smear anybody who criticises Israeli policy as antisemitic. I had to put up with 35 years of this

3/14 On Naz Shah

It's completely over-the-top and rude, but who am I to denounce anyone with all of that. It was wrong. I don't think she is antisemitic, it was incredibly rude but I don't believe she is an antisemite. When the NEC investigation is finished they'll say it was rude and over the top but they won't find any evidence that she actually hates Jews. We've got to investigate all these charges and the context in which they are made. If she is antisemitic like the other three or four members we've found who are antisemitic, she'll be expelled

4/14 On other alleged antisemites in Labour

That is part of the classic antisemitic thing about an 'international Jewish conspiracy' – that is the reason we need to have an investigation. I've got an open mind. I've seen nothing to suggest to me that she is antisemitic. I wouldn't have supported her if I [thought] she was antisemitic

5/14 On whether what Hitler did was legal, as stated by Naz Shah

That's a statement of fact – Hitler, I'm sure, passed all those laws that allowed him to do that … it's history … literally, Hitler was completely mad, he killed six million Jews. She's not saying it's legal to kill six million Jews: what they were doing in that country allowed them not just to kill six million Jews, kill all the communists, kill all the leftists like me, my father almost died when a Nazi sub sank his boat. I have no sympathy with Hitler

6/14 On another alleged antisemite in Labour

No, that is, and that's why she's been suspended or expelled. What I've said is that in 47 years of the party in all the meetings I've been in I've never heard anyone say anything antisemitic. There are bound to be in a party of half a million people you'll have a handful of antisemites, you'll have a handful of racists. You've managed to dig out virtually every antisemitic comment that Labour members have made out of half a million people. I've never met any of these people. There's not a problem. You're talking about a handful of people in a party of half a million people. Jeremy Corbyn has moved rapidly to deal with them

7/14 On Jeremy Corbyn's response to the allegations

He met with Naz and she agreed she would stand down while the investigation is going on. He called her in to see her. There's been a huge investigation of virtually everything that anybody put on the internet … many of these people are quite new and recent members of the party that joined in the big influx. 300,000 new people came in

8/14 On his meeting a man accused of antisemitism in London

This is the man who called for Muslims around the world to donate blood after the attacks of 9/11 when he came to London I went with him to the Regent's Park mosque where he said no man should hit a woman and you should not discriminate against homosexuals. So I can't equate what I heard him say… he made no antisemitic statement while he was here in London. I don't investigate people. I've simply said what I believe to be true which is that Naz was not antisemitic. She was completely over the top, very rude, but that does not make her an antisemite

9/14 On John Mann's comments

He went completely over the top. I was actually doing a radio interview at the time that he was bellowing that I'm a racist antisemite in my ear. I've had that with John Mann before a few weeks ago screaming that I was a bigot down the phone. I'm not an apologist for anyone who makes antisemitic statements. What I'm saying is don't confuse antisemitism with criticism of the Israeli government policy

10/14 On calling a Jewish journalist a "concentration camp guard" whilst Mayor of London

I can't tell if a journalist is Jewish or Catholic or anything. If a journalist is chasing you down the street at nine of clock at night you might be rude to them. Some people might have hit him! He said he was just doing his job. We went all the way to the High Court and the judge opened his judgement by saying 'I hope no one here is going to suggest that Mr Livingstone is antisemitic'. We won the case

11/14 On claims about Hitler and Zionism

I can't tell if a journalist is Jewish or Catholic or anything. If a journalist is chasing you down the street at nine of clock at night you might be rude to them. Some people might have hit him! He said he was just doing his job. We went all the way to the High Court and the judge opened his judgement by saying 'I hope no one here is going to suggest that Mr Livingstone is antisemitic'. We won the case

12/14 On John Mann

I'd simply say to John Mann go back and check. Is what I say true, or is it not? The BBC, you've got a huge team of researchers, it will take just an hour or two to go back and confirm. I was asked a question, I answered it. I have never in 45 years since I won my first election, I have never lied. I have always answered the question

13/14 On raising the issue if Hitler

It lays you open to people smearing and lying about you. I've always answered the questions put to me and that simple fact is we've had a handful of people saying antisemitic things in the Labour Party, they've been suspended, some of them are on their way to being expelled, some of them have been expelled already

14/14 On people calling for him to be suspended

All my usual critics – but the simple fact is I agree with them; there is no place for antisemitism in the Labour party. For them to suggest I am antisemitic is a bit bizarre considering we worked with Jewish groups and put on exhibitions about the scale of the holocaust, we worked with Jewish groups to tackling the scale of antisemitism back in the 1970s. I've always opposed every form of racism whether it's against black people or Jews. I'm going to stay in the Labour party and continue to fight against all forms of racism and discrimination as I have my entire life
"The fact that the report describes occurrences of anti-Semitism merely as "unhappy incidents" also suggests that it fails to appreciate the full gravity of the comments that prompted the inquiry in the first place," the MPs noted.
"These shortfalls, combined with Ms Chakrabarti's decision to join the Labour Party in April and accept a peerage as a nominee of the Leader of that Party, and her subsequent appointment as shadow attorney general, have thrown into question her claims (and those of Mr Corbyn) that her inquiry was truly independent."
Lady Chakrabarti has said her subsequent peerage in the wake of the report was not "transactional", telling the BBC's Andrew Marr that "I am not a corrupt person and Jeremy Corbyn is not a corrupt person".
The report also cited surveys that claim "as many as one in 20 adults in the UK could be characterised as 'clearly anti-Semitic'.
"There is a real risk that the UK is moving in the wrong direction on anti-Semitism, in contrast to many other countries in Western Europe," it said.
The Committee's acting chair, Tim Loughton, said: "History shows that anti-Semitism is a virus that is too easily spread, through subtly pernicious discourse, ignorance and collusion.
"We call on all leaders of political parties to lead by example to tackle the growing prevalence of this insidious form of hate, opposing racism and religious hate in all its forms and working harder to promote inclusion and understanding among party members and the wider public, as befits the UK's status as a multicultural, multi-ethnic, multi-religious society."
Reuse content