One of Ukip's biggest donor has described the party's only MP Douglas Carswell as "borderline autistic with mental illness wrapped in".
It has reopened deep splits in the party just hours after Nigel Farage pleaded for unity in the run-up to the EU referendum.
Arron Banks, a multi-millionaire businessman who defected to Ukip from the Tories last year, has bank-rolled Ukip ever since.
Mr Farage announced on Friday that Ukip would be joining Leave.eu, the campaign being run and funded by Mr Banks.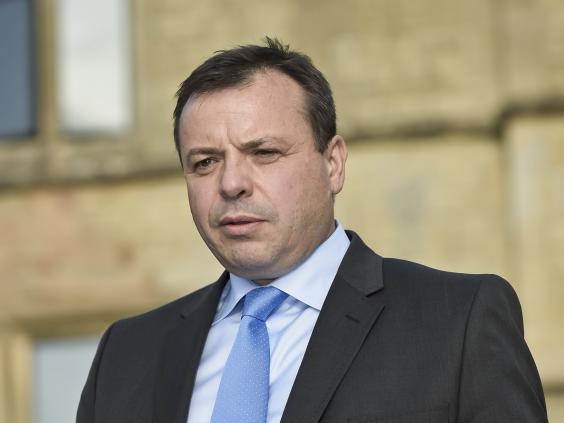 But civil war broke out in the party at its annual conference in Doncaster after Mr Carswell said he did not agree that Leave.eu should be awarded the official 'Out' status in the EU referendum campaign.
Mr Carswell accused Mr Banks of threatening to de-select him as MP for Clacton unless he backed the Leave.eu campaign.
Responding to the comments made by Mr Banks, Mr Carswell told the Huffington Post:
 "I don't think I should dignify those words with a response. It's not for me to engage in those."
He is due to address the Ukip conference on Saturday with a speech on political reform, which he promised would be full of "positivity".
Mr Banks later apologised for the comments, saying: "Douglas Carswell was appallingly rude and provocative towards me today which does not justify my comments for which I apologise."
Asked what he made of the rift, Mr Farage said: The Ukip leader said: "I don't really understand what it's about and I don't think Mr Banks should or could purport to represent Ukip in any way at all, he doesn't.
"Douglas may have a slight problem with him, Douglas may have this residual loyalty to his friends in the Conservative Party but frankly given that they haven't made their minds up that isn't very relevant."
Earlier in the day Mr Farage  sent a clear message to his party's supporters and all those in favour of leaving the EU to unite for the EU referendum campaign, declaring: "We want our country back".
Delivering his keynote speech at Ukip's party conference in Doncaster, Mr Farage told activists they must grasp the once in a lifetime opportunity to secure a Brexit - a goal that he said was "dearer to my heart" even than Ukip.
Reuse content