The ex-boss of Marks and Spencer and former member of Gordon Brown's business council has accused Labour leader Ed Miliband of being a "1970s throwback".
Stuart Rose's comments come after Mr Miliband hit back at Boots boss Stefano Pessina, who warned that a Labour government would be a "catastrophe" for Britain and said the party's wider platform was "not helpful for business, not helpful for the country and in the end it probably won't be helpful for them".
Mr Miliband responded by accusing the Italian executive of being part of an "unholy alliance" with the Conservatives against change. He also suggested that voters would not "take kindly to being lectured by someone who is avoiding his taxes on how they should be voting in the UK general election", as Mr Pessina, who is reported to be worth more than $11bn (£7bn), lives in zero-income-tax Monaco.

Read more: Labour warning has hazardous side-effects for Boots
Boots boss branded a 'disgrace' for attack on Miliband
Miliband: 'Boots boss Stefano Pessina should pay his taxes'
Miliband's 'anti-business rhetoric' attacked by top businessman
Lord Rose, who became a Conservative peer last year, waded into the debate, and said Mr Miliband had "blown apart" decades of political consensus with by returning to 1970s-style Labour policies, which fly in the face of consensus that the business sector is an engine of growth.
"As a man responsible for 70,000 workers - that's 70,000 livelihoods supporting 70,000 families - Mr Pessina was perfectly entitled to speak out," he wrote in the Daily Mail.
"What happens in Westminster has a direct impact on his employees and his customers."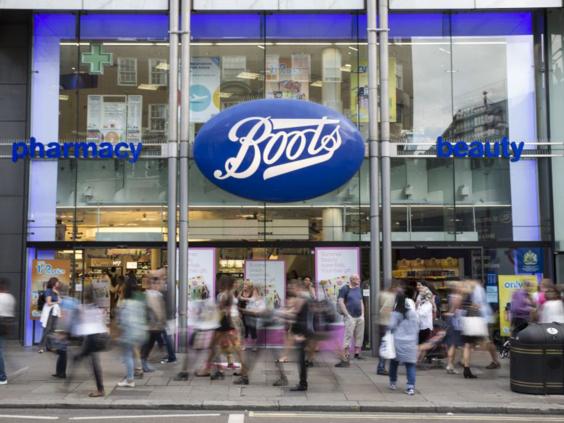 He added that while the business world craves "certainty", Labour offers a "steady drum-beat of anti-business policies" including tax rises and lacks a "credible plan" to tackle the deficit. Lord Rose compared the party's approach to the threats from a Scottish nationalist that firms which backed the "no" campaign would face a "day or reckoning" in an independent Scotland.
"It underlined the danger of resorting to abuse and personal attacks when people raise genuine concerns. In a healthy, thriving democracy, people must be free to speak out without fear or favour," he said, calling British business as "the backbone of our economy."
Lord Rose's scathing comments follow similar remarks from other senior corporate figures who also defended the right of the business sector to make its views known.
Former B&Q chief Sir Ian Cheshire told The Telegraph that "personal attacks are pretty unattractive".
He said: "It has got to be legitimate for business leaders who are involved in big business in the UK even if they are not UK citizens to have a view on the likely impact of elections because this is a national debate."
The six-party election: key figures
The six-party election: key figures
1/12 Conservatives

2/12 Lynton Crosby (Con)

Chief election strategist

Rex

3/12 Labour

4/12 Lucy Powell (Lab)

Vice chair of general election campaign

5/12 Liberal Democrats

6/12 Paddy Ashdown (Lib Dem)

Campaign director

Getty

7/12 Ukip

8/12 Suzanne Evans (Ukip)

Deputy chairman

9/12 Greens

10/12 Chris Luffingham (Green)

Campaigns director

11/12 Scottish National Party

12/12 Angus Robertson (SNP)

General election director

PA
Heathrow airport chairman Sir Nigel Rudd mirrored Sir Ian's sentiments, and said "Making personal attacks on people stifles debate. It makes people think twice about voicing their opinions.
"We should listen to all opinions especially people who have created as many jobs and are as astute as Stefano Pessina.
"I would not make personal attacks on union leaders either if they had a view that I agree with or disagree with. We should encourage people to enter the debate."
Walgreens Boots Alliance insisted Mr Pessina's comments had been "taken out of context", and that he was expressing personal views and "not campaigning against Ed Miliband or the Labour Party".
Reuse content