Mhairi Black, the youngest MP in the Commons, has used her maiden speech in the chamber to launch a scathing attack on the Conservative Government and present an olive branch to the Labour Party.
Her fellow SNP colleagues gave an enthusiastic round of applause as the new MP for Paisley and Renfrewshire South ended her speech addressing issues including benefit sanctions, the budget, and Harriet Harman's call on Labour MPs to abstain on a vote on the Government's welfare and work bill.
Here is her speech in full:
Firstly in my maiden speech I want to pay tribute to my predecessor Douglas Alexander. He served the constituency for many years. After all, I was only three when he was elected. But it is because of that fact that I want to thank him for all he did for the constituency and I especially want to take a moment to commend him for the dignified way that he handled himself on what must have been a very difficult election night. He did himself proud, he did his party proud, and I wish him the best for the future.
Now, when I discovered it is tradition to speak bout the history of your constituency in a maiden speech, I decided to do some research despite the fact I've lived there all my life. And as one of the tale end doing the maiden speech of my colleagues in the SNP I've noticed that my colleagues quite often mention Rabbie Burns a lot and they all try to form this intrinsic connection between him and their own constituency and own him for themselves. I however feel no need to do this for during my research I discovered a fact which trumps them all. William Wallace was born in my constituency.
Now, my constituency has a fascinating history far beyond the Hollywood film and historical name. from the mills of Paisley, to the industries of Johnstone, right to the weavers in Kilbarchan, it's got a wonderful population with a cracking sense of humour and much to offer both the tourists and to those who reside there. But the truth is that within my constituency it's not all fantastic. We've watched our town centres deteriorate. We're watched our communities decline. Our unemployment level is higher than that of the UK average. One in five children in my constituency go to bed hungry every night. Paisley Job Centre has the third highest number of sanctions in the whole of Scotland.
Before I was elected I volunteered for a charitable organisation and there was a gentleman who I grew very fond of. He was one of these guys who has been battered by life in every way imaginable. You name it, he's been through it. And he used to come in to get food from this charity, and it was the only food that he had access to and it was the only meal he would get. And I sat with him and he told me about his fear of going to the Job Centre. He said "I've heard the stories Mhairi, they try and trick you out, they'll tell you you're a liar. I'm not a liar Mhairi, I'm not." And I told him "It's OK, calm down. Go, be honest, it'll be fine."
I then didn't see him for about two or three weeks. I did get very worried, and when he finally did come back in I said to him "how did you get on?"
And without saying a word he burst into tears. That grown man standing in front of a 20-year-old crying his eyes out, because what had happened to him was the money that he would normally use to pay for his travel to come to the charity to get his food he decided that in order to afford to get to the Job Centre he would save that money. Because of this, he didn't eat for five days, he didn't drink. When he was on the bus on the way to the Job Centre he fainted due to exhaustion and dehydration. He was 15 minutes later for the Job Centre and he was sanctioned for 13 weeks.
Now, when the Chancellor spoke in his budget about fixing the roof while the sun is shining, I would have to ask on who is the sun shining? When he spoke about benefits not supporting certain kinds of lifestyles, is that the kind of lifestyle that he was talking about?

If we go back even further when the Minister for Employment was asked to consider if there was a correlation between the number of sanctions and the rise in food bank use she stated, and I quote, "food banks play an important role in local welfare provision." Renfrewshire has the third highest use of food banks use and food bank use is going up and up. Food banks are not part of the welfare state, they are symbol that the welfare state is failing.
Now, the Government quite rightly pays for me through tax payers money to be able to live in London whilst I serve my constituents. My housing is subsidised by the tax payer. Now, the Chancellor in his budget said it is not fair that families earning over £40,000 in London should have their rents paid for my other working people. But it is OK so long as you're an MP? In this budget the Chancellor also abolished any housing benefit for anyone below the age of 21. So we are now in the ridiculous situation whereby because I am an MP not only am I the youngest, but I am also the only 20-year-old in the whole of the UK that the Chancellor is prepared to help with housing. We now have one of the most uncaring, uncompromising and out of touch governments that the UK has seen since Thatcher.
It is here now that I must turn to those who I share a bench with. Now I have in this chamber for ten weeks, and I have very deliberately stayed quiet and have listened intently to everything that has been said. I have heard multiple speeches from Labour benches standing to talk about the worrying rise of nationalism in Scotland, when in actual fact all these speeches have served to do is to demonstrate how deep the lack of understanding about Scotland is within the Labour party.
Best General Election 2015 quotes
Best General Election 2015 quotes
1/10 1. "Am I tough enough? Hell, yes, I'm tough enough."

Ed Miliband bats away suggestions he would be too weak on the international stage. It likely to go down as one of the quotes we remember this election by.

Matthew Lewis/Getty Images

2/10 2. "If I'm getting lively about it, it's because I feel bloody lively about it."

David Cameron attempts to prove how passionate he is about wanting a second term as Prime Minister after Tory donors criticised his lack of enthusiasm.

AFP

3/10 3. "Oh it's crats? I thought it was Liberal Demo-cats"

Reality TV star Joey Essex is taught a thing or two during his meeting with Nick Clegg.

PA

4/10 4. "Brain fade"

Green party leader Natalie Bennett gave what was described as the "worst political leader's interview ever" on LBC Radio as she fails to answer how the Greens would pay for its ambitious housing policies.

LBC/YouTube

5/10 5. "We're a shining example of a country where multiple identities work. Where you can be Welsh and Hindu and British, Northern Irish and Jewish and British, where you can wear a kilt and a turban, where you can wear a hijab covered in poppies. Where you can support Man Utd, the Windies and Team GB all at the same time. Of course, I'd rather you supported West Ham"

David Cameron experienced his own brain fade when he forgot which football team he supported.

Getty Images

6/10 6. "This is a real career-defining … country-defining election that we face in less than a week's time"

The Prime Minister made another gaffe when he made it sound like the election was all about himself.

BBC

7/10 7. "Ed Miliband stabbed his own brother in the back to become Labour leader. Now he is willing to stab the United Kingdom in the back to become prime minister."

Defence Secretary Michael Fallon launched a vicious personal attack on Ed Miliband.

PA

8/10 8. "Ajockalypse Now."

The colourful term used by Boris Johnson to describe a Labour government propped up by the SNP.

JUSTIN TALLIS/AFP/Getty Images

9/10 9. "The SNP are openly racist. The anti-English hostility, and the kind of language that is used about and towards English people, is totally extraordinary."

Nigel Farage launches an attack on Nicola Sturgeon and her SNP party.

AFP/Getty Images

10/10 10. "Terms are like Shredded Wheat. Two are wonderful, three might be too many."

David Cameron rules out a third term as Prime Minister.

Getty Images
I like many SNP members come from a traditional socialist Labour family and I have never been quiet in my assertion that I feel that it is the Labour party that left me, not the other way about. The SNP did not triumph on a wave of nationalism; in fact nationalism has nothing to do with what's happened in Scotland. We triumphed on a wave of hope, hope that there was something different, something better to the Thatcherite neo-liberal policies that are produced from this chamber. Hope that representatives genuinely could give a voice to those who don't have one.
I don't mention this in order to pour salt into wounds which I am sure are very open and very sore for many members on these benches, both politically and personally. Colleagues, possibly friends, have lost their seats. I mention it in order to hold a mirror to the face of a party that seems to have forgotten the very people they're supposed to represent, the very things they're supposed to fight for.
After hearing the Labour leader's intentions to support the changes of tax credits that the Chancellor has put forward, I must make this plea to the words of one of your own and a personal hero of mine. Tony Benn once said that in politics there are weathercocks and sign posts. Weathercocks will spin in whatever direction the wind of public opinion may blow them, no matter what principal they may have to compromise. And then there are signposts, signposts which stand true, and tall, and principled. And they point in the direction and they say this is the way to a better society and it is my job to convince you why. Tony Benn was right when he said the only people worth remembering in politics were signposts.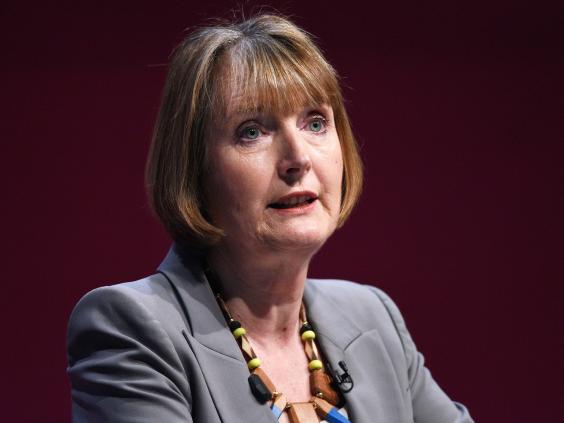 Now, yes we will have political differences, yes in other parliaments we may be opposing parties, but within this chamber we are not. No matter how much I may wish it, the SNP is not the sole opposition to this Government, but nor is the Labour party. It is together with all the parties on these benches that we must form an opposition, and in order to be affective we must oppose not abstain. So I reach out a genuine hand of friendship which I can only hope will be taken. Let us come together, let us be that opposition, let us be that signpost of a better society. Ultimately people are needing a voice, people are needing help, let's give them it.