A multi-millionaire Tory donor has defected to Ukip, announcing he will be giving Nigel Farage's party a £100,000 boost on the day of David Cameron's conference speech.
It is one of the largest single donations ever given to the Eurosceptic party and is expected to strengthen its upcoming by-election campaigns.
Arron Banks, who has made substantial donations to the Conservatives over a number of years, is the latest supporter to jump ship in recent weeks, Sky News reported.
MPs Douglas Carswell and Mark Reckless were the first to leave, followed by the former Deputy Mayor of London, Richard Barnes.
Mr Banks told Sky News he does not believe the Prime Minister will reform the EU or facilitate the UK's exit from it in the event of an "out" vote in the promised referendum.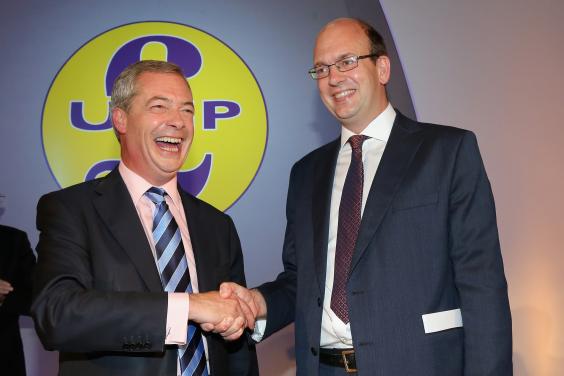 "I've supported the Conservatives for a number of years but have come to the realisation that only UKIP supports my views," he said.
"Being a member of the EU is like having a first class ticket on the Titanic. Economically, remaining in the EU is unsustainable."
Electoral Commission records show that Mr Banks donated £20,000 to the Tories in 2007 and another £5,000 in 2009. Only payments over £7,500 have to be reported to the Commission.
In pictures: The rise of Ukip
In pictures: The rise of Ukip
1/8 1993: Alan Sked forms Ukip

History professor Alan Sked had been active in anti-EU politics for a while beore he founded Ukip in 1993. He resigned from the party after the 1997 election, concerned that it was attracting far-right members, and has been critical of Ukip since. Picture: Reuters

Reuters

2/8 2005: Kilroy defects

Former TV presenter Robert Kilroy-Silk founded Veritas in 2005, after a failed bid to become leader, and took many of Ukip's elected members with him. But the party slowly lost its popularity and didn't put forward any candidates in the last election. Picture: REUTERS/Kieran Doherty REUTERS KD/RUS

3/8 2010: Farage becomes leader, again

Farage had led Ukip from 2006 until 2009, when he stood down to fight against the Speaker, John Bercow, for his Buckingham seat. He failed to win the election and returned to lead the party in November 2010. Picture: REUTERS/Kieran Doherty

REUTERS/Kieran Doherty

4/8 2010: Ukip fights for election

Nigel Farage was injured in a plane crash on polling day in the 2010 general election, but his party increased its success in the votes. It fielded 572 candidates and took 3.1% of the vote, though failed to win any seats. REUTERS/Darren Staples

REUTERS/Darren Staples

5/8 2013: Eastleigh gains

Ukip's candidate Diane James got the highest ever number of votes for any candidate from the party, but was beaten by the Liberal Democrats. The surge in support gave Ukip confidence ahead of local and European elections later in the year. Picture: Reuters

6/8 2013: Bloom kicked out

Godfrey Bloom, who served as an Ukip MEP from 2004 to 2014, had the whip withdrawn in 2013 after sexist comments and an attack on a journalist. He sat as an independent MEP until 2014, when he ended his term in office. Picture: REUTERS/Luke MacGregor

7/8 2014: European election success

Ukip got a higher proportion of the vote than any other party in 2014's European elections, adding 11 new MEPs and taking its total to 24. REUTERS/Luke MacGregor

8/8 2014: Carswell defects

Douglas Carswell defected from Ukip at the end of August, and was followed by Mark Reckless at the end of September, who resigned from the Tories amid rumours of many more defections to come. Picture: REUTERS/Toby Melville
Mr Farage had previously hinted that several MPs and Conservative figures were considering switching to Ukip.
On Wednesday, he told the BBC the move was "only the start", adding that Mr Banks was considering standing for Ukip at the general election.
Video: Boris Johnson pokes fun at Ukip defectors
"This is the beginning of a significant move from the business community who are not prepared to wait for Mr Cameron's referendum," he said.
Bill Cash, a veteran Tory MP, yesterday learned that his son William had decided to stand as a Ukip candidate and taken the position of heritage spokesman.
Mr Banks ran insurance companies for Norwich Union before setting up his own business – Brightside-  in February 2005.
Reuse content