Nigel Farage has been named "Briton of the year" by The Times, which hailed his "game-changing" politics.
The newspaper chronicled the Ukip leader's journey from the 2010 general election, when he quite literally crashed to the earth in a light aeroplane that became entangled with its trailing party banner.
To add insult to injury as he recovered in hospital on results day, he failed to unseat former Commons Speaker John Bercow. But since then his fortunes have appeared to take a dramatic turn for the better.
This year has seen the election of Ukip's first two MPs – Tory defectors Mark Reckless and Douglas Carswell – dealing a major blow to David Cameron's beleaguered Government.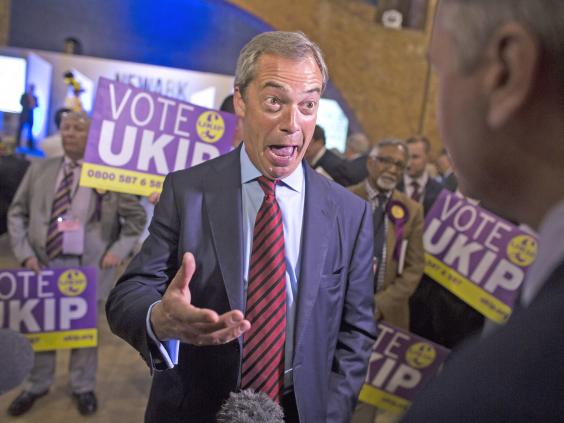 The Eurosceptic party also stormed to victory in the European elections and Mr Farage has predicted another "political earthquake" in May.
In its editorial on the "man of the moment", The Times spoke of the Ukip leader "crushing" Nick Clegg in television debates and "ruthlessly exploiting every opportunity that has fallen into his red-trousered lap".
It pointed to the core focus on immigration and EU membership drawing in disaffected voters from both Labour and the Conservatives, as well as the playing on notions of a fight-back against mainstream politics.
The exultation Ukip members apparently feel for their ale-swilling leader reached a peak when one candidate compared him to Jesus.
"Jesus was one man, we're his army. Farage is one man, and we're his army and that's what it's all about," said Winston McKenzie, the party's Commonwealth spokesperson.
"Farage is like (non-stick) Teflon – he can do no wrong. Everywhere he goes, it doesn't matter what he says or does - he gets away with it."
His underlings have not been so lucky. Former parliamentary candidate Kerry Smith stepped after he referred to someone with a Chinese name as a "ch***y bird", while MEP Roger Helmer was lambasted for comparing homophobia with a preference for different types of tea.
The many faces of Nigel Farage
The many faces of Nigel Farage
1/11 Thoughtful face

PA

2/11 Concerned face

Sorry Nigel Farage, but the Red Cross want nothing to do with Ukip

Ian Forsyth/Getty Images

3/11 Aghast face

4/11 Startled face

5/11 Preparing for battle face

Getty Images

6/11 Toad of Toad Hall face

7/11 Faux distressed face

8/11 Pensive face

9/11 Incensed face

10/11 Whatever face

11/11 I've just been egged face
The Times acknowledged that despite its surging popularity, Ukip also became Britain's "most disliked party" in 2014, with young voters particularly worrying about "racist tendencies in the party" and members being "repeatedly exposed as sexist, homophobic or unpleasant".
"The established political parties have not been able to ignore Ukip, however, whatever they may think of its more toxic members," it added.
"No one did more to shape British politics in 2014. For good and ill [Mr Farage] is therefore The Times Briton of the Year."
The accolade did not go down well on Twitter.
Once again I wasn't named Times Briton of the Year. Must work on my casual racism and misogyny before next years nominations.

— Kenny (@KennyDownSouth) December 27, 2014
The announcement of 'Briton of the year' only makes me gladder that I do not consider myself to be British.

— Ryan. (@rjmc11) December 27, 2014
woke up after a 17 hour bender to find nigel farage named 'briton of the year'. *never drinks sambuca again*

— Dan Carson (@ddancarson) December 27, 2014
Candidates for Briton of the Year. 1. William Pooley: fought Ebola; got Ebola; went back to fight Ebola again. 2. Nigel Farage: sat in pub.

— Joanne Harris (@Joannechocolat) December 27, 2014
Those Times winners in full: Briton of The Year: Nigel Farage Animal of the Year: the scapegoat Sentiment of the Year: bug-eyed xenophobia

— David Schneider (@davidschneider) December 26, 2014
Mind you, last year's Briton of the Year was George Osborne. I'm not sure The Times understand the question.

— Amanda Jennings (@MandaJJennings) December 26, 2014
Nigel Farage has been named Briton of the Year by the Times. Can't deal with this country anymore, going to live in Uzbekistan, bye ✈

— Harry New Year (@CuriousCabbage) December 26, 2014
Reuse content