Nigel Farage is reportedly being treated as a "person of interest" in the FBI's investigation into alleged links between Donald Trump's campaign team and Russia.
The former Ukip politician has been drawn into the probe because of his relationships with Mr Trump's aides and Julian Assange, the Guardian reports.
"One of the things the intelligence investigators have been looking at is points of contact and persons involved," a source told the newspaper. 
"He's right in the middle of these relationships. He turns up over and over again. There's a lot of attention being paid to him."
​​Being a "person of interest" in the ongoing probe does not imply wrongdoing, and is used to describe people who have information that can assist an investigation.
The FBI declined to comment when contacted by The Independent.
Mr Farage dismissed the report, telling the Daily Mail: "I don't believe it. I have never been to Russia. I have never had any business dealings with Russia."
In a statement, the serving MEP described the Guardian's report as "fake news", claiming he laughed as he read it.
"This hysterical attempt to associate me with the Putin regime is a result of the liberal elite being unable to accept Brexit and the election of President Trump," Mr Farage said.
"For the record I have never been to Russia, I've had no business dealings with Russia in my previous life and I have appeared approximately three times on RT (Russia Today) in the last 18 months.
"I consider it extremely doubtful that I could be a person of interest to the FBI as I have no connections to Russia."
Mr Farage met the WikiLeaks founder at the Ecuadorian Embassy in March, months after the campaign group released hacked DNC emails credited with turning the US election in Mr Trump's favour.
When questioned on the reason for the encounter, he said it was organised by LBC Radio with a view to conducting an interview.
Mr Farage was also the first British politician to meet Mr Trump after his election victory, making a high-profile visit to Trump Tower in New York.
He is believed to have previously met the President on the campaign trail in Mississippi in August, and attended the Republican national convention in Ohio when Mr Trump was nominated in July.
The biggest names involved in the Trump-Russia investigation
The biggest names involved in the Trump-Russia investigation
1/11 Paul Manafort

Mr Manafort is a Republican strategist and former Trump campaign manager. He resigned from that post over questions about his extensive lobbying overseas, including in Ukraine where he represented pro-Russian interests.

Getty

2/11 Mike Flynn

Mr Flynn was named as Trump's national security adviser but was forced to resign from his post for inappropriate communication with Russian Ambassador to the US Sergey Kislyak. He had misrepresented a conversation he had with Mr Kislyak to Vice President Mike Pence, telling him wrongly that he had not discussed sanctions with the Russian.

Getty Images

3/11 Sergey Kislyak

Mr Kislyak, the Russian ambassador to the US, is at the centre of the web said to connect President Donald Trump's campaign with Russia.

Reuters

4/11 Roger Stone

Mr Stone is a former Trump adviser who worked on the political campaigns of Richard Nixon, George HW Bush, and Ronald Reagan. Mr Stone claimed repeatedly in the final months of the campaign that he had backchannel communications with WikiLeaks founder Julian Assange and that he knew the group was going to dump damaging documents to the campaign of Democratic candidate Hillary Clinton - which did happen. Mr Stone also had contacts with the hacker Guccier 2.0 on Twitter, who claimed to have hacked the DNC and is linked to Russian intelligence services.

Getty Images

5/11 Jeff Sessions

The US attorney general was forced to recuse himself from the Trump-Russia investigation after it was learned that he had lied about meeting with Russian Ambassador to the US Sergey Kislyak.

Getty Images

6/11 Carter Page

Mr Page is a former advisor to the Trump campaign and has a background working as an investment banker at Merrill Lynch. Mr Page met with Russian Ambassador to the US Sergey Kislyak during the 2016 Republican National Convention in Cleveland. Mr Page had invested in oil companies connected to Russia and had admitted that US Russia sanctions had hurt his bottom line.

Reuters

7/11 Jeffrey "JD" Gorden

Mr Gordon met with Russian Ambassador to the US Sergey Kislyak during the 2016 Republian National Convention to discuss how the US and Russia could work together to combat Islamist extremism should then-Republican presidential candidate Donald Trump win the election. The meeting came days before a massive leak of DNC emails that has been connected to Russia.

Creative Commons

8/11 Jared Kushner

Mr Kushner is President Donald Trump's son-in-law and a key adviser to the White House. He met with a Russian banker appointed by Russian President Vladimir Putin in December. Mr Kushner has said he did so in his role as an adviser to Mr Trump while the bank says he did so as a private developer. Mr Kushner has also volunteered to testify in the Senate about his role helping to arrange meetings between Trump advisers and Russian Ambassador to the US Sergey Kislyak.

Getty Images

9/11 James Comey

Mr Comey was fired from his post as head of the FBI by President Donald Trump. The timing of Mr Comey's firing raised questions around whether or not the FBI's investigation into the Trump campaign may have played a role in the decision.

Getty Images

10/11 Preet Bharara

Mr Bahara refused, alongside 46 other US district attorney's across the country, to resign once President Donald Trump took office after previous assurances from Mr Trump that he would keep his job. Mr Bahara had been heading up several investigations including one into one of President Donald Trump's favorite cable television channels Fox News. Several investigations would lead back to that district, too, including those into Mr Trump's campaign ties to Russia, and Mr Trump's assertion that Trump Tower was wiretapped on orders from his predecessor.

Getty Images

11/11 Sally Yates

Ms Yates, a former Deputy Attorney General, was running the Justice Department while President Donald Trump's pick for attorney general awaited confirmation. Ms Yates was later fired by Mr Trump from her temporary post over her refusal to implement Mr Trump's first travel ban. She had also warned the White House about potential ties former National Security Adviser Michael Flynn to Russia after discovering those ties during the FBI's investigation into the Trump campaign's connections to Russia.

Getty Images
Mr Farage also has links with Breitbart founder and White House strategist Steve Bannon, as well as other Trump campaigners and aides.
He said he has "never received a penny from Russia" but admits meeting Russian officials including Moscow's ambassador to the UK, Alexander Yakovenko, and has made appearances on the state-owned Russia Today channel.
Mr Farage appeared on US programme Fox and Friends - one of the President's favourite shows - on Thursday, attacking Hillary Clinton as a "bad loser...who blames everyone else for her own failings".
The FBI's investigation is under fresh scrutiny after the firing of the agency's former director, James Comey, after he reportedly refused Mr Trump's request to drop an investigation into Michael Flynn.
It is running alongside separate probes in Congress into alleged Russian interference in the presidential election, which Vladimir Putin has repeatedly denied.
Speaking at a meeting with international news agencies on Thursday, the Russian President said his government has never been involved with hacking.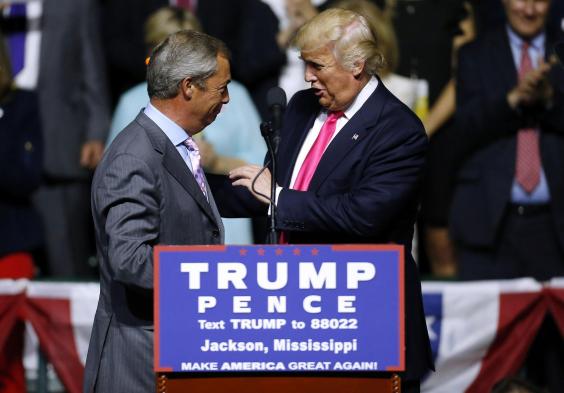 He said that some individual "patriotic" hackers could attacks amid worsening relations with the West but insisted that "we don't engage in that at the state level".
US intelligence agencies have accused Mr Putin of personally commissioning the DNC email hack and other interference helping Mr Trump to victory, although he has denied the claims.
An online persona calling themselves Guccifer 2.0 have claimed responsibility for stealing the communications, which were published by WikiLeaks.
The cyber attack was previously blamed on a group of Russian hackers known as Fancy Bear or APT28, who were also linked with hacks targeting Emmanuel Macron before the French presidential election.
Mr Trump and Mr Putin pledged to improve US-Russia relations when he took office but tensions have risen over the American attack on a Syrian government air base and other issues.
Mr Putin said the current atmosphere "makes it somewhat inconvenient to work with one another or even to talk, but some day this will have to stop".
He claimed Mr Trump was being targeted by "Russo-phobic hysteria" in the US but predicted "this will end, sooner or later", adding: "We are patient, we know how to wait and we will wait." 
Additional reporting by agencies
Reuse content