The British Government says it will consider the terms of its lucrative arms exports to Saudi Arabia after its ally admitted responsibility for killing more than 140 mourners at a funeral in Yemen.
Air strikes that targeted the gathering in the capital of Sana'a on 8 October have renewed international condemnation of the UK's controversial weapons trade with Saudi Arabia. 
A report by the Saudi-led coalition's Joint Incidents Assessment Team (JIAT) admitted responsibility on Saturday but blamed "wrong information" from allies of the Yemeni government, which it is supporting in the country's civil war.
"A party affiliated to the Yemeni Presidency of the General Chief of Staff wrongly passed information that there was a gathering of armed Houthi leaders in a known location in Sana'a, and insisted that the location be targeted immediately," investigators said in a statement.
More than 500 victims were also injured in the bombing, for which the Saudi military initially denied responsibility before launching a probe into the "regrettable and painful" attack.
The JIAT's report claimed the Air Operation Centre in Yemen directed a "close air support mission" to target the funeral hall without approval from the coalition's commanders, adding: "JIAT has found that because of non-compliance with coalition rules of engagement and procedures, and the issuing of incorrect information, a coalition aircraft wrongly targeted the location resulting in civilian deaths and injuries."
Investigators called for a review of the rules of engagement and for compensation for families of the victims, who had gathered to mourn the death of the father of rebel interior minister Jalal al-Rowaishan.
The JIAT, which was set up by King Salman in May, also said "appropriate action" should be taken against those who caused the incident, without elaborating further.
Welcoming the report, the Foreign and Commonwealth Office said it was awaiting further detail on the attack in a future report to be released by the JIAT.
10 examples of Saudi Arabia's human rights abuses
10 examples of Saudi Arabia's human rights abuses
1/10

In October 2014, three lawyers, Dr Abdulrahman al-Subaihi, Bander al-Nogaithan and Abdulrahman al-Rumaih , were sentenced to up to eight years in prison for using Twitter to criticize the Ministry of Justice.

AFP/Getty Images

2/10

In March 2015, Yemen's Sunni President Abd-Rabbu Mansour Hadi was forced into exile after a Shia-led insurgency. A Saudi Arabia-led coalition has responded with air strikes in order to reinstate Mr Hadi. It has since been accused of committing war crimes in the country.

Getty Images

3/10

Women who supported the Women2Drive campaign, launched in 2011 to challenge the ban on women driving vehicles, faced harassment and intimidation by the authorities. The government warned that women drivers would face arrest.

Getty Images

4/10

Members of the Kingdom's Shia minority, most of whom live in the oil-rich Eastern Province, continue to face discrimination that limits their access to government services and employment. Activists have received death sentences or long prison terms for their alleged participation in protests in 2011 and 2012.

Getty Images

5/10

All public gatherings are prohibited under an order issued by the Interior Ministry in 2011. Those defy the ban face arrest, prosecution and imprisonment on charges such as "inciting people against the authorities".

Getty Images

6/10

In March 2014, the Interior Ministry stated that authorities had deported over 370,000 foreign migrants and that 18,000 others were in detention. Thousands of workers were returned to Somalia and other states where they were at risk of human rights abuses, with large numbers also returned to Yemen, in order to open more jobs to Saudi Arabians. Many migrants reported that prior to their deportation they had been packed into overcrowded makeshift detention facilities where they received little food and water and were abused by guards.

Getty Images

7/10

The Saudi Arabian authorities continue to deny access to independent human rights organisations like Amnesty International, and they have been known to take punitive action, including through the courts, against activists and family members of victims who contact Amnesty.

Getty Images

8/10

Raif Badawi was sentenced to 1000 lashes and 10 years in prison for using his liberal blog to criticise Saudi Arabia's clerics. He has already received 50 lashes, which have reportedly left him in poor health.

Carsten Koall/Getty Images

9/10

Dawood al-Marhoon was arrested aged 17 for participating in an anti-government protest. After refusing to spy on his fellow protestors, he was tortured and forced to sign a blank document that would later contain his 'confession'. At Dawood's trial, the prosecution requested death by crucifixion while refusing him a lawyer.

Getty Images

10/10

Ali Mohammed al-Nimr was arrested in 2012 aged either 16 or 17 for participating in protests during the Arab spring. His sentence includes beheading and crucifixion. The international community has spoken out against the punishment and has called on Saudi Arabia to stop. He is the nephew of a prominent government dissident.

Getty
"Our consideration of the reports will be used to contribute to our overall view on the approach and attitude of Saudi Arabia to international humanitarian law, as part of all the information available to us," a spokesperson added. 
"This, in turn, informs the risk assessment made against the arms export criteria."
Tobias Ellwood, the Middle East minister, repeated his call for peace talks and a truce between all sides in the Yemeni civil war, which has seen the country split into zones controlled by the Hadi government, Houthi rebels, al-Qaeda and Isis.
"I stressed this in meetings with Yemeni and Saudi leaders, including President Hadi and Foreign Minister al-Jubeir, in Saudi Arabia this week," he added. "We are considering the Saudi investigation report in detail."
Boris Johnson, the Foreign Secretary, formally raised concern over the funeral strike on 9 October and Mr Ellwood travelled to Riyadh for high-level meetings with Yemeni and Saudi leaders on Thursday, but no details from the closed talks have been released.
Britain sold £3.3bn worth of arms between April 2015 and March 2016 alone – the first year of the Saudi-led coalition's deadly bombing campaign in Yemen, where it intervened against Houthi rebels at President Abdrabbuh Mansour Hadi's request.
Ministers have repeatedly rejected calls for a pause in weapons sales amid frequent reports of war crimes and the Government refused to give MPs a vote on the issue, despite the American Senate holding a debate on US exports.
Tim Farron, the Liberal Democrat leader, said the Government's promise to "consider" the terms of its exports showed it has "finally woken up to the fact British arms sold to Saudi Arabia may have been used for the horrific and indiscriminate bombing of civilians in Yemen".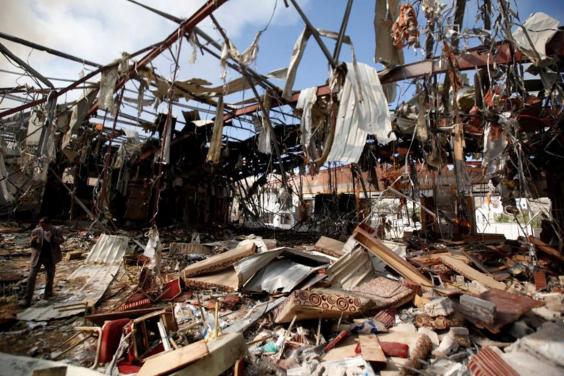 "If this review uncovers breaches of international humanitarian law by the Saudi government, as is highly likely, UK arms sales to the country must be suspended immediately," he added.
"This should mark the start of a shift towards ending British arms sales to the world's most repressive regimes altogether."
Jeremy Corbyn and Green Party co-leader Caroline Lucas are also among those calling for trade to be suspended, but Theresa May defended the sales last month, claiming the UK's relationship with Saudi Arabia "helped to keep people on the streets of Britain safe".
She was speaking in the wake of a report by the Committees on Arms Export Controls, which concluded that British weapons had most likely been used to violate international law and contribute to the "humanitarian devastation" in Yemen.
A United Nations report on children and armed conflict said the Saudi-led coalition was responsible for 60 per cent of all child causalities – 510 deaths and 667 injuries – in the conflict last year.
The UN warned that while international attention has focused on Syria, more than 10,000 people have been killed in Yemen, including at least 4,000 civilians in the past 18 months alone.
All parties in the conflict, including Isis and al-Qaeda, are accused of human rights violations, and Iranian-backed Houthi rebels have also killed civilians with landmines and indiscriminate shelling.
The conflict has left half of the country's 28 million inhabitants without sufficient food, with hundreds of thousands at risk of starvation in a worsening humanitarian crisis.
Reuse content