Refugees and migrants risking their lives in desperate attempts to reach Europe are being forced into "modern slavery" by ruthless people traffickers who are imprisoning, torturing and raping those they exploit.
A new report has revealed the shocking scale of abuse by criminal gangs who prey on asylum seekers travelling across Africa – most commonly in Libya, which has become the main launching point for smugglers' boats in the chaos following its civil war.
Research by the International Organisation for Migration (IOM) found that almost three quarters of migrants attempting to cross the Central Mediterranean have experienced exploitation and human trafficking.
The group said practices occurring with "alarming scare and frequency" included forced labour, imprisonment, kidnapping, ransom and physical and sexual abuse.
Dipti Pardeshi, chief of mission for IOM UK, said UK Anti-Slavery Day [Tuesday] was a poignant time to examine the widespread issue and look at what can be done.
"We need to remember that regardless of the reasons that people move, or their background, they deserve protection," she said. 
Almost half of the men, women and children rescued in the Central Mediterranean said they had been imprisoned for ransom during their journey towards Europe, most commonly in Libya.
The research found migrants journeying via Libya are between seven and 10 times more likely to be abused than those reaching Europe from Turkey, with the likelihood of exploitation rising with the time they spend in transit at the mercy of smugglers. 
Growing numbers of refugees have been using the more treacherous route since the EU-Turkey deal aimed to prevent crossings over the Aegean Sea came into effect earlier this year.
The IOM's findings were based on almost 9,000 surveys taken by refugees travelling to Europe via sea, in the first large-scale attempt to quantify the horrors long reported by refugees reaching Italy.
Refugee crisis - in pictures
Refugee crisis - in pictures
1/27

A child looks through the fence at the Moria detention camp for migrants and refugees at the island of Lesbos on May 24, 2016.

AFP/Getty Images

2/27

Ahmad Zarour, 32, from Syria, reacts after his rescue by MOAS (Migrant Offshore Aid Station) while attempting to reach the Greek island of Agathonisi, Dodecanese, southeastern Agean Sea

3/27

Syrian migrants holding life vests gather onto a pebble beach in the Yesil liman district of Canakkale, northwestern Turkey, after being stopped by Turkish police in their attempt to reach the Greek island of Lesbos on 29 January 2016.

Getty Images

4/27

Refugees flash the 'V for victory' sign during a demonstration as they block the Greek-Macedonian border

5/27

Migrants have been braving sub zero temperatures as they cross the border from Macedonia into Serbia.

6/27

A sinking boat is seen behind a Turkish gendarme off the coast of Canakkale's Bademli district on January 30, 2016. At least 33 migrants drowned on January 30 when their boat sank in the Aegean Sea while trying to cross from Turkey to Greece.

Getty Images

7/27

A general view of a shelter for migrants inside a hangar of the former Tempelhof airport in Berlin, Germany

8/27

Refugees protest behind a fence against restrictions limiting passage at the Greek-Macedonian border, near Gevgelija. Since last week, Macedonia has restricted passage to northern Europe to only Syrians, Iraqis and Afghans who are considered war refugees. All other nationalities are deemed economic migrants and told to turn back. Macedonia has finished building a fence on its frontier with Greece becoming the latest country in Europe to build a border barrier aimed at checking the flow of refugees

9/27

A father and his child wait after being caught by Turkish gendarme on 27 January 2016 at Canakkale's Kucukkuyu district

10/27

Migrants make hand signals as they arrive into the southern Spanish port of Malaga on 27 January, 2016 after an inflatable boat carrying 55 Africans, seven of them women and six chidren, was rescued by the Spanish coast guard off the Spanish coast.

11/27

A refugee holds two children as dozens arrive on an overcrowded boat on the Greek island of Lesbos

12/27

A child, covered by emergency blankets, reacts as she arrives, with other refugees and migrants, on the Greek island of Lesbos, At least five migrants including three children, died after four boats sank between Turkey and Greece, as rescue workers searched the sea for dozens more, the Greek coastguard said

13/27

Migrants wait under outside the Moria registration camp on the Lesbos. Over 400,000 people have landed on Greek islands from neighbouring Turkey since the beginning of the year

14/27

The bodies of Christian refugees are buried separately from Muslim refugees at the Agios Panteleimonas cemetery in Mytilene, Lesbos

15/27

Macedonian police officers control a crowd of refugees as they prepare to enter a camp after crossing the Greek border into Macedonia near Gevgelija

Getty Images

16/27

A refugee tries to force the entry to a camp as Macedonian police officers control a crowd after crossing the Greek border into Macedonia near Gevgelija

Getty Images

17/27

Refugees are seen aboard a Turkish fishing boat as they arrive on the Greek island of Lesbos after crossing a part of the Aegean Sea from the Turkish coast to Lesbos

Reuters

18/27

An elderly woman sings a lullaby to baby on a beach after arriving with other refugees on the Greek island of Lesbos after crossing the Aegean sea from Turkey

Getty Images

19/27

A man collapses as refugees make land from an overloaded rubber dinghy after crossing the Aegean see from Turkey, at the island of Lesbos

EPA

20/27

A girl reacts as refugees arrive by boat on the Greek island of Lesbos after crossing the Aegean sea from Turkey

Getty Images

21/27

Refugees make a show of hands as they queue after crossing the Greek border into Macedonia near Gevgelija

Getty Images

22/27

People help a wheelchair user board a train with others, heading towards Serbia, at the transit camp for refugees near the southern Macedonian town of Gevgelija

AP

23/27

Refugees board a train, after crossing the Greek-Macedonian border, near Gevgelija. Macedonia is a key transit country in the Balkans migration route into the EU, with thousands of asylum seekers - many of them from Syria, Afghanistan, Iraq and Somalia - entering the country every day

Getty Images

24/27

An aerial picture shows the "New Jungle" refugee camp where some 3,500 people live while they attempt to enter Britain, near the port of Calais, northern France

Getty Images

25/27

A Syrian girl reacts as she helped by a volunteer upon her arrival from Turkey on the Greek island of Lesbos, after having crossed the Aegean Sea

EPA

26/27

Refugees arrive by boat on the Greek island of Lesbos after crossing the Aegean sea from Turkey

Getty Images

27/27

Beds ready for use for migrants and refugees are prepared at a processing center on January 27, 2016 in Passau, Germany. The flow of migrants arriving in Passau has dropped to between 500 and 1,000 per day, down significantly from last November, when in the same region up to 6,000 migrants were arriving daily.
Rescue workers with Médecins Sans Frontières (MSF) have been recording accounts of the abuses on their rescue ships, which are picking up refugees packed onto overcrowded boats launched from Libya.
The group said Libya's degeneration into chaos following the British-backed intervention to oust Muammar Gaddafi in the country's civil war has left rival armed groups, criminal gangs and Isis vying for power.
Armed smugglers are known to frequently detain migrants in squalid conditions, demanding ransoms or forcing them into labour, beating and torturing any who cannot pay.
Menethueos*, a 23-year-old Eritrean man who fled torture and conscription in his home country, said he was kidnapped and held for four months in Libya, with his captors demanding $2,000 (£1,600) for his release.
"Many times they beat and tortured me, but I didn't have any family to call," he said.
"They beat you when you are lying on the ground, with whatever they have in front of them. If they have an iron bar, they use it.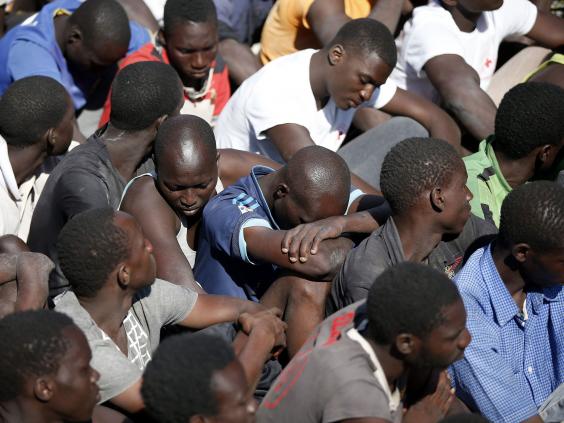 "They use a lot of things. They hit you with the back of the gun. Whatever they like. They tie your hands together and your legs together and you lie on your stomach and they leave you there, day and night."
Some refugees sew money into their clothes in preparation for the ordeal, while others resort to giving up contact details for family and friends in their home countries.
Others told MSF they were shuttled between middlemen and "brokers" for forced labour on construction sites or farms, and were locked up in warehouses at night, until they paid their way out of captivity.
A Somali man said he was "sold" by a Sudanese trafficker to a Libyan man for $2,000 (£1,600) to carry out agricultural labour, and saw several of his fellow captives die in the detention centre where they were held at night.
Lami, a 26-year-old Senegalese man, said he watched another man slowly die from illness, adding: "In Libya, if you don't have money to pay back the people that assault you, then they beat you. I prefer to die at sea."
Women are frequently sexually abused or forced into prostitution by traffickers, with many arriving in Italy pregnant with their abusers' children.
Maria* a Cameroonian woman rescued from a migrant ship in June, was abducted by four armed men who forced her into prostitution and raped her repeatedly.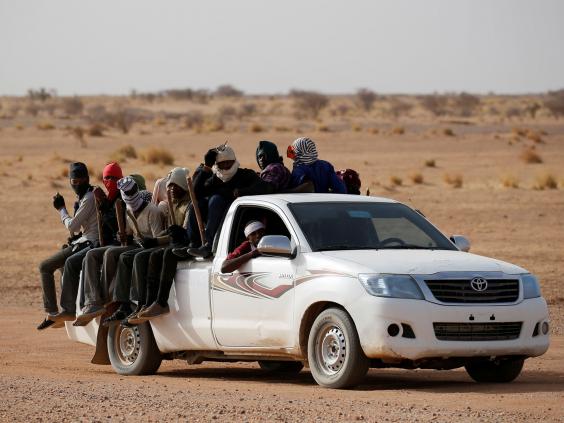 "Selling people is normal in Libya," the 26-year-old said. "Everybody has a gun in Libya – children too.
"I spent three and a half months in Libya, in two different houses. One day a girl died in front of us. She was sick, no food, and no water." 
The reward for those who work or pay their way out of captivity is to be loaded onto a boat over the Central Mediterranean – now the most dangerous sea crossing in the world.
More than 3,100 migrants have died on the route this year – drowning or suffocating in overcrowded holds – putting 2016 on course to be the deadliest ever year for refugees trying to reach Europe.
Those who survive the journey often arrive injured or scarred. A doctor working at a treatment centre in Sicily previously told The Independent she had found bullets still lodged in refugees' bodies, bones broken from beatings, internal injuries from rapes and scars from lashing.
For others the scars are harder to spot – more than half of asylum seekers arriving in Italy are diagnosed with mental health issues, mostly triggered by trauma in their home countries or during their journeys to Europe.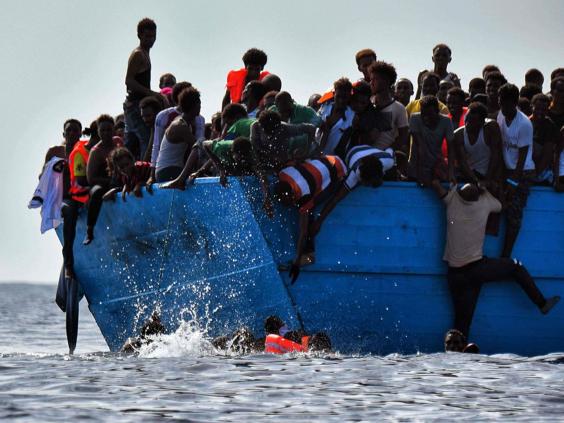 Almost 320,000 asylum seekers have arrived by sea this year, with the majority travelling over the Central Mediterranean after the controversial EU-Turkey deal came into effect in March, seeing anyone arriving on Greek islands detained under threat of deportation.
Around 1,800 refugees have reached Greece this month, compared to almost 13,000 in Italy, where most arrivals are from Nigeria, Eritrea, Sudan, Gambia, the Ivory Coast and other African nations.
Kevin Hyland OBE, the UK's independent Anti-Slavery Commissioner, said urgent action was needed to protect refugees.
"The migration crisis is clearly being used by human trafficking networks to target and brutally exploit the most vulnerable," he added.
"I believe that a key focus for the UK and other governments must include collaborating with partners to prioritise safeguarding against the risks of modern slavery as part of the response to the migration and refugee crisis, in addition to scaling up targeted frontline anti-trafficking safeguarding and law enforcement operations."
A Home Office spokesperson said: "We have made an historic £33.5m investment in modern slavery from our aid budget focused on high-risk countries, where we know victims are regularly trafficked to the UK." 
*Names have been changed to protect identities
Reuse content