Civil rights activists in Uganda put forward a petition to the country's Constitutional Court on Tuesday, to challenge the validity of anti-homosexuality laws introduced last month.
Their petition comes after President Yoweri Museveni signed a bill in February which strengthened criminal penalties against homosexuality in Uganda.
The group called Civil Society Coalition on Human Rights and Constitutional Law are calling on the court to rule that the new law violates Uganda's constitution, because it encourages discrimination based on sexual orientation.
Nicholas Opiyo, a Ugandan lawyer who helped to draft the petition, said the group are asking judges to issue an interim order which stops police officer from implementing the laws.
In a country where homosexuals report they are severely discriminated against, activist also hope that judges will ban newspapers from printing the names and pictures of people who are known or suspected to be homosexual.
Their plea comes after Ugandan newspaper Red Pepper published a 'top 200' homosexuals list on its front page last month. 
Opiyo said it will likely take several months, even years, before judges reach a final decision in the case challenging the anti-gay law, because the court has many other cases before it.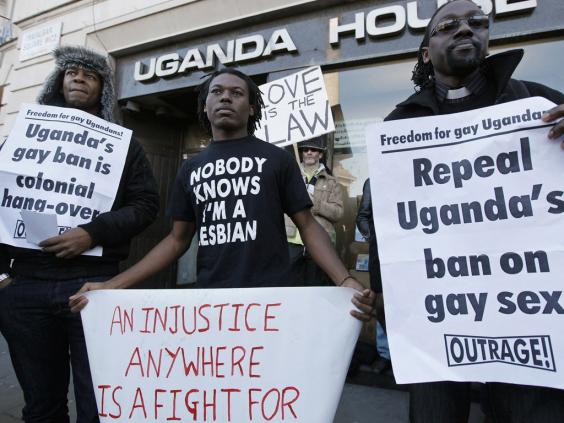 An international outcry followed the passing of the law last month, with Sweden, Denmark, Norway and the Netherlands, as well as the World Banks, withholding or delaying development payments to Uganda.
The United States has suggested it is considering similar action if the law is not repealed.
The legislation means that anyone convicted of engaging in gay sex could face life imprisonment.
Anyone found guilty of "conspiracy to commit homosexuality," "aiding and abetting homosexuality," or "promoting homosexuality" could face up to seven years in prison.
However, the law is widely popular in the conservative East African country, and President Yoweri Museveni said he was enacting the law to deter Western homosexuals from promoting homosexuality in Africa.
But Ugandan gay activists insist they are the victims of a hate campaign orchestrated by US evangelicals who wanted to spread their anti-gay agenda in Africa.
Activists say there have been some allegations of violence and retaliation against people known or suspected to be gay, including evictions by many landlords of their tenants, according to the Civil Society Coalition on Human Rights and Constitutional Law.
At least 10 suspected homosexuals have been arrested and more than five evicted by landlords since the law was passed, the group added.
Additional reporting by AP