As current events merely underline, nowhere on earth are flags more potent symbols than in the US. The Stars and Stripes is venerated as emblem of the nation – and occasionally desecrated in protest at that nation's actions. But such insults are nothing compared to the vilification being heaped on its brief one-time rival, the flag of the Confederacy of slave states that fought and lost the American Civil War. Right now, it is about as well-regarded as the swastika.
Of the ripple effects of last week's massacre in which a deranged white fanatic shot dead nine black worshippers in a church in Charleston, South Carolina, none is more striking than the backlash, against things Confederate – and above all the flag.
Alabama has removed four of them from its state capitol grounds. Mississippi is debating whether to remove the Confederate banner from the top left corner of its own state flag. Other states like Virginia are acting to ban the flag as an option for car numberplates.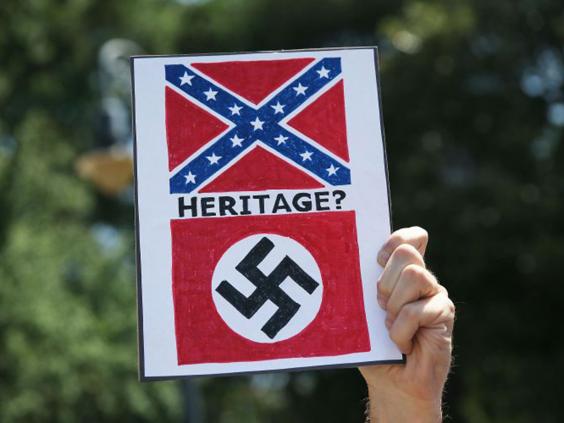 Even South Carolina itself, where nostalgia about the "lost cause" runs deepest, may at last get rid of the Confederate flags flying on its state house grounds. Meanwhile giant retailers like Walmart and Sears say they will no longer stock the flag and other Confederacy-themed items, while on Thursday Apple announced it was banning Civil War games featuring the flag.
For some, the flag is a perfectly legitimate symbol of the South's traditions and heritage. But for many more, it has become a reminder of the dark side of that heritage.
With its red background and blue cross filled with stars representing its 13 member states, it became the symbol of a South that could never let go of slavery, of the Ku Klux Klan and Jim Crow segregation, of resistance to the Civil Rights movement of the 1950s and 1960s, and of the plethora of far-right hate groups from which the 21-year-old Dylann Roof, the accused author of the massacre, drew inspiration.
Right now America seems to be saying, "Enough" – even at the risk of ignoring the real grievances of its black minority, for whom the flag, while an offensive reminder of slavery, is but a small one. Who knows where this new anti-Confederacy movement will end. Will every sign of it be erased – including a good few in the US Capitol itself, here in Washington DC? And what of the South's soldiers who gave their lives, almost 500 of whom are buried at America's most hallowed resting place, Arlington Cemetery?
Poles apart: controversial flags
Poles apart: controversial flags
1/5 New Zealand

Next year New Zealand will hold a referendum on changing the national flag, after more than a century with the current banner. Prime Minister John Key hopes to drop the current design, featuring the Union Jack, in favour of a silver fern, saying that it was time for the former British colony to adopt a flag that was more recognisably Kiwi. Some say that New Zealanders have fought and died under it for generations and a change would dishonour their memory, while others want one which reflects the country's status as a modern, independent nation (and won't be nearly identical to their neighbours Australia).

Getty Images

2/5 Rainbow

We might have legalised same-sex marriage now, but a fluttering rainbow – a symbol of the LGBT community since it was designed by San Francisco artist Gilbert Baker in 1978 – can still make headlines. Just this week there has been a fiery argument in Parliament over Matthew Hancock's decision to fly the rainbow flag over the Cabinet Office ahead of this weekend's Pride march, while Philip Hammond refused to do the same for the Foreign and Commonwealth Office. And Marion City Council in Adelaide this week voted in favour of displaying a flag despite opposition from a councillor who said it "promotes homosexuality".

Getty Images

3/5 IS

It has become a chilling symbol of terror, appearing everywhere from the background of videos showing captives being beheaded to the window of a Sydney café during a hostage crisis. "There is no God but God" is emblazoned across the top of Islamic State's stark black and white flag, while inside the white circle are the words "God Messenger Mohammed". There were protests in Beirut last September at which IS flags were burned, with activists starting a #BurnISIS campaign. Afterwards the Lebanese Minister of Justice asked for the burning of the flag to be banned because it features the word "Allah" on it and it is therefore sacrilegious to desecrate the flag, despite them being against IS.

Getty Images

4/5 Japan's Rising Sun

The military flag of Japan was used as the ensign of the Imperial Japanese Navy and Army from the late-1800s until the end of the Second World War. When Japan was defeated in August 1945, the flag was prohibited by Allied Occupation authorities, but with the re-establishment of a Self-Defense Force the flag was re-adopted in 1954. It is now considered offensive in countries that were victims of Japanese aggression, particularly China and Korea, where it is thought to be a symbol of Japanese imperialism (at the 2008 Beijing Olympics, Japanese attendees were warned not to wave them). The flag can still be found on commercial products and advertisements in Japan but it remains a divisive symbol.

Getty Images

5/5 Apartheid-era South Africa

South Africa's orange, white and blue flag under apartheid disappeared from buildings in April 1994, when the country held their first free election. But it immediately became a symbol of white resistance and continued to be used by political groups who wanted to reinstate racial segregation. These days, America's white supremacists have adopted the flag, and pictures of Dylann Roof wearing it on his jacket have recently emerged. Similarly, the flag of Rhodesia, another former racist state (now Zimbabwe), is also used by such groups.

Getty Images
And, potentially most controversial of all, what of the man whose one-time family home overlooks Arlington Cemetery? No event or person has contributed more to the rosy-hued myth of the South than Robert E Lee, who lived in the house for 30 years before the Civil War began in 1861.
Lee was among the greatest generals in American history. He was an utterly decent man, torn between his oath of loyalty to the Union when he graduated from West Point and his Virginian origins. He opposed slavery, yet was a slave owner himself, and fought for the rebel states trying to preserve slavery. The ambiguity of the Confederate flag has nothing on that of Lee – whose own funeral was devoid of flags of any kind.
Reuse content