Tens of thousands of ordinary Cubans, some wiping tears, joined long queues to get their turns to enter Revolution Square in Havana on Monday to pay their respects to Fidel Castro, their former leader who died after ten years of fading health last Friday.
The first day of official mourning began with a thunderous 21-gun salute from cannons arrayed on the ramparts of El Morro, the historic fort that sits just across the harbour from Old Havana, the district where foreign tourists mingle with residents trying to make ends meet and living in decrepit, overcrowded apartment buildings. 
After the canons were ignited, their booms could be heard throughout most of the city and as far away as in Revolution Square itself, a massive plaza known for the giant outlines of Che Guevara and Mr Castro himself attached to the neighbouring facades of government buildings and the pyramid-like monument to Jose Marti, the hero of Cuba's independence movement. 
The grieving period announced by the government will last nine days and will culminate in Mr Castro's ashes - he was cremated on Saturday, according to his wishes - being taken in a sombre cortege almost the length of the island of Cuba from Havana all the way to Santiago de Cuba.  The city, on the eastern tip of the nation, is where he launched his socialist revolution in 1959.
Many Cubans will surely feel pressured to go through the motions of mourning Mr Castro by local party officials even if many privately disdain him for the economic hardship he brought to the island and to their lives.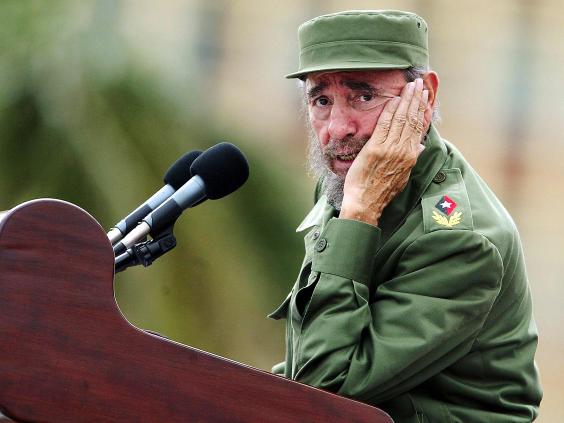 Now, the question is what will come next and in particular whether the passing of his elder brother will give Raul Castro, the leader of Cuba since 2008, greater leeway to push forward with economic reforms and seek an acceleration of the opening process between Cuba and the United States that he and President Barack Obama had already began.
In a Twitter message on Monday, President-elect Donald Trump, who on Saturday called Mr Castro a 'brutal dictator', made clear that he would expect reforms in Cuba to accelerate if he is to keep the economic and diplomatic changes agreed to by Mr Obama in place. Mr Trump, who is likely to press first for the release of all remaining political prisoners and the end of the harrassment of dissidents, threatened that he would end the US "deal" with Cuba if the government in Havana did not reciprocate with "a better deal for the Cuban people".
For some world leaders, the invitation to the formal funeral of Mr Castro, set for 4 December, presents something of a dilemma. An icon of the left for creating a communist hold-out in the Caribbean basin with just 90 miles of water separating it from the United States, Mr Castro was also regarded by many as a despot who subjugated his people and ruined their economy. 
His controversial standing in world history means that most governments are already indicating they will send mid-level functionaries to attend the ceremony, including President Vladimir Putin of Russia. Until its collapse in 1991, the Soviet Union had propped up Cuba and Mr Castro's regime as part of its wider antagonism towards the United States. 
Russia will instead be represented by the speaker of the Russian State Duma or lower house of parliament, Vyacheslav Volodin, who is a close political ally of Mr Putin. Among world leaders who are expected to fly to Havana to pay final respects is another despot well used to being cold-shouldered by the rest of the world - Robert Mugabe of Zimbabwe. 
Canada's Prime Minister, Justin Trudeau, who was lambasted on social media at the weekend for having praised Mr Castro as a "remarkable leader", announced on Monday that he would also not be traveling to Cuba and that the country would be represented by Governor General David Johnston, Queen Elizabeth II's representative in Canada.
While many of Mr Castro's most famous speeches were delivered in Revolution Square, it is a place that is usually largely empty, the Marti monument more or less marooned in a gigantic round-about, around which a slow local traffic, some of it make up still of barely roadworthy rescues from the 1950s, makes slow and polluting circles. 
Reuse content