Protesters took to the streets on Sunday to honour the one year anniversary Michael Brown's death at the hands of a white Ferguson police officer.
The day began with peaceful marches, but as the night approached in Ferguson, Missouri, violence escalated throughout the city as it did just one year ago. Bottles were thrown at police, a few business storefronts were destroyed and multiple gunshots rang through the air.
Multiple shots fired in Ferguson. Please leave the area of Ferguson and West Florissant.

— St. Louis County PD (@stlcountypd) August 10, 2015
Interim police Chief Andre Anderson for the Ferguson Police Department spoke with CNN, but the interview was cut short as shots fired behind the media area.
As new interim #Ferguson police chief talks to us shots ring out. Listen. Tears and screaming after pic.twitter.com/mY7zbKXOoO

— Sara Sidner (@sarasidnerCNN) August 10, 2015
Protesters, police and journalists fled from the scene, taking cover behind automobiles and buildings. Shortly thereafter, a heavy police presence responded with armoured vehicles and the St Louis County Police Department released a statement on Twitter confirming an officer was involved in a shooting "after coming under heavy gunfire."
"During the gunfire, at least 2 unmarked cars took shots. We will release more details when available."
Protester Tony Rice was arrested while filming the shooting victim in Ferguson. In graphic video filmed by Mr Rice, a man is covered in blood, as police stand over him for several minutes with guns drawn. Mr Rice, behind a fence, can be heard yelling for help, before he was detained, brought to a police station, then released without charges.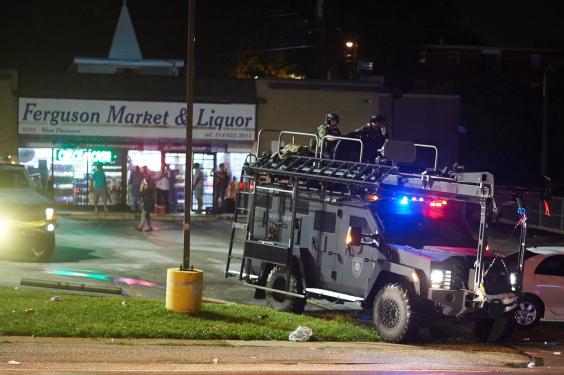 The St Louis Post-Dispatch later reported that Tyrone Harris Sr identified his 18-year-old son, Tyrone Harris Jr, as the victim. Mr Harris said his son was a "real close" friend of Michael Brown.
"We think there's a lot more to this than what's being said," he told the newspaper.
St Louis PD also confirmed another shooting taking place at 2:15am. Two male victims, aged 17 and 19, told police they were walking along the memorial for Mr Brown when an unidentified black male in a red sweatshirt began shooting at them from inside his vehicle.
The 17-year-old was shot once in the shoulder, while the 19-year-old was shot once in the chest. Both victims were transported to a local hospital, officials said during a Monday morning press release.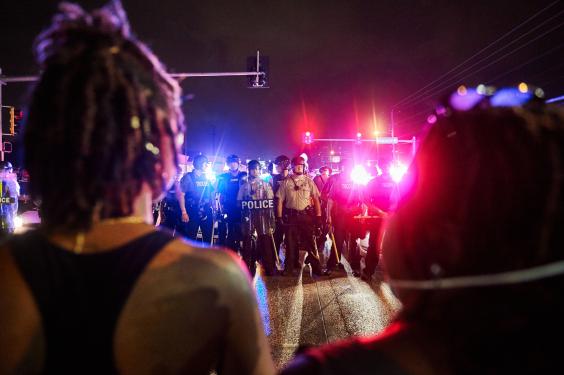 One year ago, protests and riots broke out amongst national outcry of the killing of the teenager at the hands of former Ferguson police officer Darren Wilson. The teen's death sparked the Black Lives Matter movement which highlights police violence against blacks, and in recent weeks proved itself to be a political liability to Democratic candidates.
Protesters forced two candidates off stage during campaign stops, forcing presidential hopefuls Bernie Sanders and Martin O'Malley to release their policy proposals to reform America's criminal justice system.
Speaking with Al Jazeera America, the teen's mother Lesley McSpadden said she has not forgiven Mr Wilson for killing her son, sighting the lack of humanity and the absence of apology he's shown the family since. Despite the tragedy, Ms McSpadden said her son did not die in vain.
"My son's life and death has a bigger purpose on it — he was too good for this wicked world. So, God picked the rose too soon. Do I like that? Do I love that? Of course not," she said.
"But it has given me a voice, for him, to let people know that we are all dealing with injustice."
Reuse content